Logging in
Use this link: MyOpayo
You will see the MyOpayo login screen:
Log in using your venue's details. Your accounts/finance department should have these details, or Spektrix Support can provide you with them again.
The username and password are unique to each venue's account - they do not use personal usernames, so everyone will use the same details to login to your venue's system.
Once logged in, you will see the Transaction Search screen, with tabs along the top of the screen (outlined in blue).
1. Checking individual payments
Click on Transactions and you will see a breakdown of individual payments.
You can filter by any date range
You can click the report range buttons to show payments by hour, day, week, month or year
The result buttons can be clicked to filter by confirmed or unconfirmed transactions; those under "Failure" will not have been processed and will not have been confirmed by Spektrix.
For each payment you will be able to see the card holder's name, the transaction code, the amount processed, the date and time of the transaction, and details of the security checks.
Click any part of the row to show the full transaction summary. This will show you a lot of detail, including address details, payment descriptions, gift aid declarations, details of the authorisation and the batch ID number.
Or click the + icon next to the card holder name to see a summary of their address and the unique SagePay ID
At the bottom right of each screen is the option to produce a Print Friendly version, or to Export the data to CSV.
If you have Card Holder Wallets enabled in your Spektrix system, customers can opt to store their card details in the system so that they can use them again next time they make a purchase without having to enter the details again.
When a customer adds a new card to their Wallet in the My Account section of your website, they may be asked to complete a 3D Secure (3DS) challenge when storing a card here if their bank requests one. This is called a Zero Value Authorisation (ZVA) which increases the security of customer cards stored in cardholder wallets.
When a customer completes this authorisation, you will see an additional row against stored card authorisations in the 'Transactions' section of MySagePay. This will be visibly different from the rows for payments. It will include:
Type = "Authenticate"
Amount = "0.00"
Vendor TX Code = A random xxx digit code made up of letters and numbers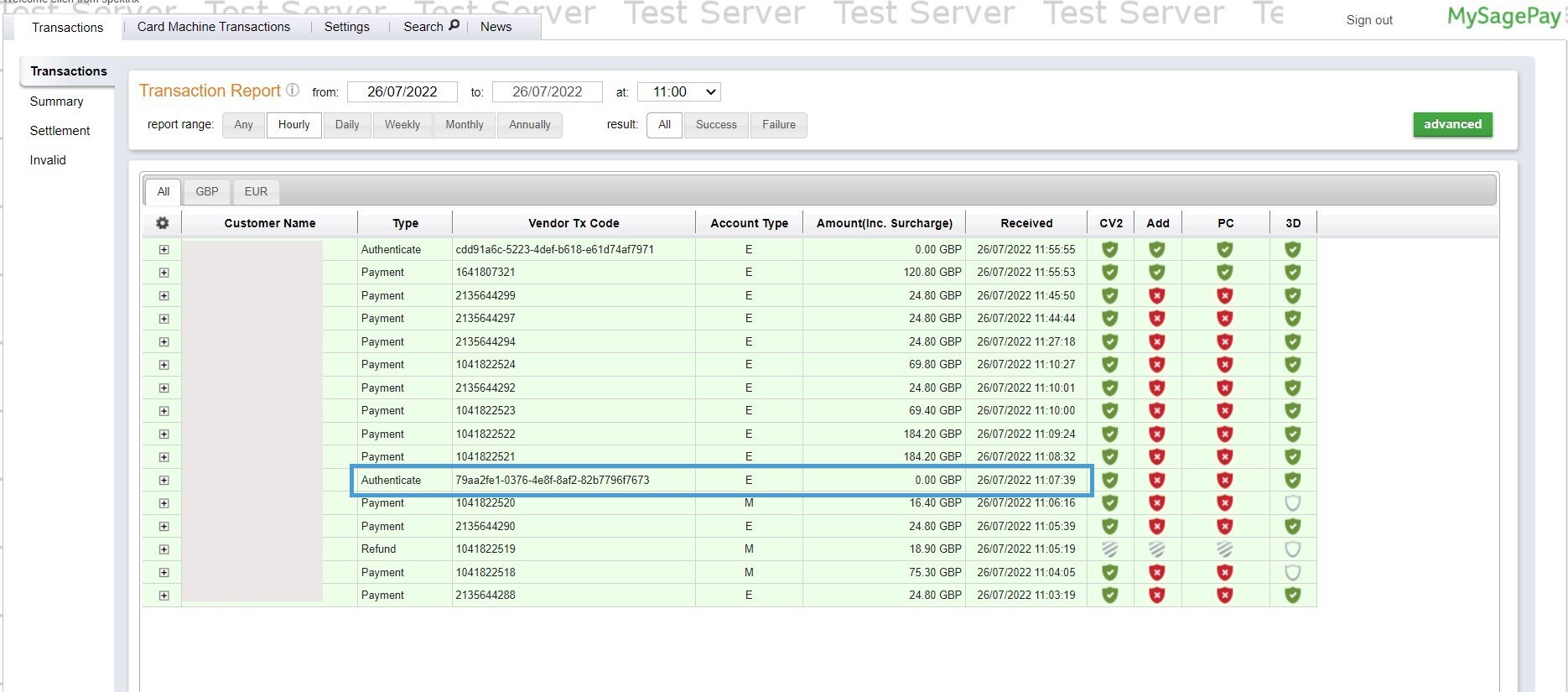 2. Reporting on a date range
Click on Summary and you will be able to report on summary data across a date range.
Click the report range buttons to filter by day, week, month or year.
Open the small + icons next to Successful and Failed payment types to see the currency types (usually just one!) - then press + again to see the separate summarised totals for Ecommerce and MOTO payments
Keep opening the + icons to break these down by Credit and Debit cards, and then down to individual card types
3. Reporting on batches
Click on Settlement and you will be able to report on settlement batches (both settled, pending and failed).
Use the report range buttons to filter by day, week, month or year
Each batch will be identified by a unique Batch ID. Usually there will be one batch per date, but check the date column carefully in case several batches have been generated.
The columns to the right will show the total transactions processed and the net value
Click anywhere on the row to open up the individual payments contained within each batch, and click any of these to see the full customer details (as described under Individual Payments above)