In Spektrix it is possible to place an order where the customer (or Owner of an order) is an Organisation. The most common case for this are bookings placed by schools.
Every order placed also needs to have a Facilitating Individual. This must be an individual who has a relationship with the organisation.
Placing an Order
Search for the event and add the tickets to the basket as usual

Instead of search for a individual by name, search for an organisation in the Customers tab and click the dark blue add to basket button from the organisation record.

You will then be prompted to choose your Facilitating Individual. You have the option of choosing any individual record which has a relationship with the organisation, or adding a new facilitator here.

Continue with the sale as normal. Note how the organisation (Spektrix) is in the basket (with its address) but the transaction is facilitated by Richard.
Setting a Primary Contact
It's also possible to set a Primary Contact on each Organisation. This should be the main person at an organisation to which you wish to send marketing communication.
This is done on the Details tab of the organisation's record: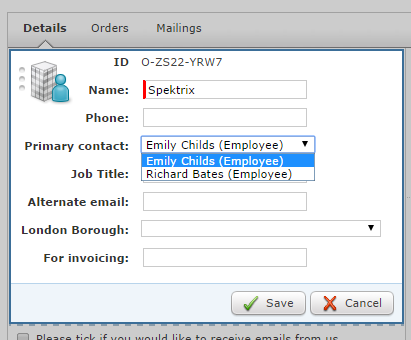 Segmenting on Organisation Bookings
Let's imagine I'm sending a mailing campaign to all schools that booked for Fantastic Mr Fox, and I want to contact them to tell them about a similar upcoming Event.
Your Customer List might look something like this:

Remember that the Organisation owns the order, even though it is an Individual who facilitates the transaction.
The Org Tag Segment circled above might look something like this:

Outputing the data
In the example order earlier, Richard Bates was the Facilitator of the order. However Emily is the Primary Contact for the Organisation Spektrix.
In the Output for the Customer List you want to choose the Contact Address fields in order to return the details of the Organisation.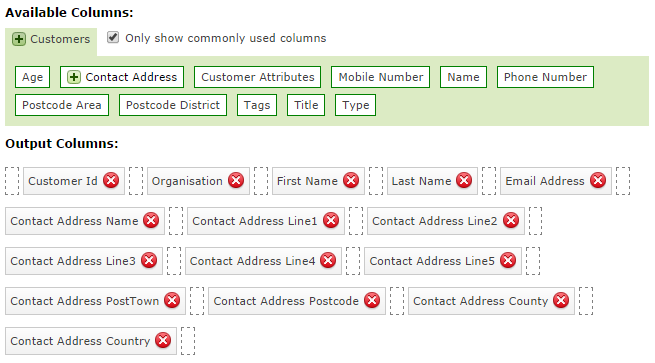 If we now run this Customer List we can see how the fields appear in Excel.

The Customer ID is listed as that of the Organisation.
The Contact Name is Spektrix, but the First and Last Name and the Email address are those associated with the Primary Contact, so you have someone to address your communications to. 
This always comes out as the Primary Contact rather than the Facilitator as it could be possible for your customer list to return results based on orders with lots of different facilitators. In these cases, you would then end up double-mailing that organisation!
Running organisation customer lists through reports
If you were to run the customer list based on organisations through an analysis report, it would look at all past bookings for the organisation as the owner of the order - not just those facilitated by that contact.