NOTE: In this article, we use the new name for the Marketing Interface - Insights & Mailings. For more information about this change, see this article.
The Mail Merge feature in Spektrix allows you to create and upload documents to Spektrix, which you can use as templates for letters, labels that you can personalise using data pulled out of Spektrix.

This feature is included as part of the wider Mailings tool, and can be found within Insights & Mailings.

What is a mail merge?

A mail merge is a way of automatically taking pieces of information out of a database (in this case Spektrix) and embedding them into a document, allowing you to personalise that document with a customers' specific details.

An example of how that might work in Spektrix is a customised letter that you might want to send to your customers. You can create a standard letter then use a mail merge to automatically add in each customer's name and address, allowing you to personalise the letter and save time.

How to create a mail merge letter template in Microsoft Word

In order to add the relevant pieces of information from Spektrix into your document you need to use merge fields, which are the way you specify which pieces of information you want to draw out of Spektrix and include in your document.

Which fields can be used

There is a fixed list of fields that you can use - these are the only fields available as merge fields, so are the only pieces of information that you can draw out of Spektrix.

Email
Title
FirstName
LastName
FullName
CustomerId
FormalSalutation
InformalSalutation
AddressLine1
AddressLine2
AddressLine3
AddressLine4
AddressLine5
PostTown
Postcode
County
Country
OrganisationName
It's important to note that these fields need to be used exactly as they are written here, otherwise they won't work. For example:
FirstName will work but First Name will not.

AddressLine1 will work but Address Line 1 will not.
Variations
Some of these fields differ in the system depending on the geographical settings of your system - in other words depending on whether they're used by UK, US or CAN clients. These fields can be inserted into mail merges using any of the variations:

Postcode can be used with any of these variations:
- Postcode
- PostalCode
- ZipCode

County can be used with any of these variations:
- County
- State
- Province

Any of those variations will work, not just the one that you use in your system.
WARNING: Using any kind of date field will cause the mail merge to fail when setting up a mailing.
Creating a template
Here are the steps you need to take to create a merge template:
First create your document, leaving gaps where you want to insert pieces of information.

In each place that you want to add a merge field, go to INSERT > Quick Parts > Field..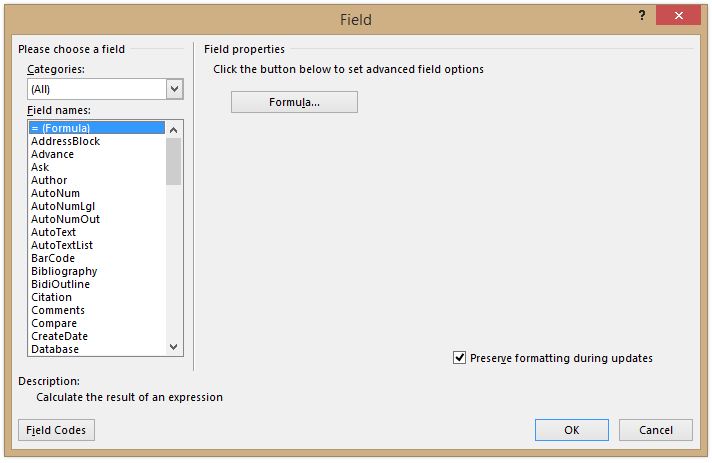 Choose MergeField from the list.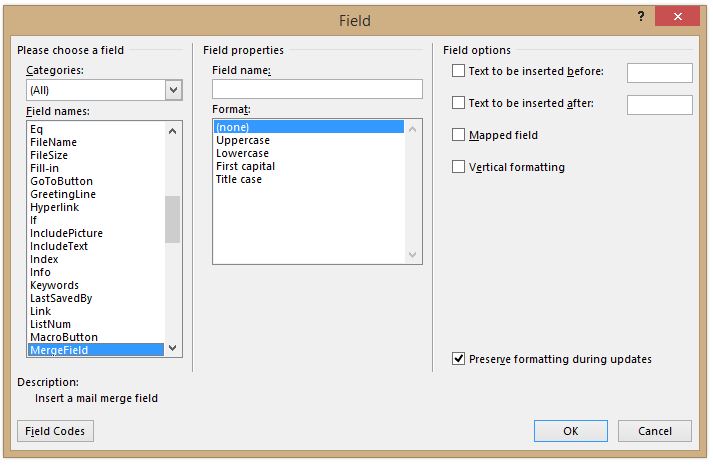 Type your merge field into the Field name box and press OK.

Remember that you need to enter the merge field exactly as it's written above (i.e. FirstName not First Name).

Your requested merge field will be inserted into the document within «», like this:



IMPORTANT NOTE - if you want to edit a merge field you need to do it by going back into Quick Parts, not by typing directly into the field within your document.

Once your document is ready, save it as a .docx file - this is the only file format that Spektrix can use for these documents.

We have created a sample letter, complete with merge fields, that you can use as an example. Please feel free to use this as a basis for your own letters if you wish.

How to create labels using a mail merge

It's not just letters that you can use mail merges for - you can also use this tool to create labels that you can send straight to the printer.

The first thing you'll need to do is find out what labels you are going to use. Most labels that you can buy will have a product number - for instance Avery A4/A5 labels have the product number L7160.

You always need to make sure you create your label template with the correct size of labels, otherwise when you come to print them you will find that nothing lines up properly.

Once you know what labels you're using, here are the next steps:
Open a new document in Word, click on the

MAILINGS

tab, then click on

Start Mail Merge

>

Labels...





Choose your labels' product number from the list and click OK.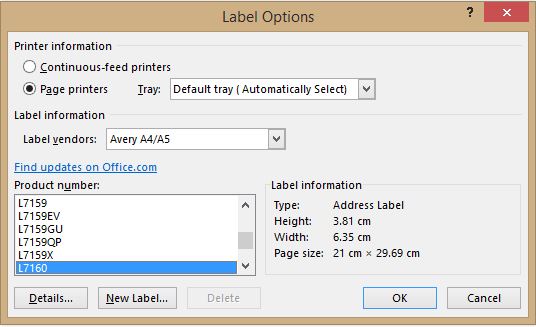 You'll see that a full page of blank labels has been created.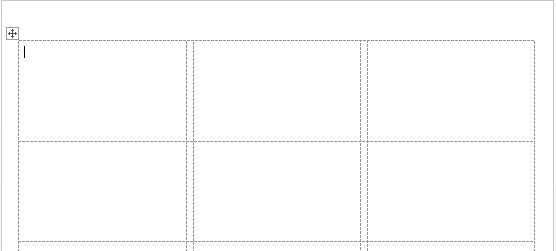 In the top-left label, insert all of the merge fields that you want to use.

Click on

MAILINGS

>

Update Labels

to automatically copy your merge fields across to the rest of the labels.

You'll see that Word has copied the merge fields across and also inserted a new field called «Next Record», which is what tells the mail merge to insert the next customer's details into each label.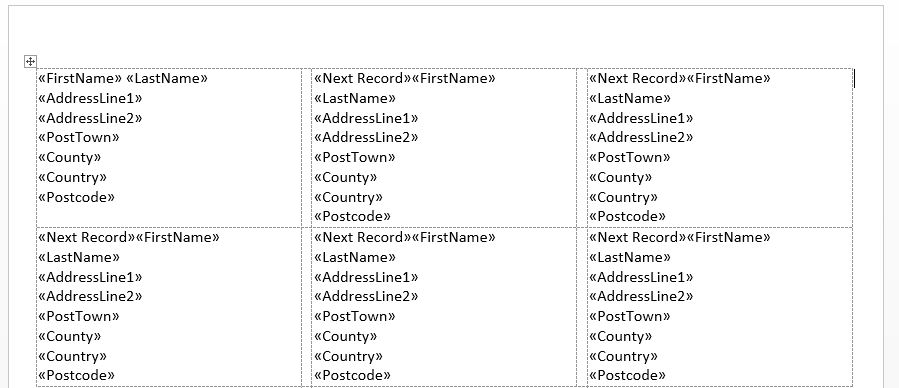 You now have a full page of labels, which you can save as a .docx file.
We have created an example label template which shows you how your labels could look. Please feel free to have a look at this, but do remember that you always need to make sure you have the correct label size - so we would recommend you do not use this as the basis of your own labels, and instead create your own template from scratch.

How to upload a template in Spektrix

You can upload the files for your documents to Spektrix yourself. To do this, follow these steps:


Go to Mailings > Mailings > Mail Merge Templates.

Click Add, then enter the name you want to use and choose the file from wherever it's saved on your computer.

The new template will now appear in the list, and be selectable when you create a mail merge.

How to create a mail merge in Spektrix

Mail merges are set up in almost exactly the same way as you would set up a standard mailing. Here are the steps to follow:


First, make sure you have set up the Customer List that you want to use.

Navigate to Mailings > Mailings > New standard mailing.
Fill in the details as normal, but choose Mail Merge in the Output As: field.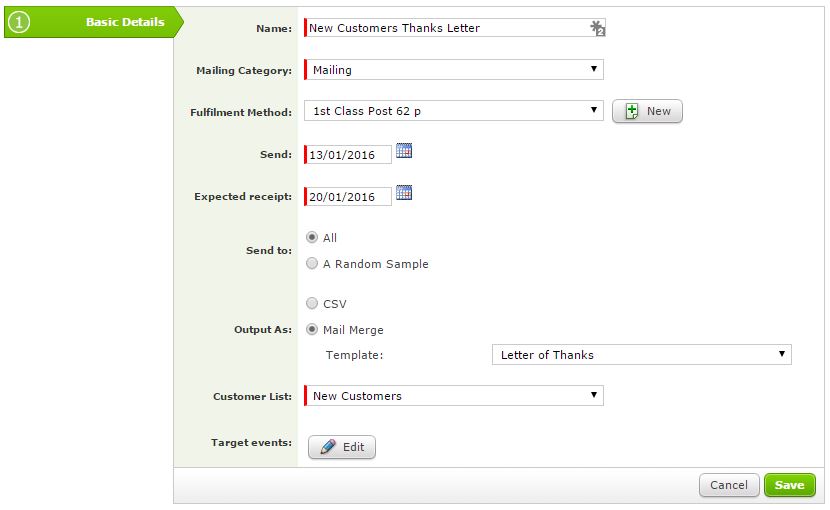 Pick your Template from the drop-down list of documents you've uploaded.

Also pick the Customer List that you want to use.

Press Save.

Spektrix will then pull out all of the data for the merge fields you've selected and insert it into the document, creating one document per customer. You will shortly receive an email, sent to the email address that's set up on your Spektrix user account.

You can also choose to download the original document from within the Mailing record that you created. To do this go to Mailings > Mailings and find the record of your Mailing, then click on the Download merge template button at the bottom of the page.





And lastly...

If you have any questions about the Mail Merge function please don't hesitate to get in touch with the Support team, who will be able to help you with anything you need.