What is a Fixed Series?

Fixed Series Subscriptions allow a customer to purchase a ticket to a series of Instances and retain the same seat for each Event.

This might be a series of ten one-off concerts, or all the opening nights of your latest season. The important bit is that the customer retains the right to the same seat - and this right might be rolled over for the next season or concert series, giving the customer the ability to keep their seats for the next series.

For more information on what a Fixed Series is and how to set one up, see this article.

Selling Fixed Series Subscriptions

Fixed Series Subscriptions are sold via the Fixed Series tab in the top menu in the Sales Interface. In order for this tab to be visible the following criteria need to be met:
At least one Fixed Series Subscription is set up and available.

The

Show series tab in sales interface

option is checked in the Admin Interface




From this tab you will be able to see all available Fixed Series - click the green plus button to see the Events that make up each Fixed Series.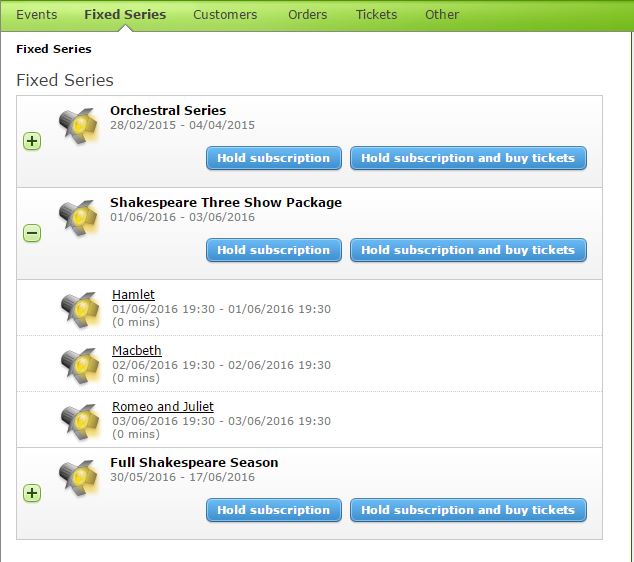 From here you have two options:
Hold subscription

- use this when a customer wants to hold their seats for a Fixed Series, and pay for them later.

Hold subscription and buy tickets

- use this when a customer wants to purchase their Fixed Series outright.
Holding a Fixed Series Subscription is the process of allocating a customer the rights to their seat - as soon as you hold a subscription the customer owns the rights to the seat, and this means no other customer can buy that seat, either in a Fixed Series or as single tickets from any of the Instances that are part of their Fixed Series.

Seats included in a held Fixed Subscription appear on the seating plan in the Sales Interface in the same way that reserved seats do.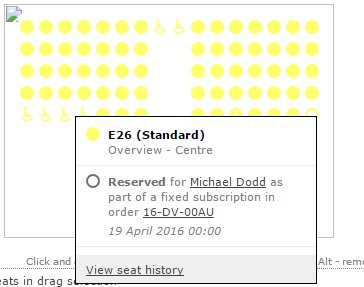 Holding a Fixed Series Subscription and buying tickets

The first thing you need to do when selling a Fixed Series is choose the Sales Channel, just as you would with any other transaction - Phone, Counter, Counter Quick or Web.

Once that's done you need to select a customer - unlike some other transactions, you can't sell a Fixed Series without a customer.

Having done that, follow these steps:

Step One - Choosing Events and Pricing
The first screen you will see gives you various options to select in terms of specifying exactly what you are selling.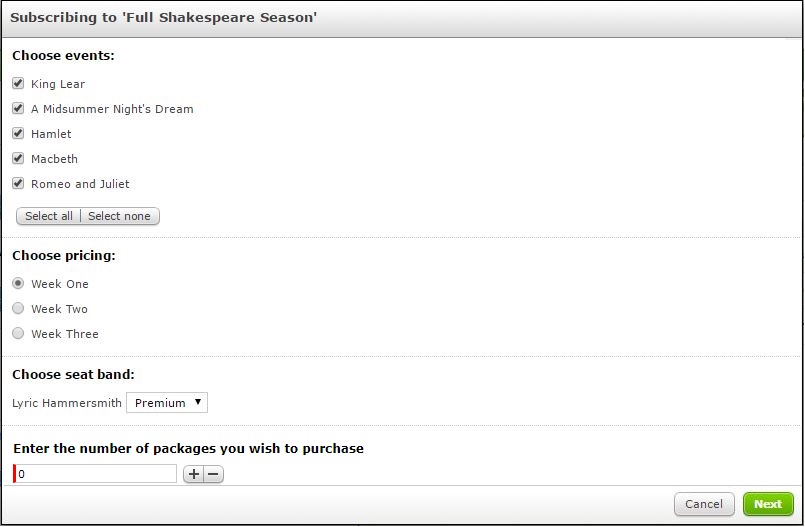 Choose events

- which events the customer is purchasing.  The number of Events to select is configurable when setting up a Fixed Series.  See this article to learn more about setting up a Fixed Series.

Choose pricing

- when more than one is available the Pricing Set chosen will determine which Instances are available, as it will allow you to choose from Subscription Groups included in that Pricing Set.

Choose seat band

- the option to choose a price band, assuming the Fixed Series was set up to allow this choice

At Start Of Purchase

.

Enter the number of packages 

- the number of tickets required.
If possible, the system will display the Total cost of the Fixed Series at the bottom of this screen.

IMPORTANT NOTE: when setting up a Fixed Series there is the option to allow customers to choose Price Bands and Ticket Types at the start of their purchase. Ticking this has various effects - see the Setting Up a Fixed Series and Fixed Series FAQs articles for more information.

Step Two - Selecting a Subscription Group
The next screen allows you to select which Subscription Group the customer wants to choose. Subscription groups contain the specific set of Instances that the customer is subscribing to. The Subscription Groups listed on this screen will be determined by the Pricing Set chosen on the previous screen.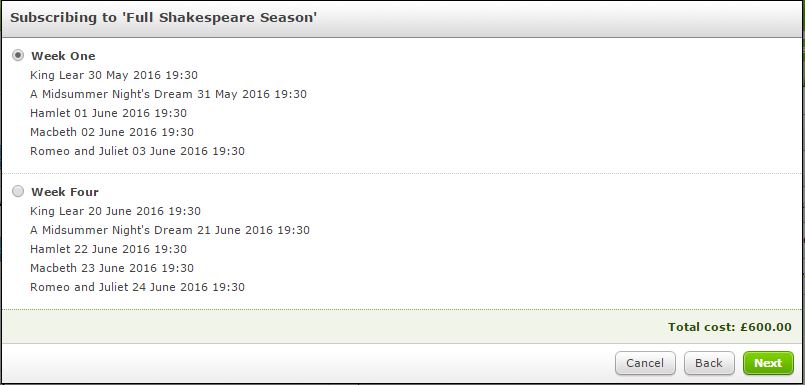 If there is only one Subscription Group available it will be automatically selected, otherwise you just need to click on which one the customer wants to attend.

The Instances that make up each Subscription Group are listed underneath the group title, along with the date and time.

Step Three - Choosing Seats
The next screen allows you to select the seat(s) that the customer wants.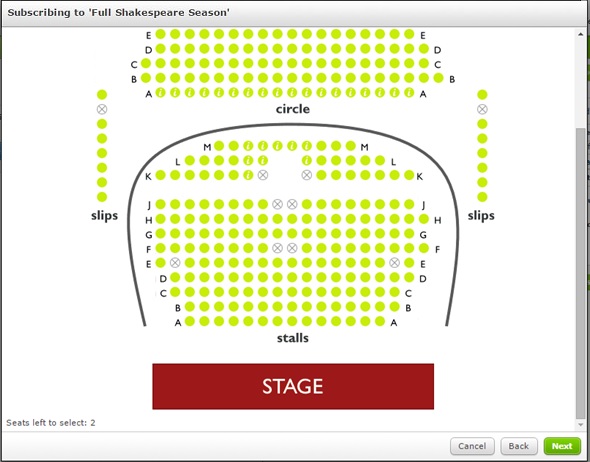 If a seat is unavailable for any of the Instances that make up the Fixed Series Subscription then it will not be available for purchase - these seats appear as grey circles with a cross through them.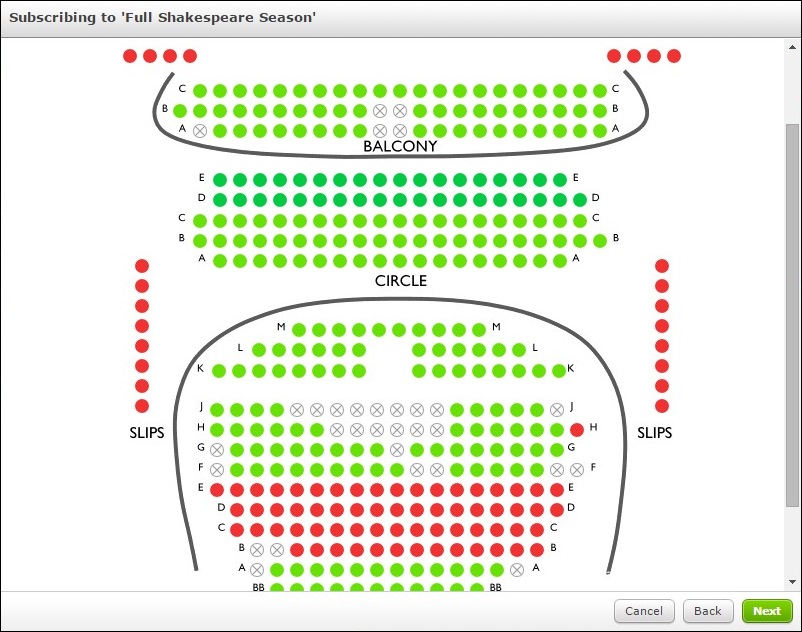 If you did not select the price band in Step One, there will be a free choice of available seats. These are displayed using a heat map - the most expensive seats are shown in red through to less expensive seats in green.

You also have a handy display to show you how many seats there are left to select.

If the Instances use different Seating Plans, you will be shown each one in turn - but the same rules regarding availability still apply.

Step Four - Assigning Ticket Types
On this screen you need to assign a Ticket Type to each seat. Remember that the seats could be in two different bands, which might affect the pricing.





Step Five - Confirming the Order
Once the tickets have been added to the basket, you can then confirm the transaction in the usual way. Fixed Series Subscriptions are outlined in blue in the basket to help them stand out from other items.

You are always able to view any customer's active Fixed Series Subscriptions via their customer record.

Holding a Fixed Series Subscription

You are also able to hold the Fixed Series Subscription for a customer, rather than buy it.  You would do this for a customer who wants to secure their rights to a seat but doesn't yet want to commit to buying the actual subscription.

The process for holding a Fixed Series Subscription is the same as for buying one. You just need to select the Hold subscription option in the Sales Interface and follow steps One to Five as before. The customer will not have to pay for their hold, and can purchase the actual tickets at a later date.

Held fixed series subscriptions are displayed in the instance's seating plan as if the ticket were reserved. No other customer can purchase the seat, and it is shown as not available online. You can view any active holds a customer might own in their customer record.

Fixed Series Subscriptions can't be reserved - they must be held to ensure customers have the rights to their seats.

Buying Tickets or Releasing a Held Subscription

Once a customer has decided to commit to purchasing the tickets that make up a Fixed Series Subscription you can easily add them to the basket via their customer record - see the Fixed subscriptions tab.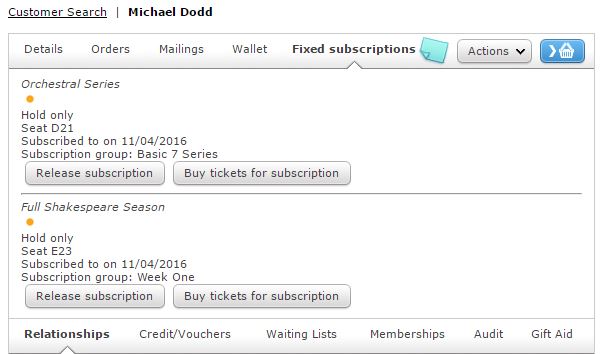 Clicking Buy tickets for subscription takes you to Step Two where you can choose which Subscription Group to use. You can then complete up to Step Five again, taking payment for the tickets and confirming the order.

If a customer chooses not to go ahead and buy their held subscription then click Release subscription. You will be prompted to confirm that you want to do this, so just click Release subscription again.

If you release a Fixed Series Subscription the customer will lose the rights to their seats, and their subscription will not be rolled over. If the customer had previously purchased tickets and no longer wishes to attend you will need to return these separately.

Until you return the held subscription no other customer can purchase a Fixed Series Subscription in these seats.

How Fixed Series Subscriptions look online

As long as you have the Fixed Series iframe integrated with your website, and each relevant Fixed Series Subscription set to be Active and On Sale online, your Fixed Series Subscriptions will all show up online.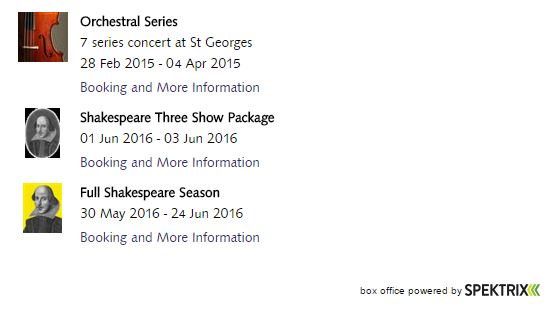 The process for purchasing Fixed Series Subscriptions online is essentially identical to the Sales Interface - customers will go through the same stages that you would do in the box office.

Fixed Series Subscriptions show up in the basket in the same way normal Events do. Each Event within the subscription is listed separately, while the overall subscription is shown at the top of the basket page.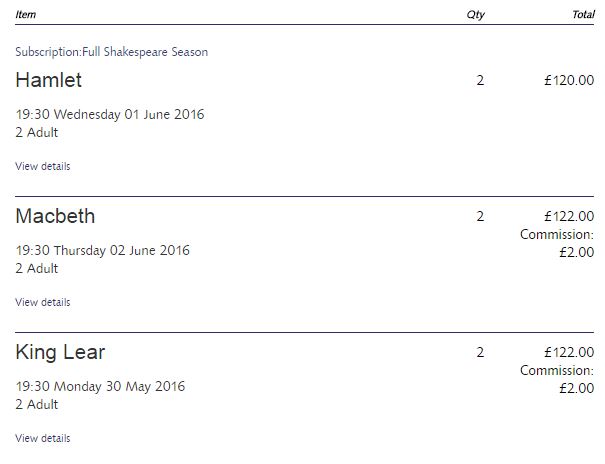 Overriding a Fixed Series

As well as overriding prices, Offers and commissions, you can also use the Override function to manually apply a Fixed Series Price List to tickets in a basket which otherwise wouldn't be part of a Fixed Series.

You can do this in much the same way as overriding anything else - once you have some tickets in the basket, click on the drop-down arrow next to Reserve and choose Override from the list of options.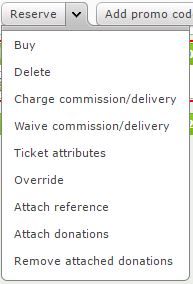 You will see a window with various options - tick the box next to Fixed series to choose a Fixed Series override.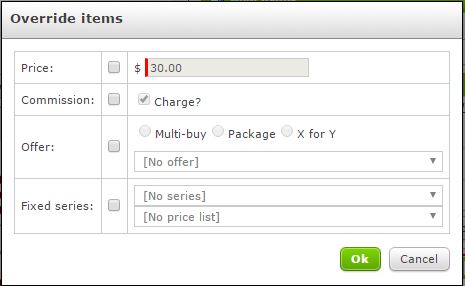 From here you can now choose which Fixed Series you want to apply, and then choose which Price List to use.

There are two drop-downs you need to select from, which by default will be filled in as [No series] and [no price list].
[No series]

- click here first, to choose the Fixed Series Subscription or Subscription Group you want to apply.

[No price list]

- click here second, to choose the Price List you want to apply. You will see all relevant Price Lists, based on which Fixed Series you chose from the first list.
NOTE - you can only apply a Price List if the Ticket Type you are overriding is included in that Price List.

Summary

For more information on Fixed Series Subscriptions, have a look at our articles on Setting up a Fixed Series and Rolling Over a Fixed Series Subscription.

If you have any further questions about Fixed Series, please don't hesitate to get in touch with the Support team.