Many Spektrix users have contacted us to explain that they are considering how they will manage social distancing in their venue. In May 2020, we invited you to share your thoughts on social distancing in your venue. We've used that input to inform our own planning, develop new tools, and make sure we're ready to support you in your planning process.
In this article we're going to provide you with some ideas and suggestions about how you can use existing Spektrix functionality to help set up your Events with social distancing measures in mind.
We'd recommend you start by watching this video on the options available in Spektrix, as well as some detail on what we're exploring as further additions:
We've also created this clickable flow chart that asks you a number of questions about your venue circumstances in order to guide you towards the most suitable seating plan options within Spektrix: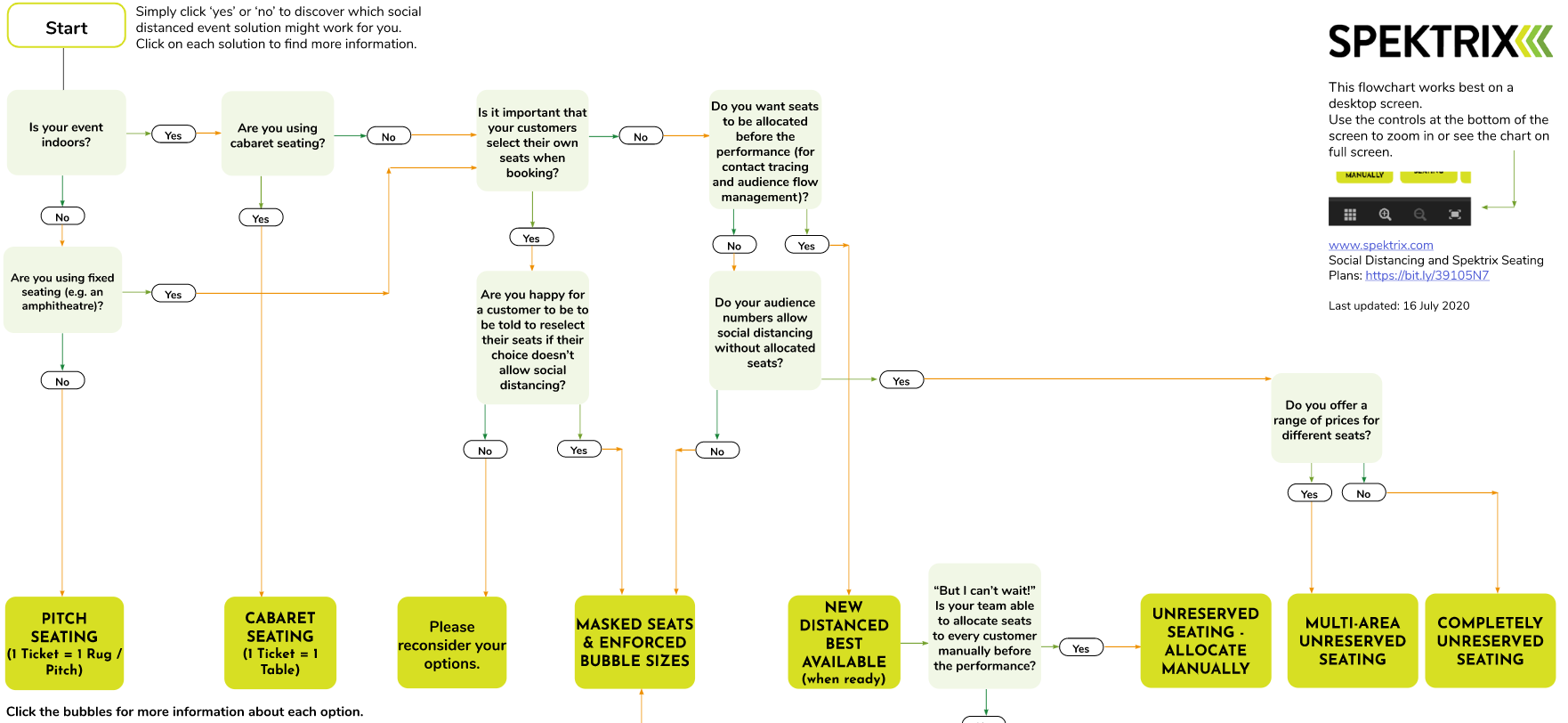 NOTE: this chart works best on a desktop screen.
In this article, we'll break things down by seating plan type. There are three types of seating plans available in Spektrix:
Reserved, which can contain multiple Price Bands and allow customers to choose the exact seats they'd like to sit in
Unreserved, which only contain one Price Band and allow customers to simply choose the Ticket Type that's right for them
Multi-area unreserved, which contain two or more unreserved areas (each containing only one Price Band) and allow customers to choose the Ticket Type that's right for them
If you're using reserved seating plans, you might want to consider one or more of the following options:
Masking seats to reduce capacity
In order to ensure people are sitting at least two metres apart, it might be the case that you only want to sell a reduced number of seats in your auditorium. If you decide to go down this route, you can easily create a new Layout Overlay to mask seats on reserved seating plans into 'bubbles' and take specific seats entirely off sale.
You can add a Layout Overlay to any reserved seating plan by editing it in the Admin Interface > Seating. Click the seating plan in question and head to the Layouts tab. In the bottom left corner, click the New button to create a new Layout Overlay: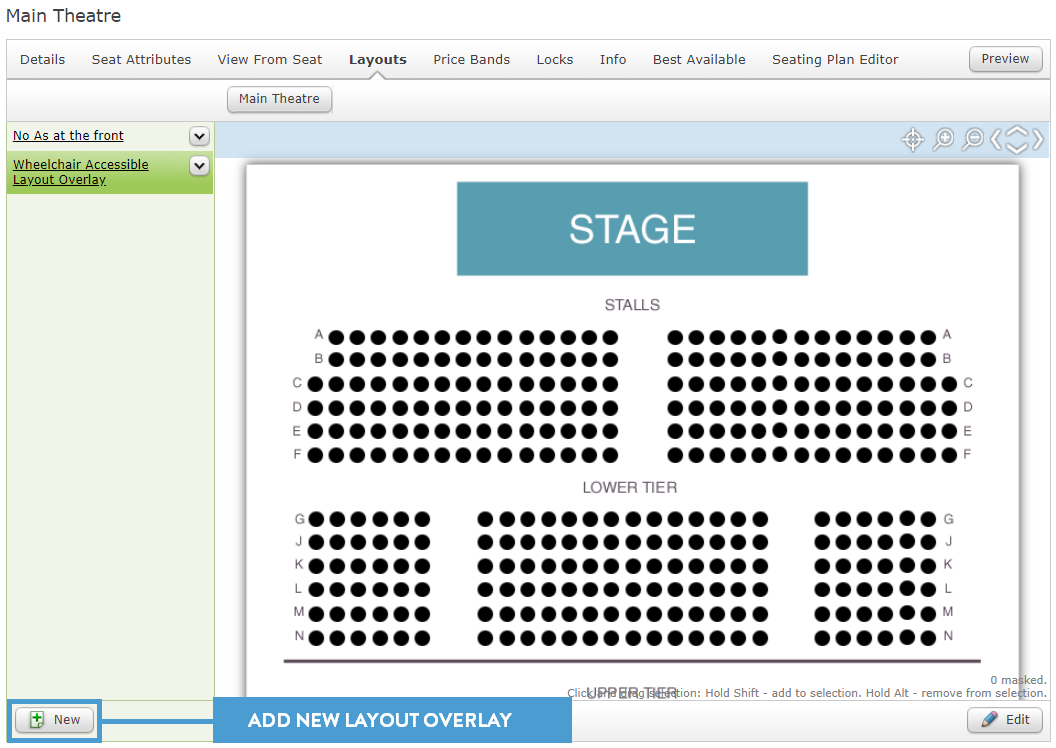 Name your new Layout Overlay and then click Edit in the bottom right corner. Select the seats you want to mask, and they'll appear as red crosses: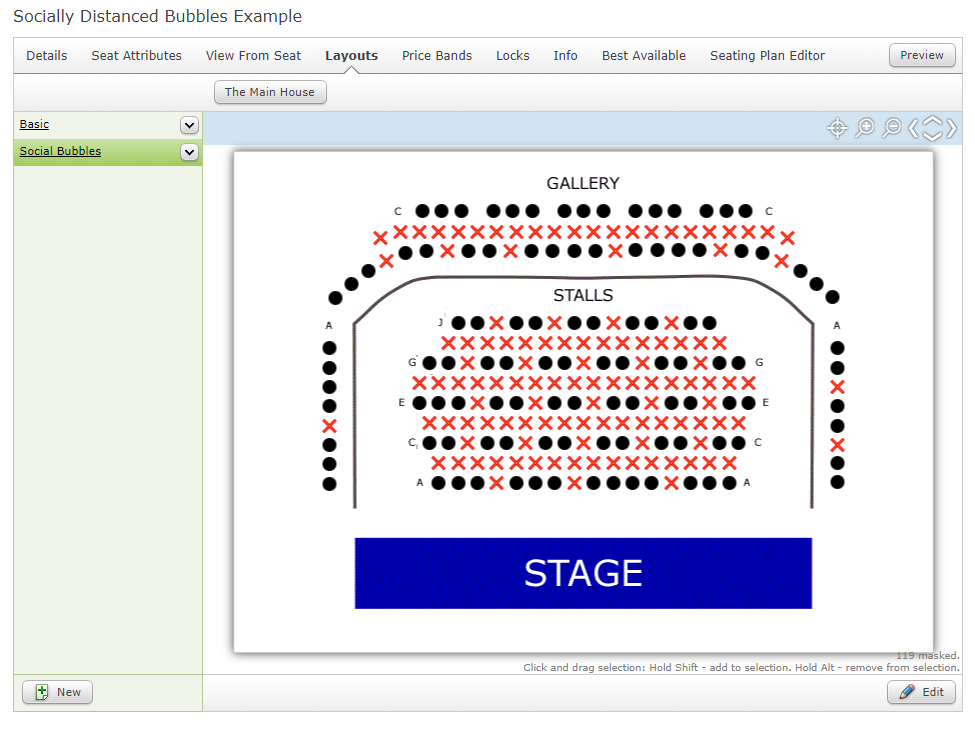 This allows you to hide rows and/or seats, leaving individual seats and/or groupings of seats for customers to choose from that are a preset distance from each other.
You may find masking seats preferable to locking them – in the online booking journey, a locked seat appears greyed out in the same way as a sold seat; this could be confusing to a customer who is actively trying to avoid sitting next to someone. Masked seats, on the other hand, disappear entirely from the seating plan: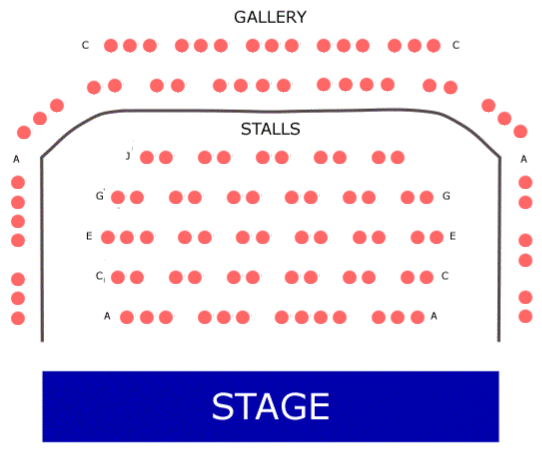 It's also worth considering that, unlike locked seats, masked seats are not available in the Sales Interface, meaning a seat cannot be inadvertently sold.
Masking seats also means that these seats don't factor into your capacities when reporting, as reports in Spektrix calculate financial capacity based on available seat capacity.
Editing Layout Overlay background images to explain social distancing measures
Each reserved seating plan Layout Overlay is made up of a combination of masked seats and a background image, making a unique rendering of your original seating plan. The background image usually contains your row letters, seat numbers, area borders and an icon for the stage. However, you can easily amend the background image on any reserved seating plan to include additional information.
When you create a new Layout Overlay for any reserved seating plan (which you can do by going to Seating Plans, selecting the seating plan and going to Layouts), you'll have the option to upload a new background image: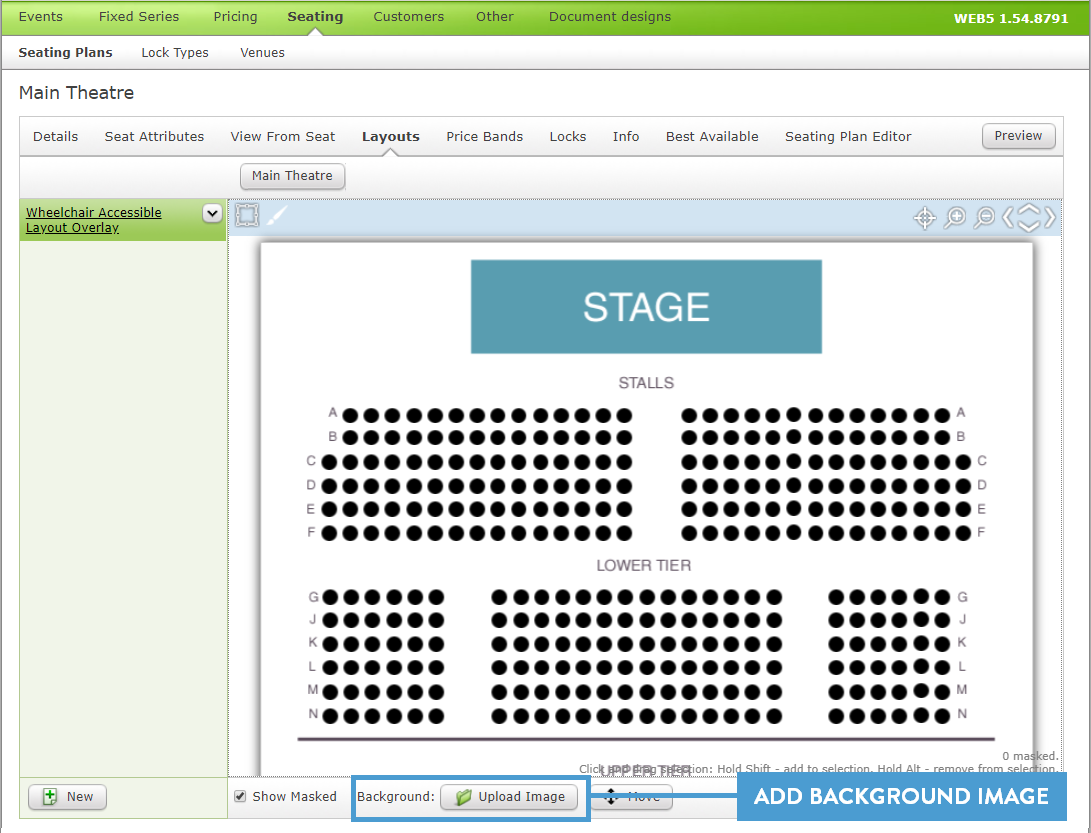 A few things to bear in mind when creating a new background image:
You can save the existing background image (right-click the image and select Save image as...) and edit that using the image editing software of your choice

If you do that, make sure you don't change the size of the image at all, otherwise the seats won't line up when you upload the new version

Make sure you upload your new image as a .jpg or .gif file
By editing your background image in this way, you could add symbols of some sort to the gaps left by the seats you've masked, or place bubbles around them – dotted lines work best here as the seats' image (the dots that represent a seat) have a solid white square background.
You can also add a key to the background image as seen here: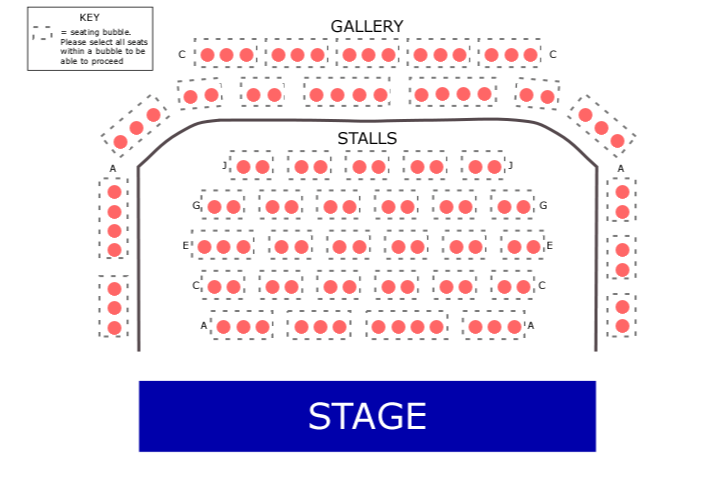 Using Strict Bubble Seating to enforce social distancing
Strict Bubble Seating allows you to only allow customers to proceed if they select all of their seats in a masked-off bubble. For example, if the bubble contains four seats, the customer must select all four. Online, this means that, if a customer tries to select one, two, or three seats from this bubble, they're given an error message and are unable to proceed. In the Sales Interface, the user is also given a warning – however, they can proceed if they wish.
As Strict Bubble Seating has been developed very rapidly, there are a couple of limitations to be aware of before you start using it:
It only works with Select Your Own Seats on the Spektrix iframe/Sales Interface; if you sell tickets directly via the API (or have agents selling via the Agency API) then customers will be able to book 'partial' bubbles. As such, you may want to disable the API for these Events
Best Available seating doesn't obey Strict Bubbles, so you'll need to disable this feature on any Instances before using it
To set up Strict Bubble Seating, start by heading to Settings > Attribute Templates to create a new Checkbox Instance Attribute called Strict Bubble Seating.
NOTE: this Attribute is case sensitive and must not have any spaces at the end.
You'll need to tick this check box against every Instance that you wish to enforce Strict Bubble Seating on. If you've a number of Instances you need to apply this to, you can use the Bulk Instance Editor for this.
Once you've set this up, please test it thoroughly to make sure that it's working as expected. As standard, every seat on a Spektrix plan knows its 'previous' and 'next' seat (i.e. seat A2 knows that A1 is the seat previous and A3 is the next). If this isn't set up correctly on certain seats you might find strict bubbles can be disobeyed.
Get in touch with the Support team if you have any issues, or if you'd like them to check a plan in advance of you going on sale.
Using Auto Distancing to assign socially distanced seats automatically
Auto Distancing allows Spektrix to assign a customer seats that are an appropriate distance away from other bookings, catering for different group sizes, and maximising the number of seats in use. Online, this means that a customer chooses only the number of seats they want (alongside any Price Band/seating area choices) and are given seats to match their requirements without seeing the seating plan. In the Sales Interface, users will be able to book any seats from the plan and can assign a different selection than the customer is provided online.
NOTE: before you start to use the Auto Distancing feature, please email the Support team at support@spektrix.com and let them know which seating plans you intend to use it with, so they can confirm it will work as expected.
Limitations
There are some limitations to consider before using Auto Distancing:
The functionality has no concept of which seats are in front of or behind each other, and therefore we'd advise that, if needed for social distancing rules, you mask off rows entirely to avoid customers being directly in front of each other – see

the section above on masking seats to reduce capacity

for guidance

Seats that are on either side of an aisle are not recognised for distancing consideration, so you may wish to mask aisle seats if they risk being too close to audience members on the other side

Locked seats that a customer is ineligible for are treated as "out of action" and therefore will not be recognised for distancing considerations. We'd advise you put any locked allocations at a safe distance away from seats that are available to all users
Seats that are locked with Lock Types that are set up with customer eligibility allowing them to be purchased online can be purchased by eligible customers; however, these seats will not be assigned preferentially over other available seats. As such, you'll need to consider how to override this behaviour and assign eligible customers these locked seats over other seats that aren't locked. We'd advise that you contact the Support, Training and Consultancy team, who can advise you of the best way to do this

The seat status of vacant "gap" seats that are left empty and can't be picked will remain as

available

; for instance, if you set your gap size to be three, and seats A1-A2 and A6-A7 have been sold, seats A3-A5 will not be available but a sales report or breakdown on the Event Instance would still list these seats as available, rather than masked, sold, or otherwise. This means that you won't get an immediate picture of how many seats are actually available/sold out online, in the

Sales Interface

or in sales reports. It also means that an Instance with no seats available (as all seats would break auto distancing rules) will not show as sold out online

The Auto Distancing feature will override any Best Available settings, and display the page whether or not Best Available is set to be used on the Instance

Unreserved seating areas are not compatible with the Auto Distancing feature. If an unreserved area is present on the seating plan for an Instance, it will not appear as available to select online
Setting up Auto Distancing
Once you've spoken to the Support team, you can start setting up Auto Distancing by heading to Settings > Attribute Templates to create a new Instance Attribute called Auto Distancing Seat Gap.
NOTE: this Attribute is case sensitive and must not have any spaces at the end.
This can be either a Text or Dropdown Attribute, but it must be filled in as a whole positive number to work. If the Attribute is present but not filled in for an Instance, or is filled in with an invalid value (e.g. text, a non-whole number), the Instance will simply function as though the Attribute wasn't there and load the seating plan/Best Available screen when the customer reaches the Choose Seats iframe (chooseseats.aspx).
The number defined in this Auto Distancing Seat Gap Attribute will be the number of seats that will always be left vacant either side of a booking.
When a customer lands on the Choose Seats iframe for an Instance that's using this functionality, it will display a screen that's very similar to the Best Available screen; here they'll be prompted to pick a quantity of seats, as well as the seating areas and/or Price Bands they want to choose from: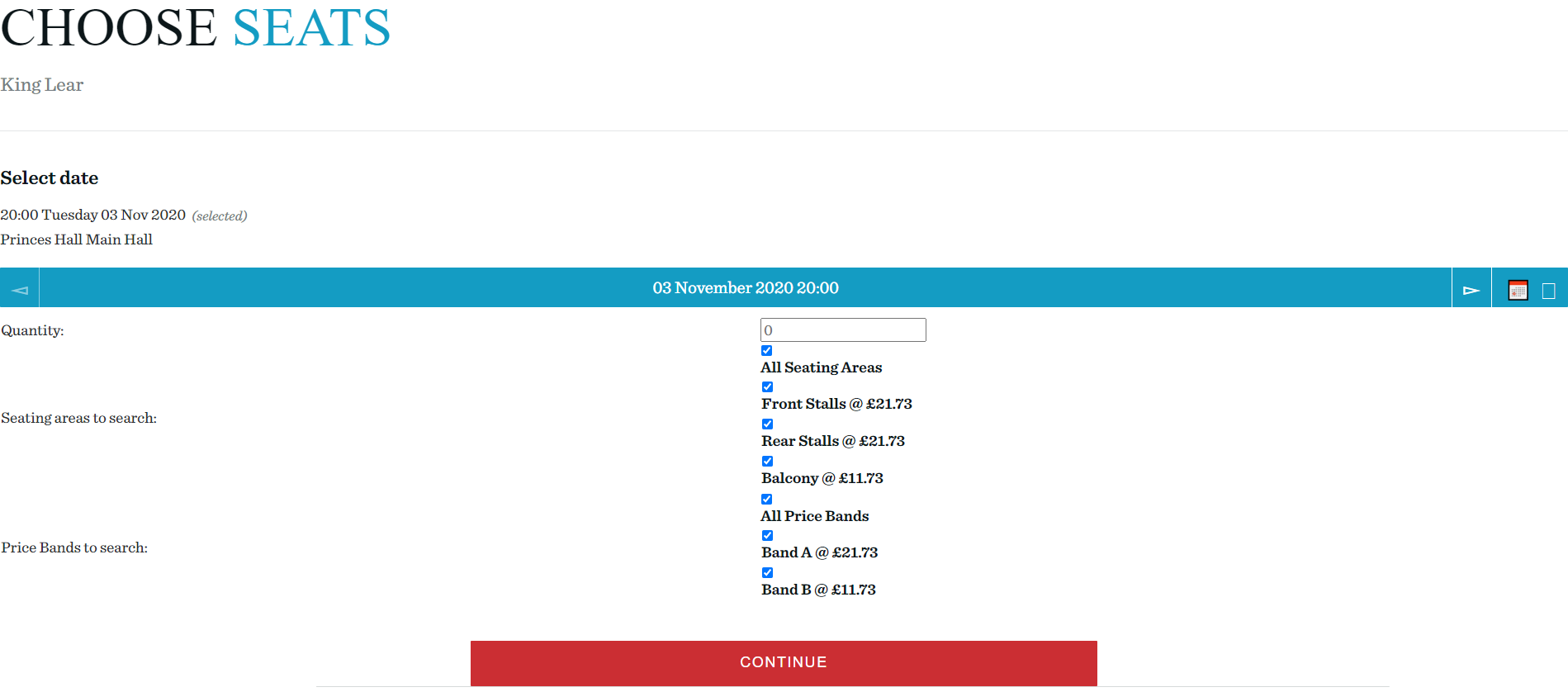 The customer is then assigned seats by being given the first available full run of seats that meets the criteria they've set out and doesn't break social distancing rules when sorted by seat row (alphabetical) and number. The seats will be chosen by the system in the following order:
"Best" seats according to any Best Available overlay used on the Instance

Alphabetically by row (e.g. A, AA, B, BB…)

Numerically by seat number (e.g. A1, A2, A3…)
If you're looking to use Auto Distancing on an Instance that also has a Best Available overlay set against it, we'd advise you to contact the Spektrix Support, Training and Consultancy team to discuss this.
Using Info Overlays to offer additional information on a per-seat basis
Another way to communicate additional information to customers is to use Info Overlays. There's a good chance you're already using these to highlight seats with restricted views or legroom; you could also use them to provide a small amount of detail about the gaps between seats, or any further information about your social distancing policies on an Instance-by-Instance basis where required.
You can add an Info Overlay to any reserved seating plan by editing it in the Admin Interface > Seating. Click the seating plan in question and head to the Info tab. In the bottom left corner, click the New button to create a new Info Overlay: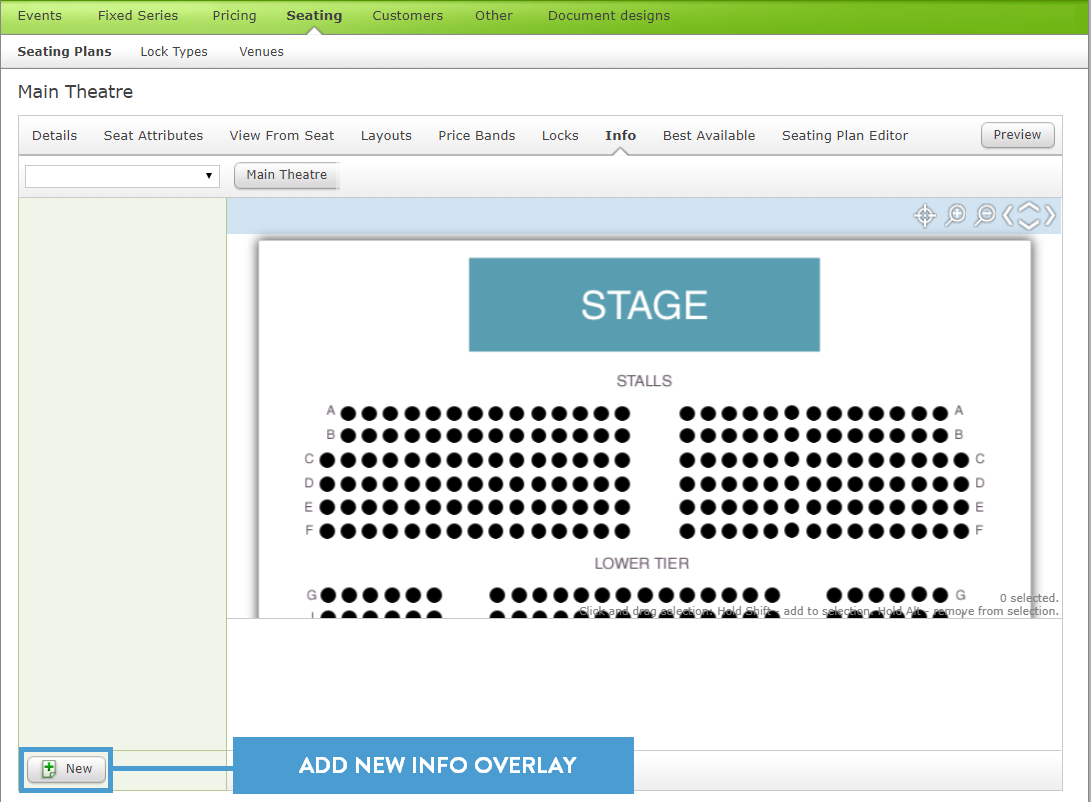 Name your new Info Overlay and then click Edit in the bottom right corner. Select the seats you need, then click the Add a label button: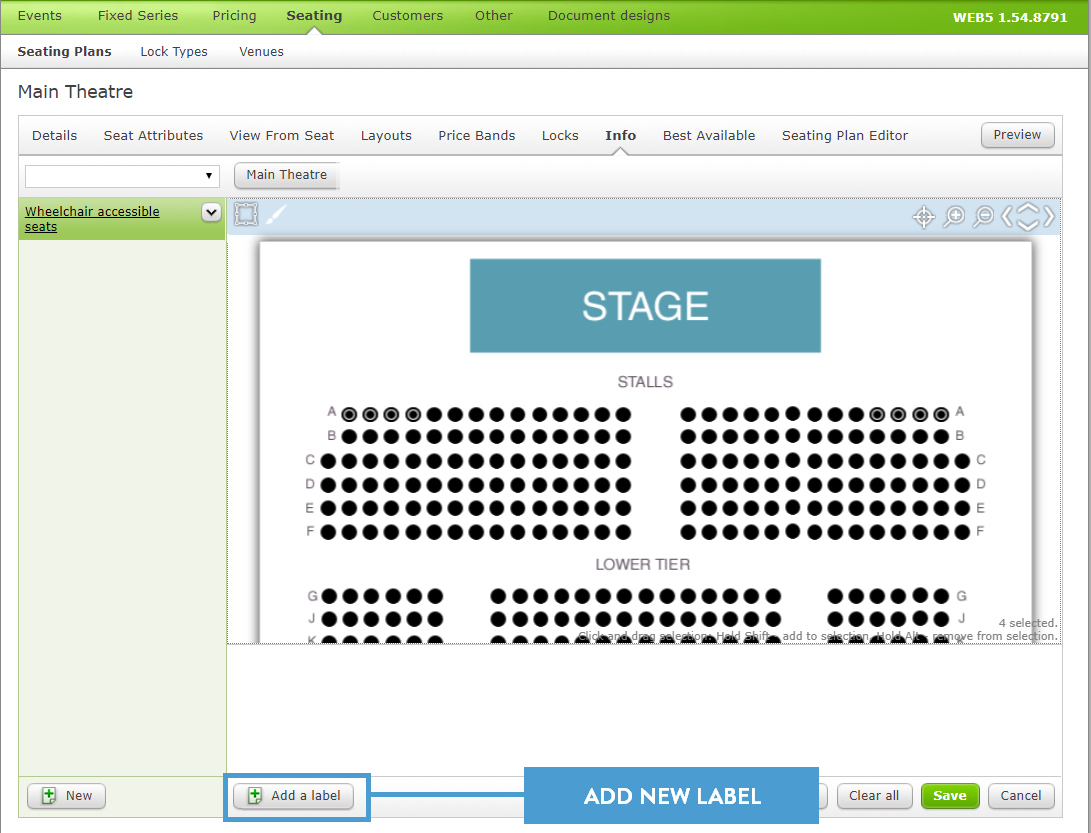 This will create your first label, marked on the seating plan as an A. Bear in mind that these seats won't appear this way to the customer; they'll see any seat with a label on it as a circle with an i symbol. This will draw attention to these seats and, when the customer hovers their cursor over them, they'll see the usual pop-up letting them know the seat number and the price, plus this additional information:

Using Seat Attributes to add further information to ticket designs
Seat Attributes can be used to add further information on a seat-by-seat basis and can be pulled through to a ticket design. For example, you might use them to instruct customers seated in a particular area to use a specific door to enter, or to facilitate a timed entry plan of some description: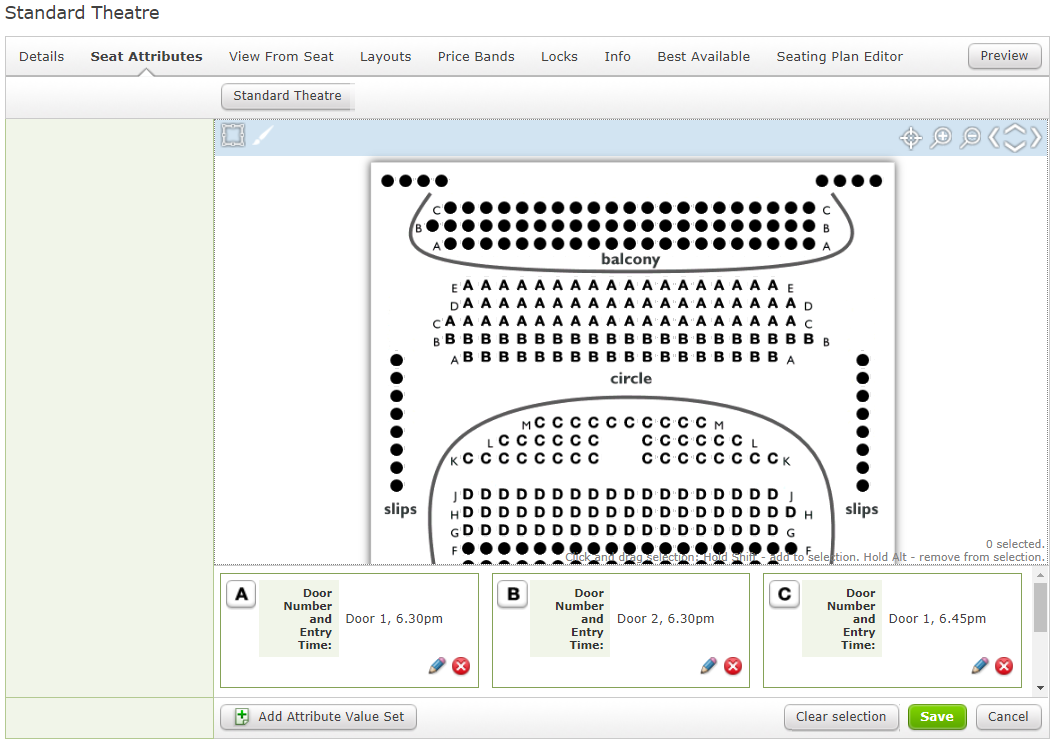 Seat Attributes, like all other Attributes, can be created by heading to the Settings Interface > Attribute Templates > Seat and clicking New Attribute Template: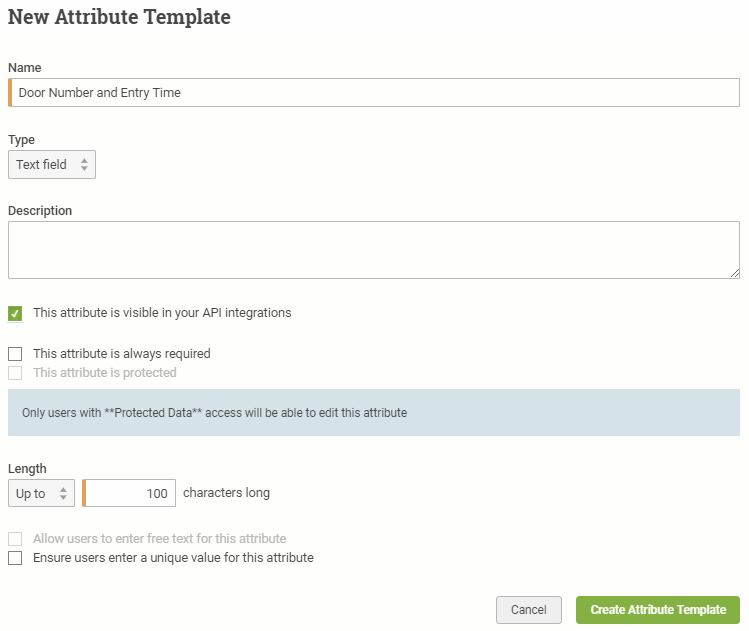 In this example, we've created a free text field Attribute that, when added to a seat, can be completed with information about when to enter, and through which door.
You can then add this Seat Attribute to your reserved seating plan by editing it in the Admin Interface > Seating. Click the seating plan in question and head to the Seat Attributes tab, then click Edit. Select the seats to which you wish to add an Attribute, then click Add Attribute Value Set to see a list of all possible Attributes that can be applied. From here, you can define the combination of each set of Seat Attributes and add the additional information you require for those seats:

NOTE: when you click Add, you'll notice that a capital letter is used to mark the seats you've applied this Attribute to; this is only for your reference in the Admin Interface and won't be shown in the Sales Interface or the online booking pathway.
To add more seats to the same Attribute Value Set, select them and click the capital letter in the bottom menu, or click Add Attribute Value Set again to make a new combination.
You can then add Seat Attributes to your ticket designs, meaning this information will be printed on customers' tickets. To include this on your ticket design, go to the Admin Interface > Document designs > Tickets and either create a new design or edit an existing one. Using the Ticket Design Tool, you can add this information by selecting Text Fields > Seat > Seat Attributes and dragging the appropriate Seat Attribute onto the ticket design: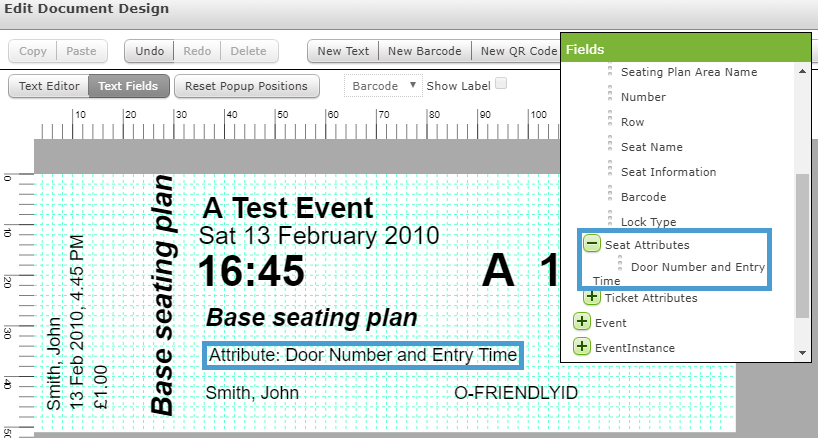 Unreserved seating plans
Unreserved seating plans can be created in the Admin Interface > Seating. Building a new version of your seating plan will allow you to cap your capacity and manage all of the seat allocation in-house, with your ushers allocating seats and offering assistance to your customers in person.
As with all unreserved seating plans, you'll need to create the plan with the absolute maximum capacity you could ever need, as you can't increase the size of a plan once it's built. However, by locking and masking seats, you can always change the number of seats available to purchase. Another thing to bear in mind is that, while you can have multiple Ticket Types available, you can only use a single Price Band on an unreserved seating plan.
Multi-area unreserved seating plans
Multi-area unreserved seating plans allow you to have more than one clickable area which leads to an unreserved allocation of seats. You could use these to:
Using multi-area unreserved seating plans to allow multiple unallocated areas
If you need more than one unallocated area, our Support, Training and Consultancy Team can build multi-area unreserved seating plans that would allow you to have, for example, a plan with one unallocated area for the Stalls and another for the Balcony: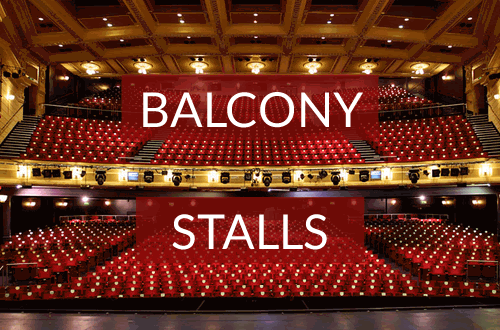 Clicking on these areas would take a customer to an unreserved allocation of seats in each of those areas, which you can freely manage as you need by masking and locking seats. A customer could decide on the amount of tickets they require and, as before, all of the management of where the customers will sit within a particular area would be done by your ushers.
Requesting a multi-area unreserved seating plan
If using multi-area unreserved seating plans is the direction you decide you want to go, you'll just need to send us a request via our Seating Plan Request Form with details of how you want the plan to look, what the areas need to be called, and the absolute maximum capacity you could ever need in each area.
***
If you have any questions, or would like to discuss any of these suggestions in more detail, please don't hesitate to get in touch with the Spektrix Support, Training and Consultancy team.