Arts organisations are increasingly focusing on accessibility, and most offer seats specifically for wheelchair users. It's common, however, to find that these seats are only bookable by calling the box office directly.
Whilst this gives your access customers the chance to talk to your lovely box office staff, it also makes booking that little bit trickier for customers who aren't able to or prefer not to use the phone for any number of reasons.
That doesn't have to be the case, however. Using the very same locks you use to make these seats accessible exclusively to wheelchair users who call the venue, you can also allow these customers to book online through a combination of Lock Type Eligibility and Customer Tags. In this article we're going to take a look at how to set this up, and some examples of how other Spektrix organisations have done so.
Adding access Tags to customer records
The first thing you need to do is find a way of identifying those of your customers who have access needs, so that you can flag these specific customers in Spektrix as having specific requirements and keep track of what those needs are.
Your best bet when it comes to identifying customers with access requirements is to let them identify themselves. You can do this using Tags that are visible to customers when they sign up on your website, displaying the various access options that are available. A great example of this can be seen on Derby Theatre's website: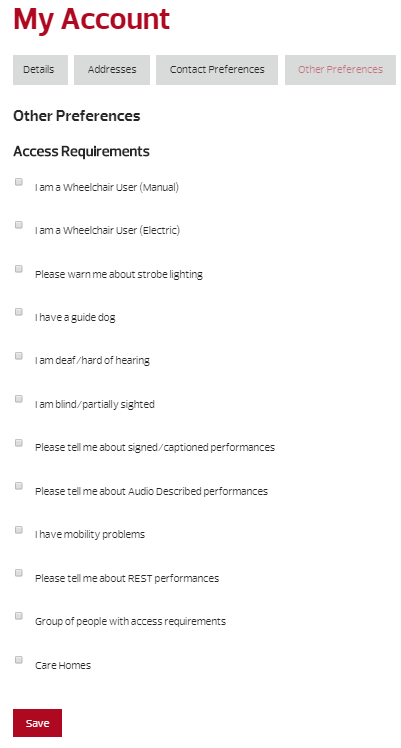 You'll need to create a Tag Group that's available on the web, so name your Tag Group something that will make sense online - like 'Access Requirements' - and ensure the On web box is ticked. You can then create as many Tags as you need within that group, and they'll all show up on your website under Other Preferences every time a new customer creates an account, or an existing customer views their account.
A fairly comprehensive list of Tags might look something like this:
I'm a wheelchair user (electric)

I'm a wheelchair user (manual)

I use a wheelchair but prefer to transfer to seat

I'm unable to use stairs for any other reason

I'm blind or visually impaired

I require Audio Description

I'm D/deaf or hard of hearing and a BSL user

I'm D/deaf or hard of hearing and use captions

I need to sit within a Hearing Loop

I require a Personal Assistant/Companion


I have a registered Assistance Dog

I require a seat close to an exit

I need to know about strobe lighting


I have an access requirement not listed here
Of course, you may have other access requirements that are unique to your venue that need flagging up. We recommend you speak to your access customers – they know better than anyone what they need.
NOTE: if you have particular concerns about accessible seating being mis-sold when it comes to big names performing at your venue and thus not being available to those who need it most, you might decide that you want customers to identify themselves in person or provide specific evidence of eligibility before certain Tags can be applied to their record. If you're unsure what the best way to go about this is, have a chat with the Spektrix Support team and we'll signpost you in the right direction.
Setting up a wheelchair accessible seat allocation Lock Type
With Tags created to reflect customers' needs, the next thing you need to do is allocate some seats to be locked off specifically for the use of your customers with access requirements. The most common use case here is for wheelchair accessible seats, so we'll take a look at how to set that up here.
NOTE: this applies for reserved seating plans only.
When you're setting up your new Lock Type, most of the process is the same as any other lock, except for a few key points:
Select the Available for website users check box to make seats locked with this Lock Type available online
Choose your preferred icon (whether that's the letter W, the traditional wheelchair symbol, or the more modern Accessible Icon), then select the Display icon online if available for website users check box:
Lastly, use the Tags you created earlier to power the lock's eligibility. If you have more than one wheelchair-related access Tag, make sure you add all of them using OR logic, so that you're asking the system to look for customers with any of those Tags (rather than using AND logic, which would only look for customers with all of these T

ags):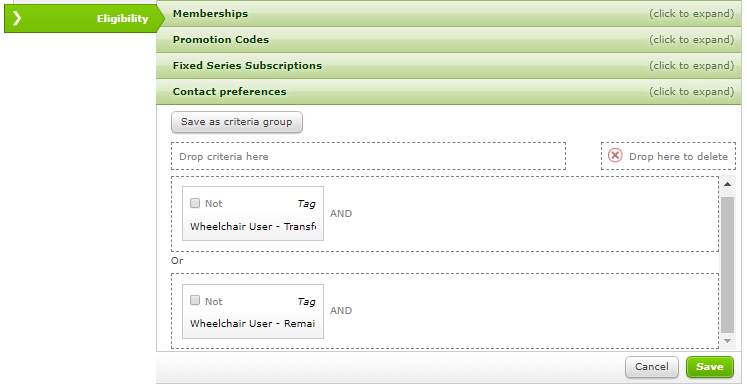 You'll also want to set a per transaction limit for the lock. Remember, however, that this is only a limit per transaction, which means that customers can make subsequent bookings in separate orders to purchase additional locked wheelchair accessible seats.
Once that's all done, you just need to apply the Lock Type to your seating plan(s), and you're good to go. Eligible customers will be able to buy those tickets online, although it's worth remembering that they will need to log in first so that the system can recognise the Tags they've chosen.
Here's an example of an online seating plan as one of your access customers might see it, with the locked seats that they're entitled to buy clearly denoted by the traditional wheelchair icon. You'll notice here that other locked seats the customer is eligible to buy are denoted by star icons: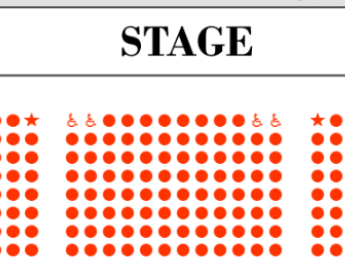 If an ineligible customer views the same seating plan, these locked seats will appear greyed out, in much the same way as a seat that's already been sold.
You don't have to stop with just allocated seating for wheelchair users – consider perhaps locking off a few aisle seats for those who require them, or prioritising seats within a Hearing Loop for someone who uses a hearing aid.
These can be set up in exactly the same way as the locks for your wheelchair accessible seats; just remember to select the Available for website users checkbox, choose the appropriate symbol (whether that's a letter of the alphabet or the open caption, closed caption, or Hearing Loop icon), and tick the Display icon online if available for website users check box: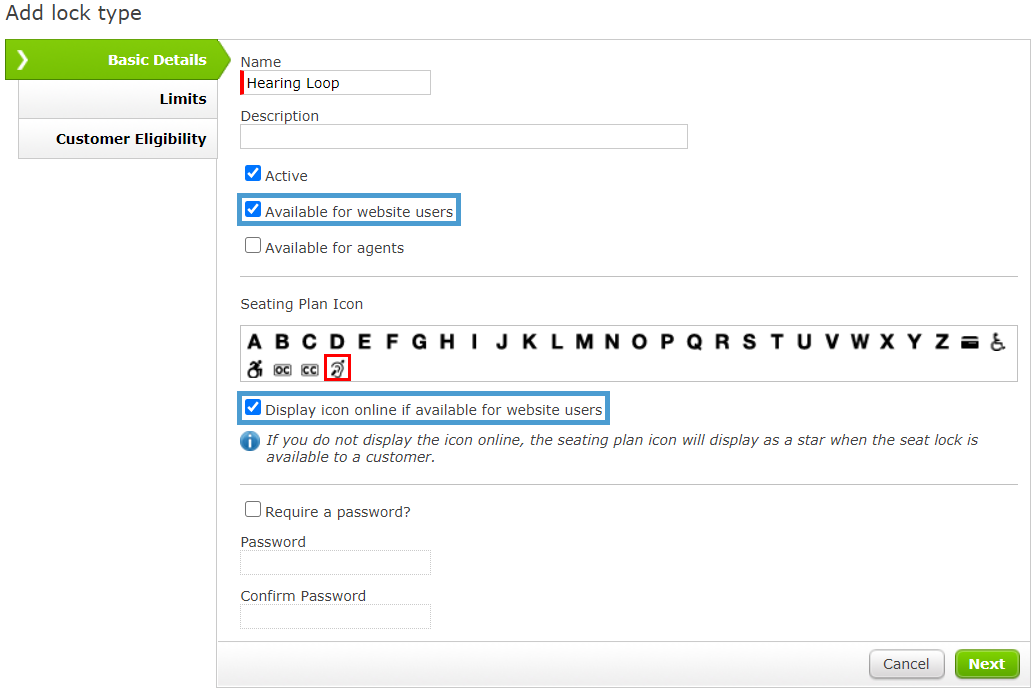 You can then set the limits and customer eligibility as required.
Using Attributes as eligibility criteria
You might prefer using Attributes to power access to this allocated seating; if so, you can create Customer Attributes that appear online as part of the account creation process and can be edited via the My Account page. These can be created in your Settings Interface and could take the form of a free text box, a check box, or a dropdown list – whichever suits your needs best. Here, we've set up a check box Customer Attribute: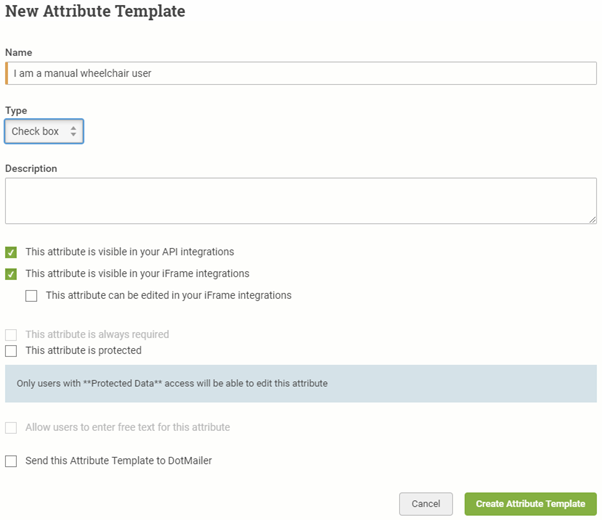 This will then appear as part of the account creation process, like so: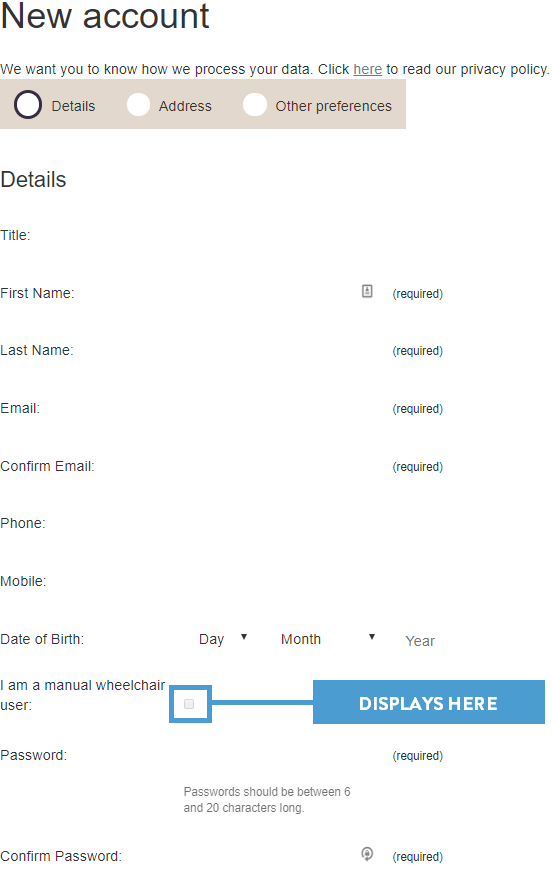 Once created, you can use Attributes like this in much the same way as Tags to power customers' access to locked seats, choosing them instead from the Attributes tab of the Eligibility options.
Multi-area unreserved seating plans
If you don't use reserved seating plans, you might want to consider using multi-area unreserved seating plans to clearly signpost the fact that accessible tickets are available. This can be especially useful for festivals, where you might have a raised viewing platform for access patrons, but they'll work for any unreserved plan and allow you to still lock off an allocation of tickets to those who need them.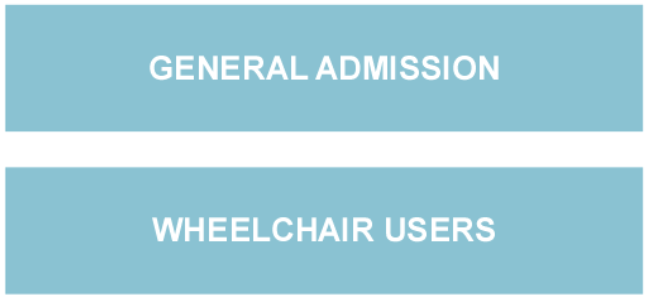 To request a multi-area unreserved seating plan, you'll just need to send us an outline of what you're looking for via our Seating Plan Request Form.
***
If you have any further questions about setting up online access booking, please don't hesitate to get in touch with the Spektrix Support team.