The Report Explorer allows you to organise and find your reports. It is the first page you'll find when you go to the Insights & Mailings Interface.
The Report Explorer is where you'll find all of your Custom and Standard Reports.
Standard Reports are indicated by the blue toolbox icon.
Custom Reports which you have built or requested appear with a paper icon.
In the Report Explorer, you can:
Search for and run Standard and Custom Reports using the search bar.

Sort Reports by Name, Type or Date last run.

See when any Report was last run in the Date last run column.
REMINDER: the date of last run includes when a report was last run in the Report Explorer or as part of a Report Schedule.
Edit existing Custom Reports or copy Standard Reports.
Create new Criteria Sets.
Create new Custom Reports.
Create folders and shortcuts to keep your Reports organised.
Here's an example of what the Report Explorer on your system might look like: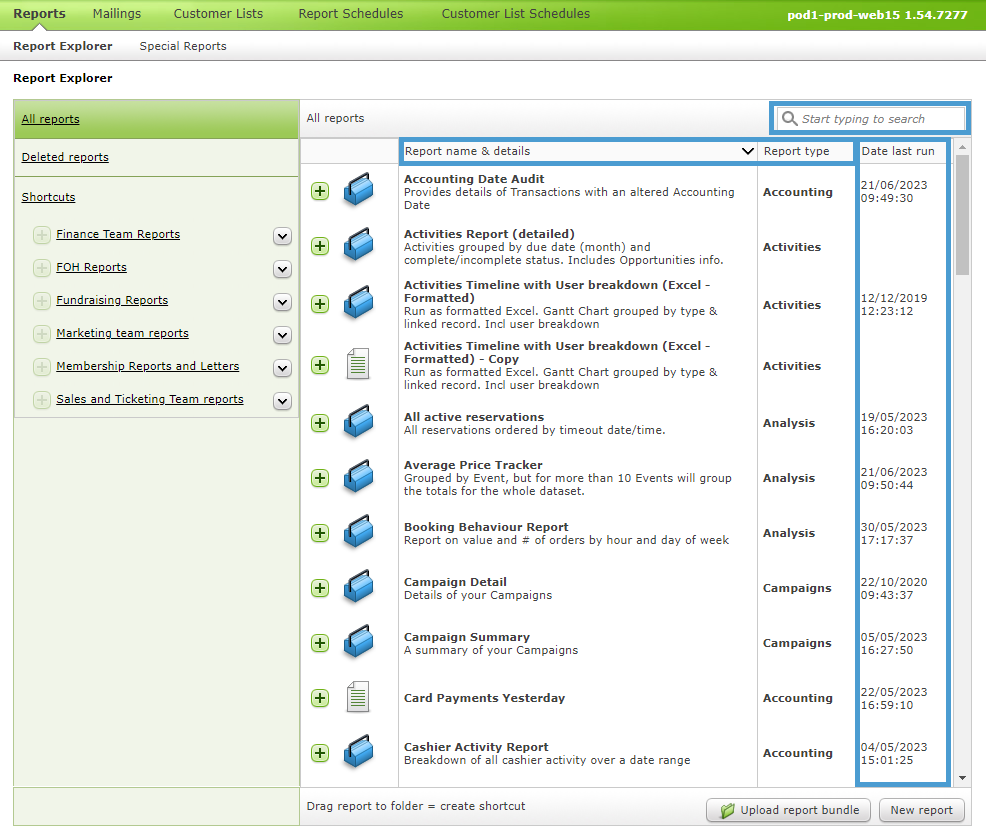 Within the Report Explorer, you can keep your Reports organised by creating folders and subfolders.
By default you will see All reports, if you click on the Shortcuts option, you can view, edit and create new folders. The Shortcuts option also allows you to:
Click the

New folder

button to add a folder - make sure you give it a memorable name.

Create as many folders

as you need, and each folder can have sub-folders.

Rename or delete folders

by clicking on the drop-down arrow at the right hand side.

Add a Report into a folder

, click on the Report and drag it into the relevant folder. Each Report in the folder will display in the main panel on the right with a blue arrow next to its icon - this shows that it's a shortcut.
REMINDER: Deleting a shortcut from a folder will not delete the report from your system.
To continue learning more about Reporting in Spektrix, take a look at the following articles.