NOTE: This article refers to the use of 'opens' and/or 'open rates'. In Apple's iOS15 (released 20 September 2021) and MacOS12 Monterey (release date TBC) software updates, new mail privacy settings will affect the usability of 'opens' as a metric in Spektrix. For more information please click HERE.
What is a Mailing?

In Spektrix you can use the Mailings tool to log when you send out physical mailings or marketing emails. We use the term Mailing Records, because when you create a new Mailing you are generating a record of what you are going to send out, whether that be an email, brochure or something else.

Each Mailing Record in Spektrix denotes a mailing or email that you have sent. Creating Mailing Records allows you to keep track of your marketing activities, and using our Return on Investment report means you can also track the cost of your activities along with how successful they are.

If you make use of our integration with dotdigital then you will automatically create a new Mailing Record each time you send an email.

Different Types of Mailing

You can create two different types of Mailing – Standard Mailing for when you want to output a list of customers, or Integrated Email for when you want to send a new email via dotdigital.

Whichever type of Mailing you want to generate, you need to first create a Customer List to determine who you are marketing to. Please see this article for more information on creating Customer Lists.

Components of a Mailing

Mailings are made up of a number of different components:
Mailing Category

Fulfilment Method

Customer List

Email Template (for Integrated Emails

)

Target Events
Every Mailing Record requires all of these components to be chosen (except for Email Template, which is only relevant for integrated emails), as they determine exactly what each Mailing is doing.

Mailing Category
Mailing Categories are a way of flagging what type of Mailing you are sending, in more detail than just Standard Mailing or Integrated Email. By default the system has three Categories - Pre-show Email, Post-show Email, and Mailing – although you can create your own Categories in order to fit with how you work and drill down into as much detail as you need.

Fulfilment Method
This is how the Mailing will be fulfilled, for instance 1st Class Post or Mailing House. You can create as many Fulfilment Methods as you need, each time entering the cost per item so that you can accurately track the cost of each Mailing you send out.

Integrated Emails always use a default Fulfilment Method of Integrated Mailing, the cost for which should match your pricing plan. Please contact the Support team if you have any questions about this.

NOTE: the idea behind Mailing Category and Fulfilment Method is that, along with Mailing Type, they form a hierarchy which allows you to record exactly what each Mailing is doing. So you have Mailing Type > Mailing Category > Fulfilment Method.

For instance you might have:
A simple e-shot: Integrated Email > E-shot > Integrated Mailing
Your pre-show emails: Integrated Email > Pre-show Email > Integrated Mailing
A Membership letter: Standard Mailing > In-House Mailing > 1st Class Post
Your monthly brochure: Standard Mailing > External Mailing > Mailing House
Both Mailing Category and Fulfilment Method are available to use as Marketing Segments in Customer Lists, which allows you to segment your database on a wide range of metrics. For more information on Segments have a look at this article.

Customer List
Each Mailing is based on a Customer List that you have created in Spektrix by identifying which customers you want to receive your marketing. You can only send each Mailing to one Customer List at a time. If you're sending multiple mailings one after another, use a separate customer list and do not modify the customer list you've just used to send the next mailing.

Email Template
Any Integrated Email email you send out needs to have a campaign already created in dotdigital – if you're not sure how to do that, just get in touch with Spektrix Support who will be able to help.

Any campaign you create in dotdigital will be available to choose from this section.

Target Events
In order for there to be any data to use in the ROI report, you need to select one or more Target Events; in other words, the Events that your Mailing is focused on. For instance, if you're sending an e-shot about a specific Event, include that as the Target Event. If you're sending out your season brochure, pick a range of Events that are included in the brochure.

How do I create a new Mailing?

There are two places where you can create new Mailings, both of which take you to the New Mailing screen.

The first way of creating a new Mailing is to navigate to Insights & Mailings > Mailings and click on either New standard mailing or New integrated email.





From here you can choose to create either type of Mailing.

The second way of creating a new Mailing is from within a Customer List, using one of the options from the Choose an action drop-down:





There are two relevant options in this drop-down list – Use in standard mailing or Use in integrated email. Clicking on one of these will take you to the New Mailing screen for that particular Mailing type, and will automatically populate the Customer List field with the Customer List that you were working on.

New Mailing screen

Regardless of which method you use to create a new Mailing, you will be taken to the New Mailing screen - this only varies slightly depending on whether you are creating a Standard Mailing or an Integrated Email: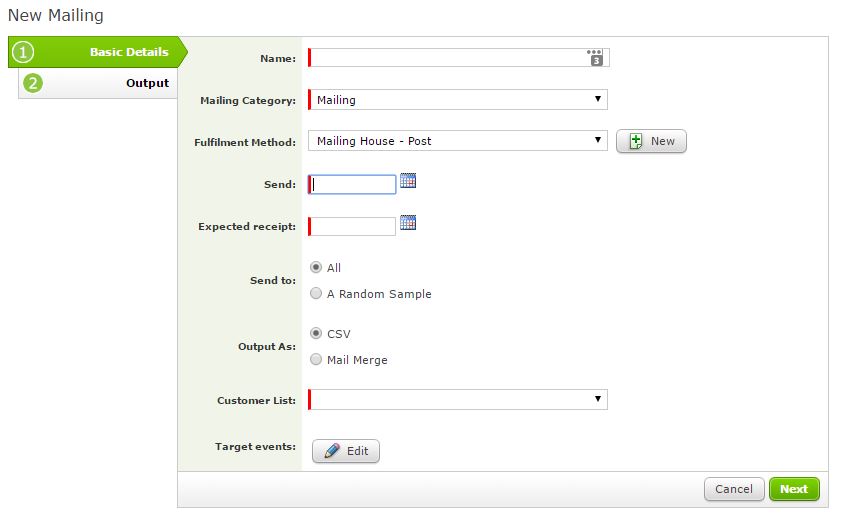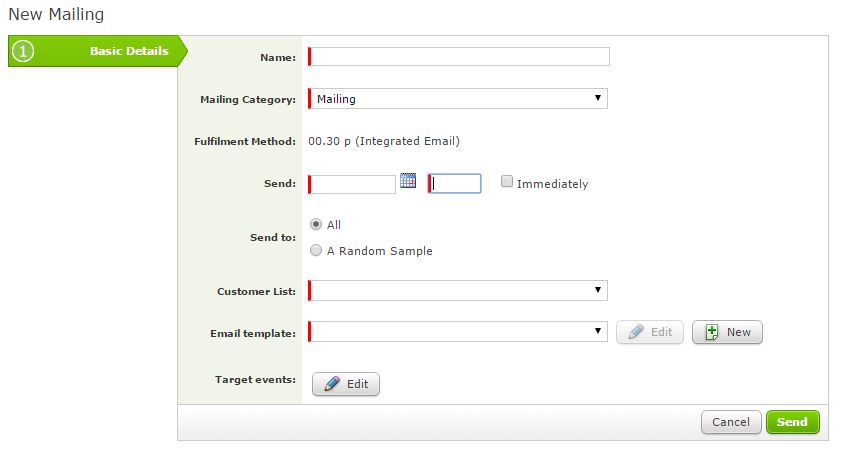 From here you can create your Mailing by filling in all of the necessary fields:
Mailing Category and Fulfilment Method: these allow you to tailor the type of Mailing you are sending
Send/Expected receipt: the date at which you are sending your Mailing, and the date at which you expect it to be received.
Send to All/A Random Sample: normally you will leave this as

All

but you may occasionally want to send a Mailing to a sample of your data for A/B testing

Output As: you have a choice of outputting Standard Mailings as either a CSV or a Mail Merge, if you want to use the data to populate a letter or a set of labels. See this article on Mail Merges for more details
Customer List: the Customer List that you want to use for your Mailing
Email template: the Dotdigital campaign you want to use in your email; this only appears when sending an Integrated Email
Target Events: the Events your Mailing is referring to, for use with the ROI report
Having filled in those sections, if you're creating a Standard Mailing then you also need to look at the Output page – skip the next section and move straight to the Output Page section.
Alternatively, if you are creating a new Integrated Email, then the job is essentially done, although before you can save your mailing you'll see one of several validation messages. These are designed to encourage you to stop and check that you're using the right Segments in your Customer List, to try and avoid accidentally sending emails to, for example, customers who haven't agreed to be contacted.
This is the standard validation message which encourages you to check the count of your Customer List before sending an Integrated Email:

If you create an Integrated Mailing using a Customer List without a Segment that contains Contact Preference criteria, you'll see this message:

You'll see this message if you create an Integrated Mailing using a Customer List which contains customers who haven't agreed to be contacted by email:

If you would prefer not to use this validation, you can turn it off in the Settings Interface under Configuration > System Setup > Bulk Emails:

From this page, just untick the Display a warning when attempting to send bulk emails if no contact preference criteria has been specified option and you'll no longer see these validation pop-ups.
NOTE: If scheduling several mailings with similar segments within a short space of time of each other, it's best practice to use a separate customer list for each mailing, rather than going back into the same list to edit segments and then schedule the next mailing. Scheduling multiple mailings from the same list in a short timeframe can cause conflicts which may result in mailings sending incorrectly. The 'copy' function in the Customer List Explorer will help save you time if you need to just make small changes to an existing list.
Output Page
If you're creating a Standard Mailing, the next step is to complete the Output page, which lets you choose which fields you want the Mailing to output: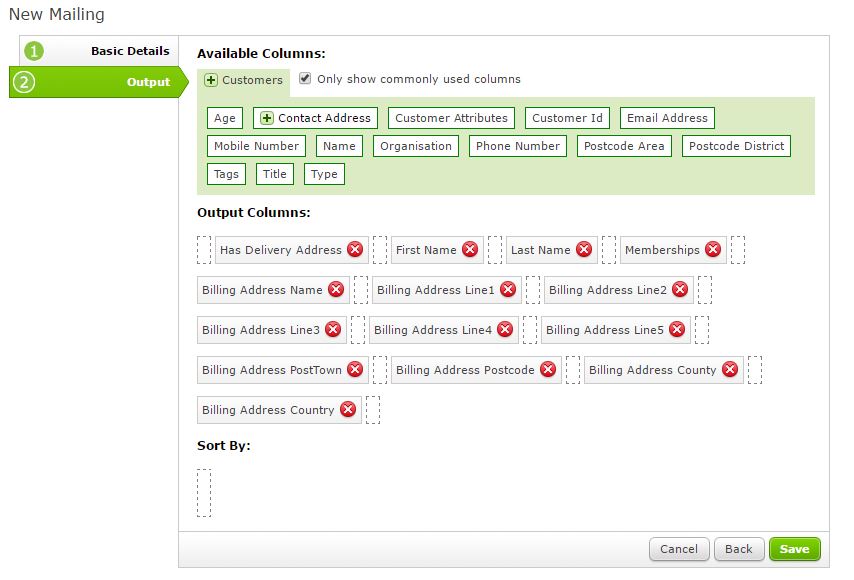 Drag fields from the Customers wrapper at the top of the page down into the Output Columns section.

To save time you can set the defaults for this page in Insights & Mailings > Mailings > Mailing Settings under the Output Template section. This allows you to choose the fields that you want to display as standard, instead of choosing them afresh each time.

NOTE: The point at which you click 'Send' will lock in the numbers of customers in the customer list at the time of sending/scheduling. For example: if your customer list had 150 customers in it today and you scheduled your mailing to send tomorrow - during which time the list number increased to 200 - the mailing would still only send to the original 150 customers that were present at the point of clicking 'Send', as this was the number at the point of scheduling. You may want to consider Customer List Schedules if you want a mailing to send to the most up-to-date customer list numbers.

Saving a Mailing

When you save your Mailing, depending on how you have set it up the system will do one of the following things:
Send an email straight away via dotdigital, if you have created an Integrated Email set to send immediately

Schedule an email to send via dotdigital at a specific date and time

Send you an email with a link to download the CSV of your Customer List

Send you an email with a link to download a merged document
Searching for and viewing Mailings

You can go back and look at the details of a Mailing at any point after creating it, by searching for it in Insights & Mailings > Mailings.





From here you can search in various ways. Simply clicking Search will bring up all of your past Mailings, otherwise you can search by various criteria:
Mailing name
Mailing Category: if you want to see all

Mailings of a specific Category, choose one from the drop-down and click Search

Fulfilment Method: this works in the same way as Mailing Category

Send date to and from
However you search, if there's one or more valid Mailings then you will see it/them listed like this: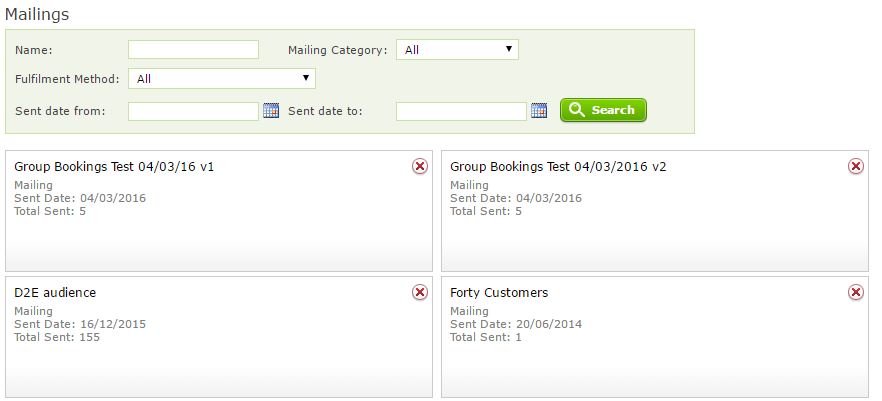 From here you just click on the relevant Mailing to open up a details page: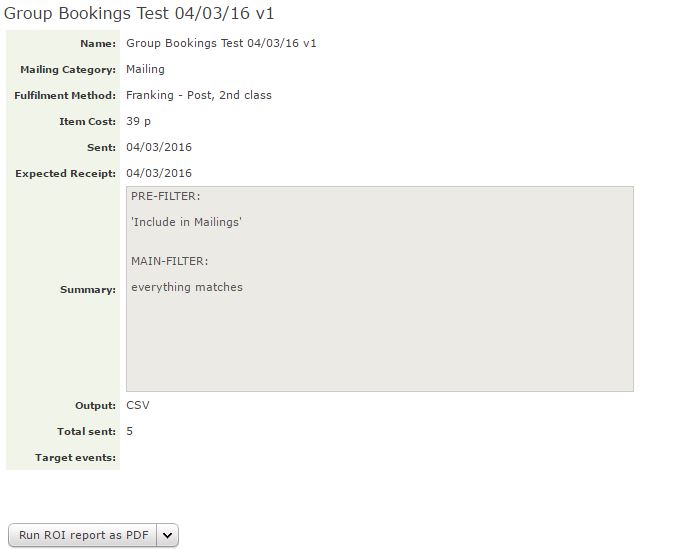 On this screen you can see a range of the details that you entered when creating the Mailing, the segment logic from the Customer List you used, and some delivery statistics. When looking at a Standard Mailing you only see the Total sent figure, which shows the number of customers included in the Mailing, while for Integrated Emails you get more detail including the number of emails blocked, bounced and opened: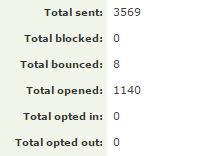 You can also run the ROI report from this screen.
NOTE: Mailings and the ROI Report currently track 'Open Rates'. Previously these may have been used to track email campaign engagement, and they are still available as a system criteria, however from September 2021, Apple released the latest versions of their operating systems iOS15 and MacOS12 Monterey. These updates include new privacy settings in Apple Mail, which will preload email images, including the tracking pixels used to track 'Opens' by email providers.
This means that all emails received by Apple Mail will appear as having been opened in Spektrix and Dotdigital regardless of whether they have or have not. This only affects Apple Mail users, but they make up approximately 35% of all email recipients and, our data suggests, 50-80% of users for our client base. In short, 'Opens' will no longer be a reliable metric for measuring email Campaign engagement. You will want to bear this in mind when reporting on your Mailings and look into referring to click rate as a more reliable means of tracking your customers' engagement.
We have a guide on this update available here, and are happy to answer any questions you might have.

In the Sales Interface, every customer also has a list of Mailings that they have been included in, visible under the Mailings tab in the customer record:





Pre- and post-show emails

As well as manually-created Mailing Records, Spektrix also generates a Mailing Record for each Pre- or Post-Show Email that you send. These appear in exactly the same way as any other Mailing Record, using the Post-show Email or Pre-show Email Mailing Categories.

***
If you have any further questions about Mailings, please don't hesitate to get in touch with Spektrix Support.