What is a Fixed Series?

Fixed Series Subscriptions allow a customer to purchase a ticket to a series of Instances and retain the same seat for each show. For more information please see our articles on Setting Up a Fixed Series and Selling a Fixed Series.

Rolling over a Fixed Series

Rolling over a Fixed Series Subscription allows a customer to retain the right to the seat that they purchased in a previous Fixed Series.

When you roll over a Fixed Series, the customer is automatically assigned a hold to the new Fixed Series Subscription. This means that they have time to decide whether to purchase tickets without losing their chosen seat.

Setting up a New Fixed Series

The first thing you need to do is set up a new Fixed Series, and choose which existing subscription you want to roll over from.

Go to Admin > Subscriptions > Fixed Series and click the Create new series button, then select the option for Subscriptions will be rolled over from. You will then see a drop-down with all of the available Fixed Series that you can roll over from.





It is only possible to roll over one Fixed Series into another - this ensures that no seats are held by more than one customer.

The system will automatically populate the Basic Details screen with the name and most of the information from the original Fixed Series. Make sure you check this information and amend anything that has changed, after which you can then set up your new Fixed Series as normal. When you reach the end of the process you will see a sixth step that only appears when rolling over.

Step Six - mapping Subscription Groups
When rolling over the final step of creating a new Fixed Series Subscription is mapping Subscription Groups from the existing Fixed Series to the new one.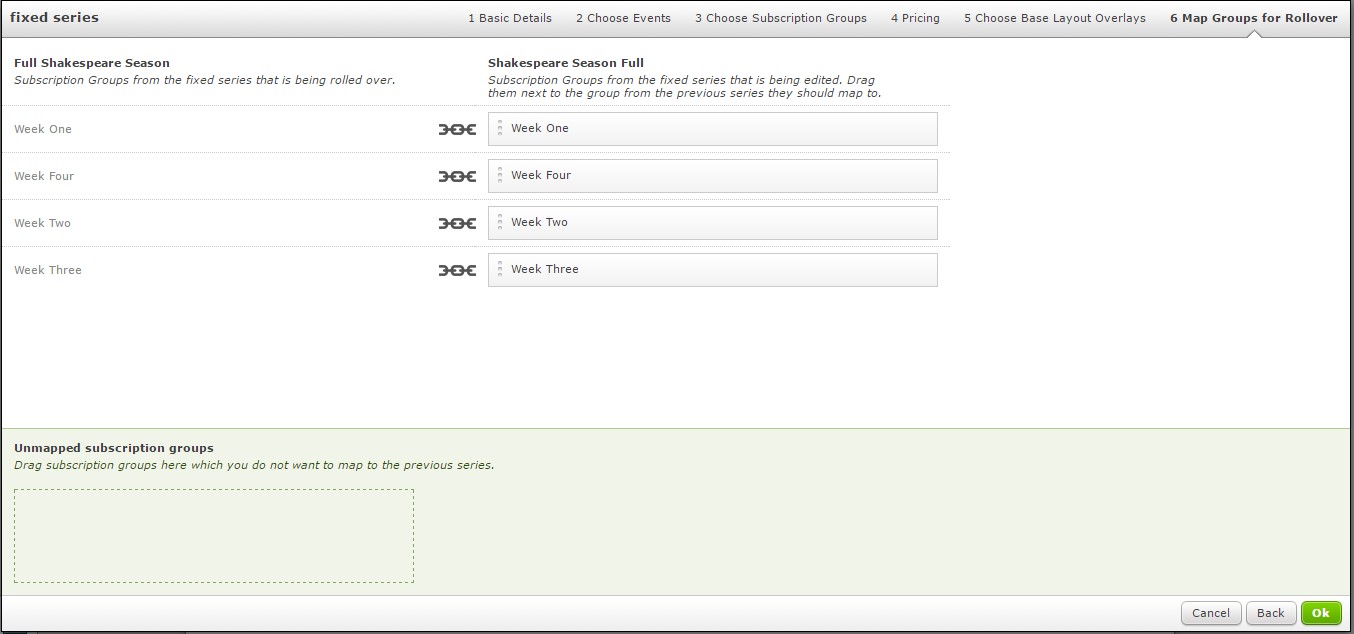 What this means is that for each Subscription Group on the old Fixed Series (i.e. each group of Instances) you need to choose the Subscription Group on the new Fixed Series that the system should allocate tickets for.
For example if a customer purchased tickets for the

Week One

Subscription Group in the original Fixed Series, should they automatically be allocated tickets in the

Week One

Subscription Group for the new Fixed Series?
To map Subscription Groups just drag each one into the right slot - you'll see the old Subscription Groups on the left and the new ones on the right.

You can also choose not to map a certain Subscription Group - drag it into the Unmapped subscription groups section. This might be if you are creating a brand new Subscription Group or deciding not to allow rollovers in a certain group.

At this point, you also need to select a hold timeout time - the point at which any holds that have not had tickets purchased for them will be released, and other customers permitted to buy a Fixed Series Subscription using the released seats.

This timeout is automatic and any customers who have not purchased tickets by this point will lose the right to their seat in the new series and in any future rollovers from the new series.

Rolling Over

When you are happy with your new Fixed Series Subscription, click OK and you will see it displayed alongside the rest of your Fixed Series. You can tell that this Fixed Series has been set up with a rollover by the button that appears next to its name.





Click this button to proceed with the rolling over of all customers from the old Fixed Series to the new one.

Once you have initiated the roll over, customers will be assigned a hold for their selected seats in the new subscription - a transaction is created using the name of the customer rolling over. Spektrix produces a report that will inform you of any failures (for example when a seat was unavailable on an Instance due to locks or masks) so that you can manually place a hold for any affected customers. If there are significant numbers of failures it's possible to re-run the rollover once you've identified and rectified the problem.

Your new Fixed Series is then available for sale (based on the on-sale time you set) and customers who have been allocated holds will be able to purchase tickets through the box office or online. Their holds will be shown in the Fixed Series tab of their customer record, ready to add tickets to the basket. Generally speaking it's best to roll over before the Events reach general sale.

After the hold timeout date passes any customers with seats still on hold will lose their right to those seats. Any seats which have not been purchased by customers will become available once again in general sale as well as in a Fixed Series Subscription again.

Summary

For more information on Fixed Series Subscriptions please see our Fixed Series FAQs article.

If you have any further questions about rolling Fixed Series Subscriptions over, please get in touch with the Support team.