One of the issues which can arise when you use reserved seating plans is that of isolated seats - when customers purchase tickets leaving single, isolated seats which are less likely to subsequently sell. To help mitigate the risk of single seats being left, Spektrix allows you to set Isolated Seat Detection rules, with which you can choose how strict to be.
Setting it up
The options for Isolated Seat Detection can be found in the Settings Interface, under Configuration > System Setup > Seating Plans. You will need the Settings Administrator user role to be able to do this.
In this section you'll see three radio buttons, allowing you to choose one of three options: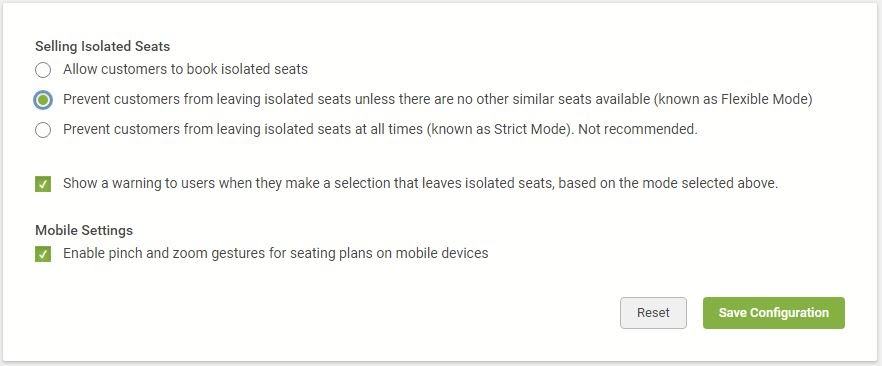 Which option you choose will have important implications on how seat selection works on your website. There's also a separate option you can enable which affects Sales Interface users. We'll go through all of the options below, explaining how each one works.
Allow customers to book isolated seats
This is the default setting, which turns off the Isolated Seat Detection feature and allows customers to book whichever seats they want online.
This gives your customers the most flexibility, but does mean that you run the risk of isolated seats being left. Depending on your usual audiences this might not be a problem, but under some circumstances it can be harder to sell individual seats as anyone attending in pairs or larger numbers probably won't want to take separate seats.
Prevent customers from leaving isolated seats unless there are no other similar seats available
This is otherwise known as Flexible Mode, which prevents your customers from leaving isolated seats within the same row and area of your seating plan when making their seat selection.
It's worth noting that this option won't always stop customers leaving isolated seats. It will instead try to restrict the number of isolated seats that can be left, without forcing the customer to change the area they want to sit in. For example, it will not force a customer to sit in Row Z if they are trying to book two of the last three seats in Row A, even though that would leave an isolated seat.
In order to do this, the system analyses the selected seats and those nearby to determine if it would be possible to make an alternative selection without leaving an isolated seat. If there is an available alternative, the system will not allow the original seats to be selected. If there are no alternatives then the system will permit the selection.
Prevent customers from leaving isolated seats at all times
The final option – otherwise known as Strict mode – will prevent any isolated seats from being left at all. This includes any seats at the ends of rows, as well as any circumstances of isolated seats identified during online sales. We don't recommend this setting, as it may prevent customers from having the freedom to choose the area they would prefer to sit in.
Show a warning to users when they make a selection that leaves isolated seats, based on the mode selected above
With this option selected, anyone selling tickets in the Sales Interface will see a warning message whenever they select seats to be added into the basket which would leave one or more isolated seats. This message won't stop them from continuing with the order, however - it's just a notification intended to make them aware that they're leaving isolated seats.
***
If you have any further questions about the Isolated Seat Detection functionality, or would like to discuss anything in more detail, please don't hesitate to get in touch with the Spektrix Support team.