When you print tickets from Spektrix, you may also print one or more other items alongside the tickets themselves. Exactly what prints is determined by the details of each order, but there are various possibilities, some of which you can choose to include or exclude. In this article we're going to take a look at the various options for what can print, how you can design these, and the options you have for choosing whether or not to print them.
Here's what we're going to cover:
When we talk about printing in this article we're referring to both printing single orders (whether at the point of purchase or subsequently) and batch printing; any time something applies to just one of those methods, we'll specifically call it out.
Aside from the tickets themselves, when you print an order you will also print the following by default:
Cover slip:

the customer's name and address details

Card/Chip & PIN receipt:

a receipt for the payment, if the order was paid for by Card or Chip & PIN
Depending on what you sell, you might also print merchandise tickets, and/or choose to print merchant receipts. We'll look at all of these options in this article.
Before you can print anything – tickets, receipts, cover slips – you need to have a document design for each item. We'll give you a quick rundown of what you should have, where you can find each one, and the information they generally contain. You can read more in this article about how to use the Ticket Design tool if you need to make any edits to these.
The two main document designs we're looking at are found in the Admin Interface > Document Designs > Other.

From here you can click the Edit button to see each design and make any changes you need.
Cover slips
These usually contain the customer's name and address details, but you can also include other information such as Order Attributes and/or delivery method. Here's an example of what that might look like: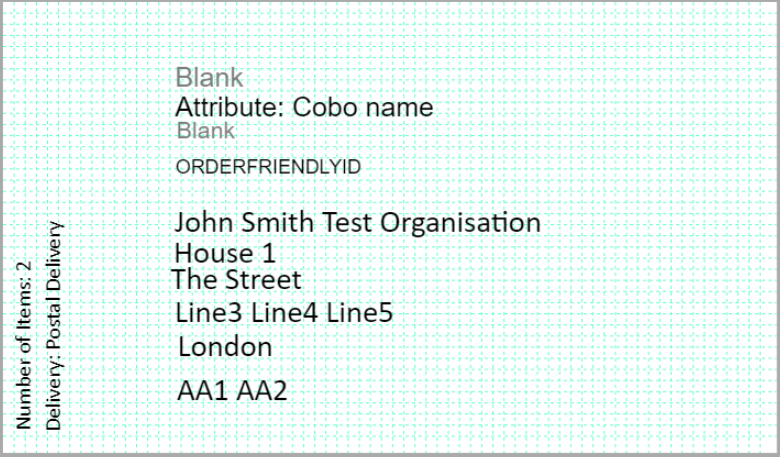 Address slips
These are similar to the cover slips, but designed to be printed out separately. You're likely to only need the customer's name and address on these – here's an example of how they might look: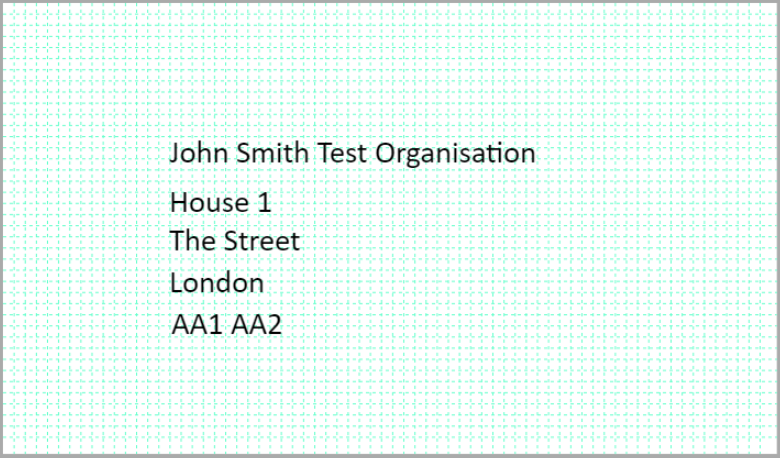 Merchandise designs
In the Admin Interface > Document Designs > Merchandise, you can also create ticket designs that print out when customers purchase Merchandise items. These are essentially standard ticket designs, and you can have as many of them as you like: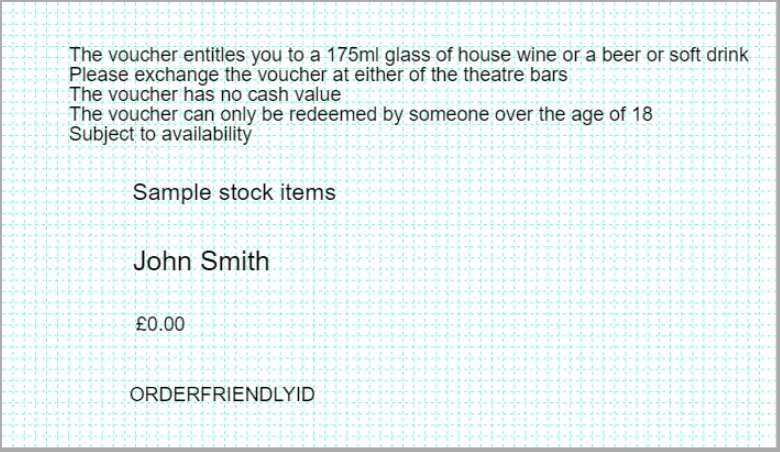 Receipts
While you won't be able to edit them directly (more on this later), there are two further document designs – for Card receipts and Chip & PIN receipts. Though these both serve the same purpose – to provide payment receipts for your customers – they each look slightly different by default.
NOTE: if you're in North America, you'll only need a Chip & PIN receipt if you have chip readers set up at your organisation. This is what will print when using the Chip method of payment.
Card receipts print when payments are made using the Card method of payment – usually when customers make orders over the phone, but also if a customer can't use Chip & PIN in person for whatever reason. Here's an example of the information that a card receipt usually includes: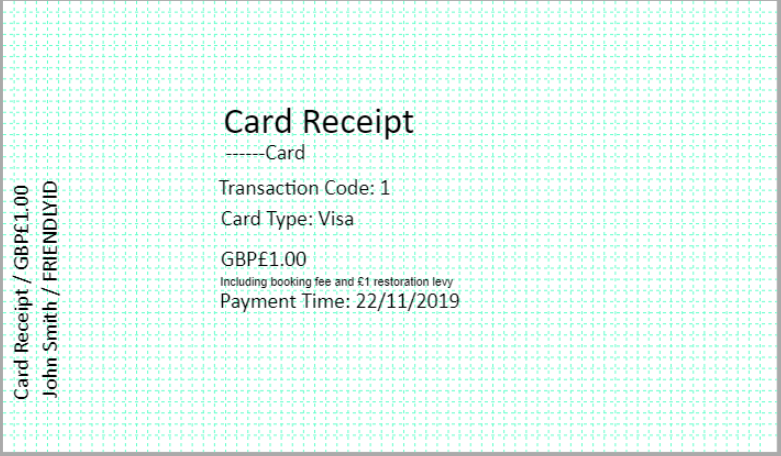 Chip & PIN receipts are similar to Card receipts but with a greater amount of payment information included. Here's an example: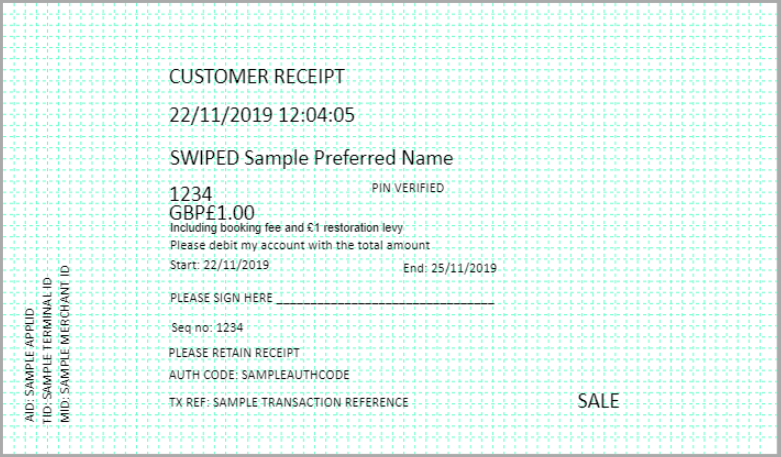 You should have document designs for both receipts set up by default; however there may be circumstances under which you don't have them – if you've only just started accepting Chip & PIN payments, for example. If you'd like to double check what either or both of these designs look like, just get in touch with the Spektrix Support team who'll be able to help.
As mentioned earlier, these receipts are not editable in the system; however, they can be amended by the Spektrix Support team if needed. We wouldn't recommend making changes to these unless absolutely necessary, but do get in touch if you would like to discuss what can be amended (e.g. adding a signature line to a Card receipt).
With several different items liable to print depending on circumstances, we'll take a look through each of them to explain when they'll print and if you can choose whether or not to print each one.
Cover slips
There are three main ways in which you might print tickets, each of which works differently regarding cover slips.
When confirming an order
If you're printing tickets straight away after confirming an order, a cover slip will only print if you've selected Postal delivery. If the order is set to COBO/Will Call then a cover slip will not be printed – just the tickets (and receipt, if appropriate)
When printing tickets from the customer record
If you go to an existing order in the customer record and print tickets from there, you'll see a pop-up message giving you the option of printing a cover slip or not:

When batch printing
On the Ticket Printing screen when you make a batch print, there's an option to Include cover slips – tick that to print a cover slip for each order in the batch, or leave it unticked to only print the tickets.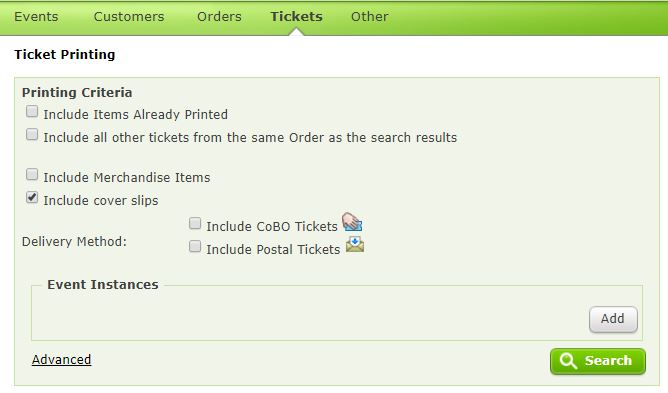 Address slips
There may be situations where you need to print out a separate address slip for a customer, such as if you're posting out something which isn't a ticket. You can do this via the Customer Record in the Sales Interface – search for the customer in the Customers section and, under Details, you'll see a button for Address Slip: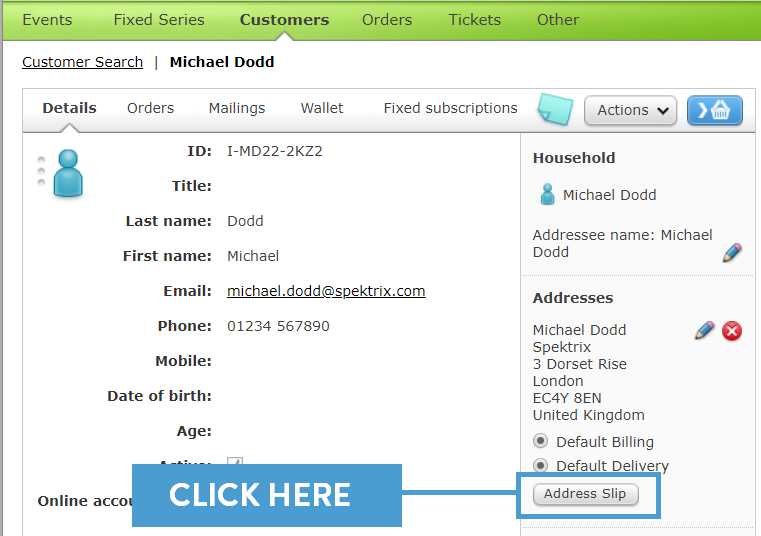 Card receipts
A receipt should always print whenever you take a Card payment – a Card receipt when payment is either taken over the phone or in person without a chip reader, or a Chip & PIN receipt when payment is taken in person using a chip reader. These will also be included in batch prints. Receipts are mandatory, and there's no option for not printing them; however they do not print out for card refunds.
By default, Merchant receipts (copies of card receipts which you as the seller can keep) aren't printed out. If you'd like to print these, please get in touch with the Spektrix Support team who can activate them on your system.
What about cash receipts?
There is no standardised document design for cash receipts, which means there's no way to automatically print one of these out. If you do want to offer cash receipts, however, it's possible to set up a custom Order summary for this purpose which, once created, you can run by clicking the Summary button from the Order within the Customer Record:

If you'd like to request a custom Order summary, get in touch with the Spektrix Support team using the Report Request Form, letting us know exactly what you need and how you would like it to look.
***
If you have any further questions about printing receipts or cover slips, or you'd like to discuss anything in more detail, please don't hesitate to get in touch with the Spektrix Support team who will be happy to help.