In this article, we'll cover what Dotdigital Forms are, and how to find out more about using them.
Forms in Dotdigital are a tool to help you capture data from your customers.
The data is captured through form responses to a survey from your Dotdigital account. Once responses are received they can also be set up to trigger a number of other actions within your Dotdigital account.
You can use a variety of different question types to build your form.
These include: text, dropdown, multiple choice, checkbox list, opinion scale, and, date and time.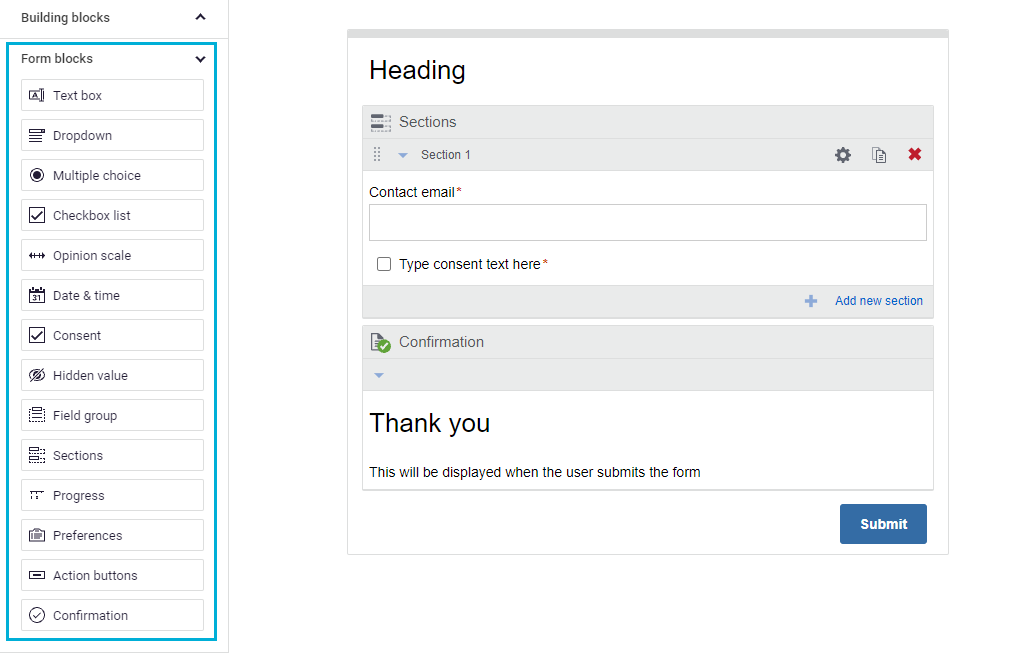 A form can be composed of multiple components - similar to building an email campaign in the Easy Editor.
You can host Dotdigital Forms on your website to collect information from your visitors.
You can't use them as building blocks in email campaigns, but you can link to a form hosted on your site from within an email campaign as a call to action for your mailing list/s.
Form responses can be reported on in Dotdigital, either automatically exported to a Google Sheet or emailed directly to you.
WARNING: Data captured on Dotdigital Forms, including Contact Preferences, is not passed back to your Spektrix system and is only stored in your Dotdigital account. If you're aiming to capture customer consent and contact preferences through your website, take a look at our Sign Up Form and API Sign Up Form articles.
Some examples of how you might use Dotdigital Forms are:
To collect data in post show surveys. You could then automate responses based on the feedback received.
To collect sign ups for alerts about on sales. You would then add the contacts to the address book for upcoming on sales.
To take information from Group/Schools enquiries.
To collect data for Classes and Courses enquiries.
To create an Access Membership Form.
To collect registrations for facilitated bookings.
For information on creating, designing, and publishing your form - please refer to the Dotdigital Support Centre. We've collated all the links you'll need to get started below.