Once you have a Seating Plan, you can configure it by using Seating Plan Overlays.
This article will cover the different types of Seating Plan Overlays available and what you can achieve by using them.
Why use Seating Plan Overlays?
If you have an existing Seating Plan that you need to make changes to, it may be possible to achieve the results you require with a Seating Plan Overlay, rather than requesting a new Seating Plan.
Seating Plan Overlays can be used to:

WARNING: Once you've created an Instance, you cannot change its Seating Plan but you can use Seating Plan Overlays to make changes.
How do Overlays work with Seating Plans?
The Seating Plan below is an example of a number of different Overlays working together. Some are visible and some are invisible, but they all add extra information to the Seating Plan.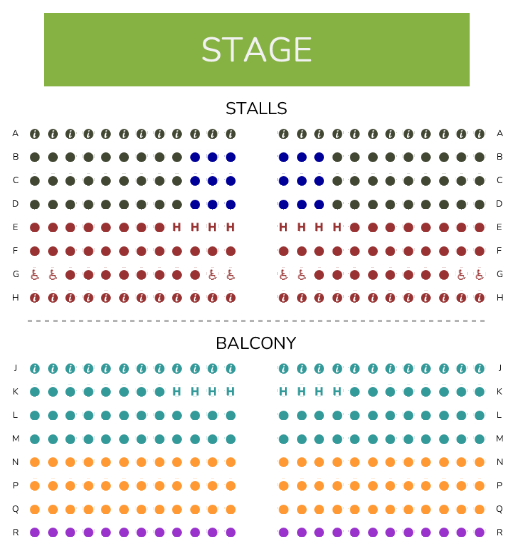 The Seating Plan you see is made up of:
WARNING: To set up an Event you must create a Layout, a Price Band and a Lock Overlay on the Seating Plan you are going to use.
Lock Overlays
Lock Overlays can be used to hold off groups of seats from general sale for certain purposes (for example, house seats or wheelchair spaces).
Unlike masked seats, locked seats can still be sold. Locked seats can also be unlocked and returned to general sale. You can also use Lock Type Eligibility to give certain customers, or agencies, the ability to purchase locked seats online, while making them unavailable to everyone else.
You can choose which Lock Types that you want to create and use, and you can have as many different types as you like. On a Seating Plan, Locks appear as letters or the wheelchair symbol.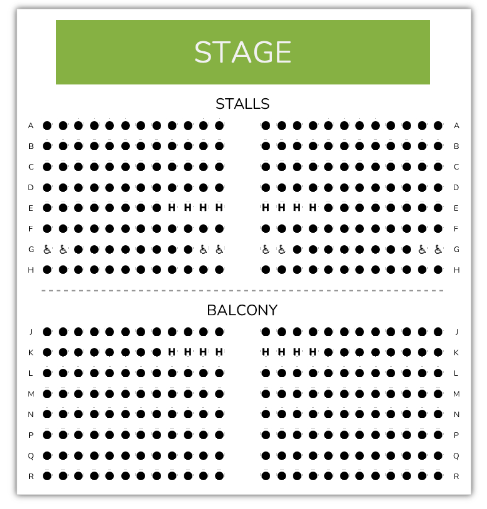 WARNING: Your Layout Overlay and Lock Overlay must be compatible, as you're unable to have seats that are both locked AND masked.
For a step-by-step guide to creating Lock Overlays, read
Layout Overlays
Layout Overlays can be used to make significant edits to a Seating Plan without having to create a new Seating Plan from scratch. You can use Layout Overlays on reserved and unreserved Seating Plans.
For unreserved Areas of Seating Plans, you can simply enter the number of seats you want to mask using a Layout Overlay. Masked seats are removed from the plan, making them invisible and not available for sale both online and in the Sales Interface.
On reserved Areas of Seating Plans, Layout Overlays allow you to mask seats and change the background image. In this example, the background image is edited to remove any lines or row markers that are no longer required.
For a step-by-step guide to creating Layout Overlays, read How to Create and Edit Layout Overlays.
Price Band Overlays
Price Band Overlays allow you to assign Price Bands to your Seating Plan.
For unreserved Areas of Seating Plans, you can only have one Price Band per Area.
On reserved Areas of Seating Plans, Price Band Overlays can be used to assign Price Bands to sections and differentiate them by using colours.
You will need to set the price of each available Ticket Type in each available Price Band when you create your Price List.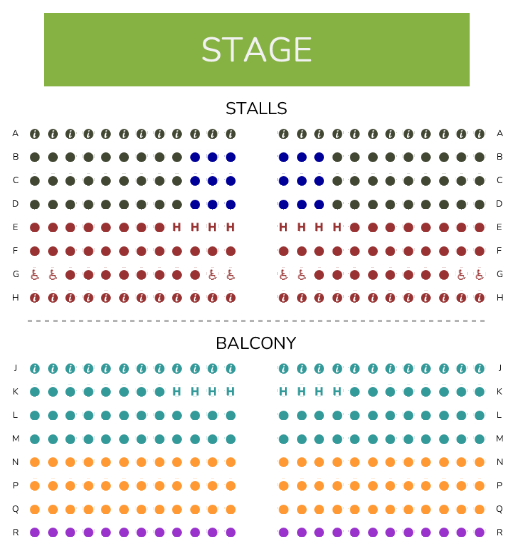 WARNING: Your Price Band Overlay and your Price List must be compatible. For example, if your Price List contains prices for Price Bands A, B and C, your Price Band Overlay will need to contain these exact three Price Bands.
For a step-by-step guide to creating Price Band Overlays, read
Info Overlays
Info Overlays allow you to mark certain seats on reserved Seating Plans with further information. This can be used, for example, if you need to let customers know about restricted view or legroom seats.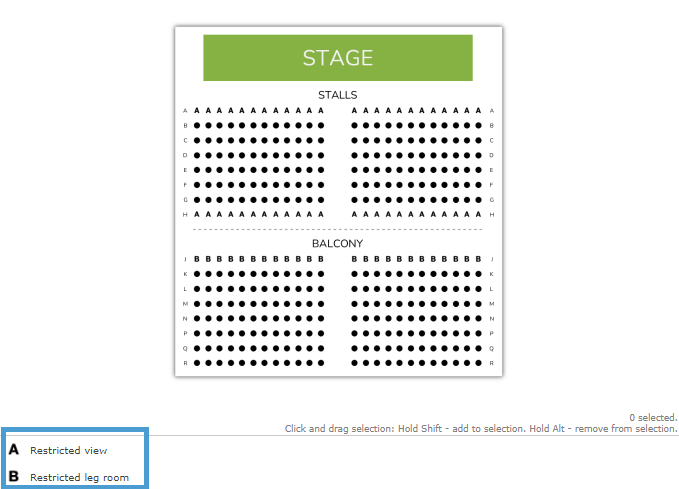 In the Sales Interface, seats will be marked with letters depending on which message you've assigned to them. When customers book online the seat will appear with an 'i' symbol, and hovering over it will display the message you've assigned.

This information will also appear alongside tickets in the Basket, on Confirmation Emails and can be output to Ticket Designs.
TIP: Take a look at the View from a Seat article to learn about how to add View from Seat images to Seating Plans
For a step-by-step guide to creating Info Overlays, read
Best Available Overlays
Best Available Overlays allow you to give your customers the option of automatically having the best seats chosen for them on reserved Seating Plans. This can be instead of, or as well as, letting them pick their own seats from a Seating Plan.
You can use Best Available Overlays to rank the reserved seats on a Seating Plan so that the best seats available can automatically be allocated. Best Available Overlays can improve the online booking experience for customers, especially if you have a large Seating Plan.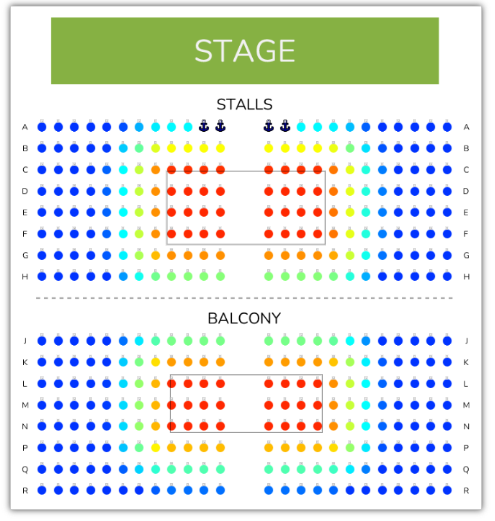 For a step-by-step guide to creating Best Available Overlays, read
For more information about Seating Plans and Event Set Up, see the Set up Events, Offers and Merchandise section of the Support Centre.