Seating plans in Spektrix are highly configurable using Overlays. These allow you to take seats entirely off sale, assign Price Bands to specific areas, hold back an allocation of seats from general sale, offer additional information on a seat-by-seat basis, and denote the best seats in the house for use with the Best Available functionality – all without having to make numerous versions of the same seating plan.
Whether you're adding or editing Overlays for a reserved or an unreserved seating plan, you'll follow the same process.
In this article, we'll cover the basics of seating plans, introduce you to the various Overlays available, and link out to articles that offer step-by-step guides to creating and editing them:
In Spektrix, you can have both reserved and unreserved seating plans. Reserved seating plans will need to be created for you by the Spektrix Support team, and will comprise the seating layout and a background image; you can request a reserved seating plan here. You can create unreserved seating plans yourself, as these simply comprise the number of available tickets.
All your seating plans can be found in Admin > Seating > Seating Plans:

The cardinal rule when it comes to creating a seating plan, whether it's reserved or unreserved, is to make sure it includes the absolute maximum number of seats you could ever possibly have available, even if some seats appear unlikely to ever be used – using Overlays, it's possible to mask or lock as many seats as you want to, but it's not possible to add more.
Once you've got your seating plan created, you can start making various Overlays in order to customise it. To show you how everything comes together, let's look at an example of what a reserved seating plan might look like in the Sales Interface: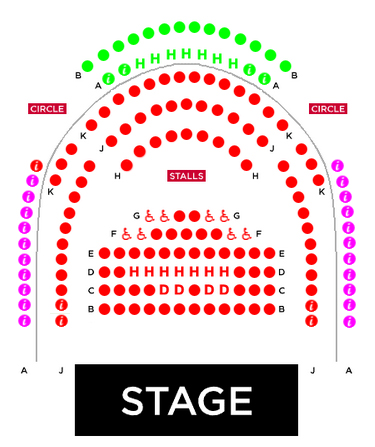 What you see here is built from:
The original seating plan: containing all potentially available seats
A background image: showing the stage, circle boundaries, and row letters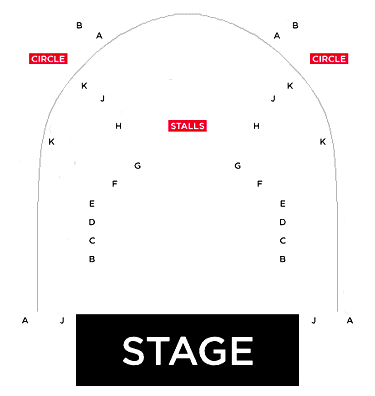 A Layout Overlay: masking some of the seats near the stage, taking them entirely off sale
A Lock Overlay:

locking some seats (denoted here by letters and the wheelchair symbol), holding them back from sale to the general public
A Price Band Overlay:

assigning three Price Bands to the plan
An Info Overlay: marking certain seats with further information; in this case, that they have a restricted view
NOTE: when you're creating an Info Overlay, the seats will be marked with letters depending on which message you've assigned them; online, however, the seats will appear with an i symbol, and hovering over them will display the message:

Layout Overlays
Creating a Layout Overlay allows you create a new version of a seating plan by masking seats to take them entirely off sale, and changing the background image if required. Layout Overlays can be created for both reserved and unreserved seating plans.
Masked seats, unlike locked seats, will not appear in reports counting towards capacity or financial capacity and will be invisible both online and in the Sales Interface. Essentially, you'll want to mask seats when you're entirely removing them from your auditorium.
For example, let's say production requires a thrust stage, taking out the front row of seats; you'll mask your front row and take it entirely off sale, then upload a new version of the background image to reflect the stage position and remove the row letter for the masked front row: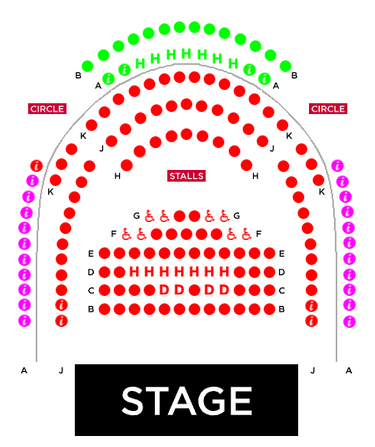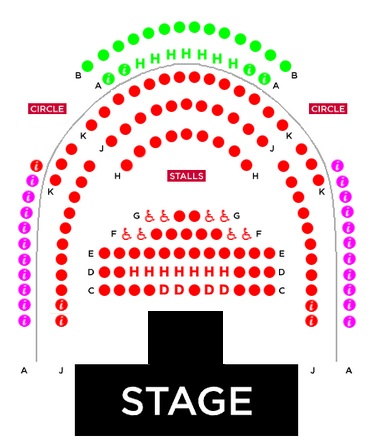 For a step-by-step guide to creating Layout Overlays, see this article.
Price Bands are used to differentiate the prices of seats in a reserved seating plan, e.g. if Circle seats are cheaper than seats in the Stalls, you can set the Price Band to be different for those seats. You set the price of each available Ticket Type in each available Price Band when you create your Price Lists.
You can create different Price Band Overlays for the same seating plan, allowing you to change the price point of areas without requiring an entirely new seating plan to be designed.
For a step-by-step guide to creating Price Band Overlays, see this article.
Spektrix allows you to lock certain seats on a seating plan in order to hold them back from general sale. Unlike masked seats (which are completely unavailable), locked seats can still be sold, or unlocked and returned to general sale. You can also use Lock Type Eligibility to give certain customers the ability to purchase locked seats online, while making them unavailable to everyone else. All the Lock Types that you have available are user defined (i.e. you can choose which to create and use), and you can have as many different types as you like.
You can create multiple Lock Overlays for each seating plan, allowing you to change which seats are available to general sale on an Instance by Instance basis. For example, if you have more seats locked for members for preview performances of a new show than you do for later performances, you can use different Lock Overlays for these different Instances.
For a step-by-step guide to creating Lock Overlays, see this article.
Info Overlays can be used to record extra detail about particular seats; this is commonly used to alert customers to seats with restricted views, restricted legroom, the best view of a caption box, etc. In the Sales Interface and online, any seat with information added to it by an Info Overlay will appear as a circle with an i symbol:
This will draw attention to these seats and, when the cursor is hovered over them, the usual pop-up containing the seat number and the price will appear, and will include this additional information.
This information will also appear alongside tickets in the basket, on confirmation emails, and can be output to ticket designs.
NOTE: you can only create Info Overlays for reserved seating plans.
For a step-by-step guide to creating Info Overlays, see this article.
You can add a Best Available Overlay to tell Spektrix how your seats are ranked for a particular performance. You can then give your customers the option of having the system choose the best seats for them, or force them to use the Best Available functionality rather than letting them pick their own seats from a plan (this works particularly well for mobile bookings where seating plans may be too big to be used effectively).
NOTE: you can only create Best Available Overlays for reserved seating plans.
For a step-by-step guide to creating Best Available Overlays, see this article.
When setting up Instances, under the Seating Plan tab, you'll select the appropriate seating plan and, from there, be able to choose which Overlays to apply. In order to complete Instance creation, you'll need to make sure that:
Your Price Band Overlay is compatible with your Price List, e.g. if your Price List contains prices for Price Bands A, B and C, your Price Band Overlay will need to contain these exact three Price Bands
Your Layout Overlay and Lock Overlay are compatible, as you're unable to have seats that are both locked and masked
NOTE: once you've created an Instance, you cannot change its seating plan, only the Overlays associated with it.
Hopefully this article has given you everything you need in order to set up Overlays for your seating plans. We'd recommend you also check out these other articles:
***
If you have any further questions about seating plans and Event setup, please don't hesitate to get in touch with the Spektrix Support team.