Spektrix gives you the ability to issue Gift Vouchers and Account Credit, as well as taking deposits against orders. Here we'll aim to answer some frequently asked questions about how best to make sure that you're correctly accounting for credit in the system.
What do you mean?
As an example, let's say a customer has purchased a Gift Voucher worth £20 using cash. Whilst you'll bank the £20 cash, you shouldn't see this as revenue until the voucher has been redeemed to buy tickets or items, or it expires.
Instead, you should treat the £20 as being part of your liability account – ready for when the customer wants to spend their Gift Voucher. The same is true for Account Credit and deposits: you won't see the revenue from either of these until the Credit or deposit is either used to confirm an order, or it expires.
In this example, the £20 Gift Voucher is redeemed online by the customer, and is spent to buy two tickets and a programme. This is the point where you can recognise the £20 revenue from the Gift Voucher.
How should I manage my liability account?
This is really up to your organisation, but you'll probably want to make an accounting adjustment to move purchases of Gift Vouchers and Credit, as well as any deposits, out of your sales account and into your liability account.
When the Credit, Vouchers, or deposits are spent, you can then move this money back into your sales account.
You won't need to do this every time you sell a Gift Voucher – you can simply do it on a regular basis by running a report that shows you all these transactions over a date range.
Which Spektrix report should I use to track Account Credit, Gift Vouchers, and deposits?
When a customer buys a Gift Voucher, has their account credited or pays a deposit for a booking, these transactions are shown as Credits on your Payments & Activities Report.
Remember that you won't be able to break down Gift Voucher sales into payment types – if a customer uses multiple methods of payment or buys other items within one transaction, it becomes impossible to split this out.
When Gift Vouchers or Credit are used, you'll be able to see them as payment types in the Payment section of the report. It should be that payments minus credit balances with your activities:
We'd encourage any reports that you use to import information into a standalone financial system also reflect this.
Does Account Credit expire/do Gift Vouchers expire?
Yes, Account Credit and Gift Vouchers can be set to expire: the length for each is set in the Settings Interface > Configuration > System Setup > Credits & Commissions. Once Credit or Gift Vouchers expire, they should no longer form part of your liability account.
Order deposits will never expire, and it's up to you to decide in-house whether you return deposits to customers that don't ultimately complete their booking.
Once expired, Gift Vouchers and Account Credit can't be extended or reissued. If, for example, you choose to honour a customer's expired Gift Voucher, you'll need to use an appropriate Custom Payment Type to sell them a new Gift Voucher – just make sure you let your Finance team know about it!
How can I find out my Account Credit, Gift Voucher and deposit balance?
This is included in your standard suite of reports, but you'll need to look in a slightly different place than usual: go to Insights & Mailings > Reports > Special Reports.
You can run this report over a custom date range, and whether to break the data down by month or year: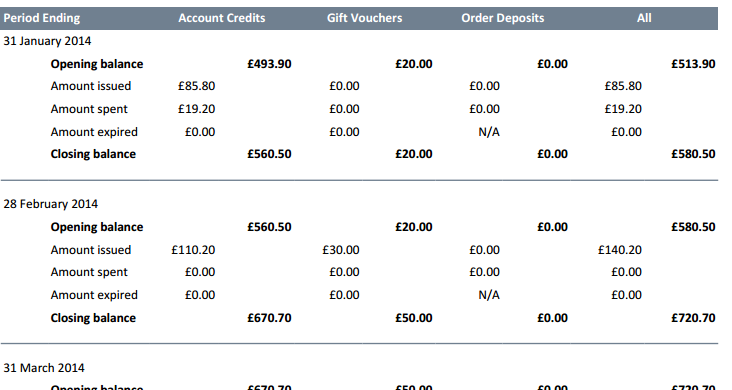 This report shows the total value of Account Credit, Gift Vouchers, and deposits on your system; it also details how much of these have been spent or expired in this time period.
This is the perfect report for working out how much you should be holding in your liability account at any one time.
I want something a bit more custom – is this possible?
Possibly! The first step to finding out if the report you'd like is feasible is to fill out a Report Request Form so one of our report builders can take a look. The form will ask you for all of the info we need in order to build the report, as well as to submit a mock-up of how you'd like the data to be displayed.
Can customers find out how much Account Credit they have against their account?
By switching on the option to Display "My Account Credit" section on your website in the Settings Interface under Configuration > System Setup > Website, customers will be able to log in to their account to keep track of any Account Credit they hold, and see when any Gift Vouchers they've redeemed were issued, when they expire, and how much of their total value they've already used.
***
Please don't hesitate to get in touch with the Spektrix Support team if you'd like to discuss anything about Account Credit, Gift Vouchers, and deposits in more detail.