What is it?
It's possible to upload photos from around your auditorium to display on your website.
This enables your customers to see the view from specific seats when booking online.
The feature works by placing small thumbnails over the top of your plan, which the booker can then click on to expand.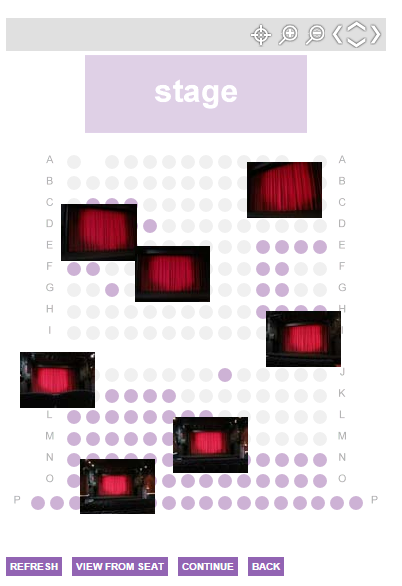 Note that unlike Seating Plan Overlays, which can be varied on the same plan, you can only upload one set of View From a Seat images per plan.
How do I set it up?
Making it work on your site
You need to enable View from Seats mode on each domain your system is integrated with.
To do this, go to Website Admin > Domain Specific Config.
Under Website Javascipt Options check Enable view from seats mode

Make sure you have a blank page set too, as on this example:

Once this is done, your web designers need to include some code we provide on the page of your website to make the View from Seat thumbnails display.
Once a booker clicks on a thumbail, your site needs to display the full-sized image.
This is something that needs to be handled by the website designer through their own code as it happens outside of our iframe. This lets each designer choose how the images interact with the site. Think about how you'd like the images to expand and then how they should be closed when the booker is done.
There is more info on the technical details in our web integration guide.
Uploading the images
Images have to be attached to an individual seat on your plan. We recommend picking a few seats across each area of your auditorium. Choose a good range of seats that show the different parts of your auditorium but not so many that the choice is overwhelming and looks messy online!
In Admin > Seating choose the Seating Plan to which you want to add images
On the View From Seat tab click Edit

Select a seat to add an image too

Click Add View from Seat Image and choose the file from your PC.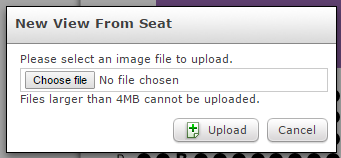 The file you upload should be big enough to display on your site when expanded.
The system will automatically resize the thumbnail to a smaller size. If you want to change the thumbnail size, please contact support.
Once you've added the images, each seat is assigned a letter. This is just for your reference in the admin interface - it won't display online to any customers.