Whenever you send a mailing via Spektrix, it's good practice to select one or more Target Events that you can use to measure the impact of the mailing in terms of tickets sold and income generated. You can track these figures using the ROI report in Spektrix - in this article we'll look at where you can find that report, and how to run and interpret it.
If you're not already familiar with how to create and record mailings in Spektrix, make sure you read this article first.
What is an ROI report?
A Return on Investment (ROI) report calculates how much a particular mailing cost you (based on what you've set up in your Mailing Settings, i.e. Mailing Category, Fulfilment Method, etc.) and how many of your targeted customers bought tickets after receiving it. You can use this information to help measure how effective your email and postal campaigns were and inform your strategy for future mailings.
Where can I find the ROI report?
To view mailings you have previously sent, whether physical mailings or integrated emails (including Pre- and Post-show Emails), go to the Mailings tab in Insights & Mailings.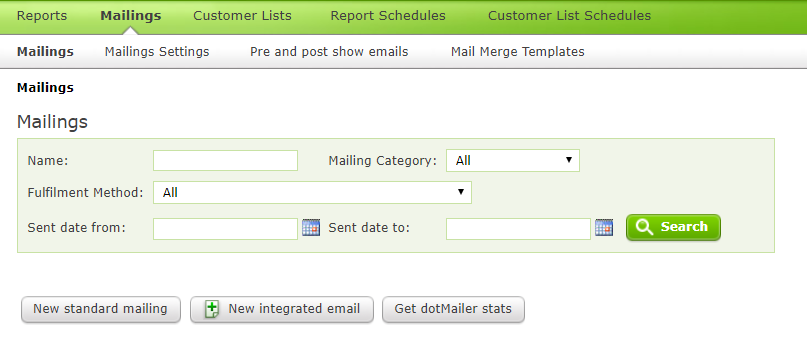 From here you can access all of the mailings that you have logged on your system. You can either search for a particular mailing using the search functionality provided, or just click on the Search button to show all of your past mailings. Your relevant mailings will then display in date order: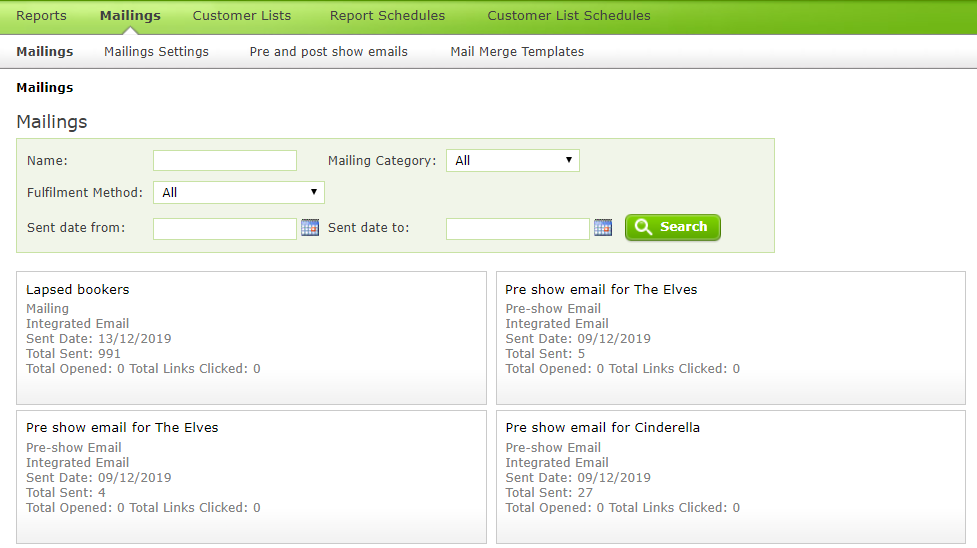 Click on one of your logged mailings to access a summary of that mailing, along with the option to run an ROI report: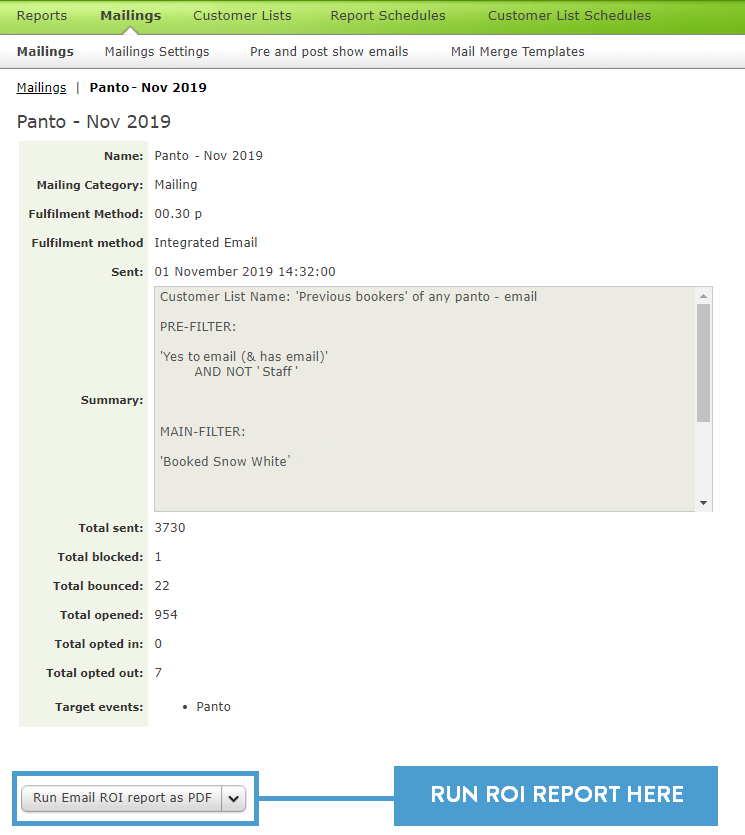 What does an ROI report look like?
There are two slightly different-looking ROI reports available, depending on whether you're looking at a standard mailing or an integrated email – the ROI report and the Email ROI Report. You can choose to run either of these for any integrated email you send, while standard mailings can only use the ROI report.
The standard ROI report looks like this: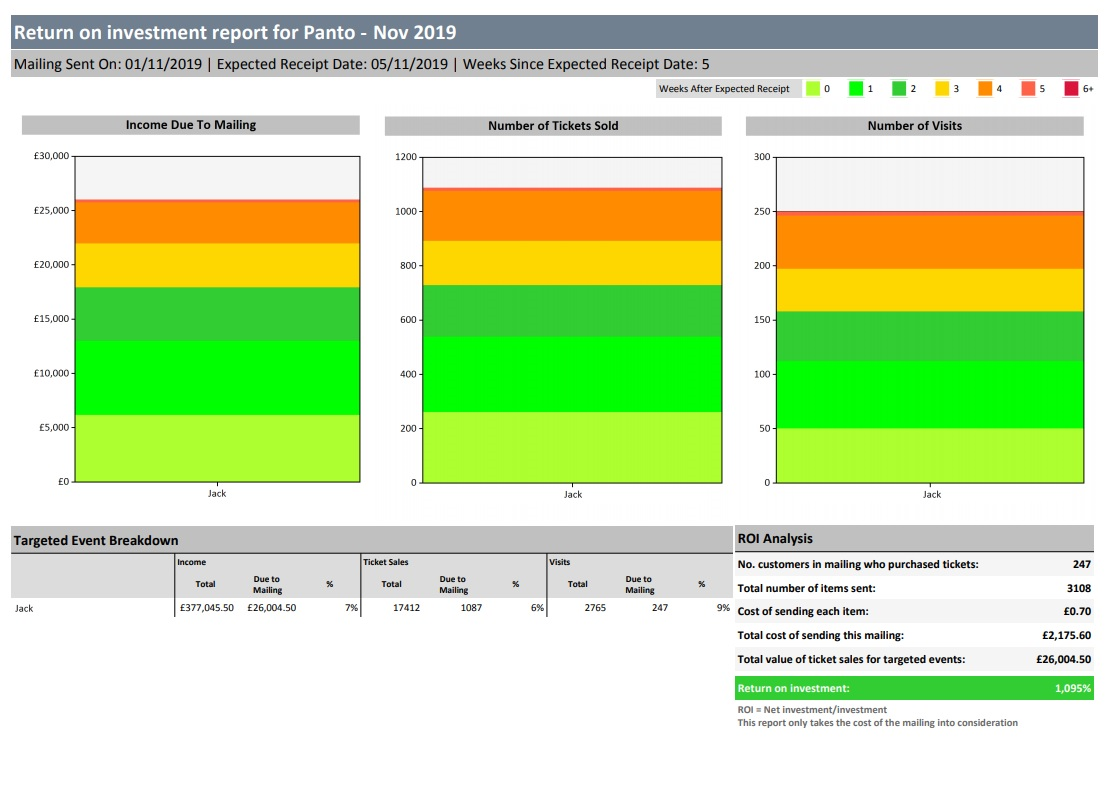 The Email ROI report looks like this: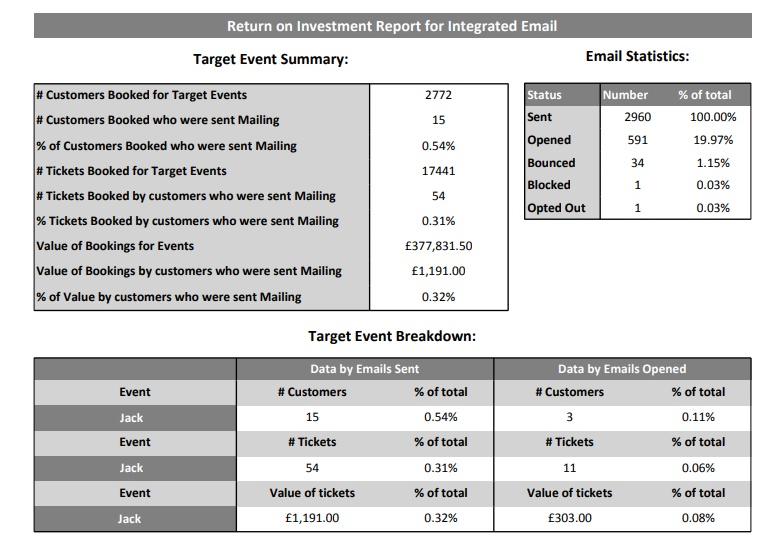 It also includes a section for Activity by Links Clicked which, alongside the Target Event Breakdown section, is particularly relevant if you have selected multiple Target Events when creating your mailing.
If that's the case, the Target Event Breakdown section lists out all of the selected Events within the table, so that each element of the table (i.e. # Customers, # Tickets and Value of tickets) includes the relevant information for each Event. Here's an example of how that looks for the # Customers element: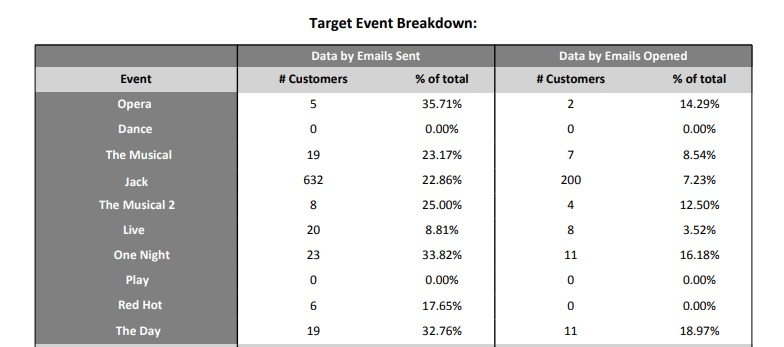 NOTE: The ROI Report currently tracks 'Open Rates'. Previously these may have been used to track email campaign engagement, and they are still available as a system criteria, however from September 2021, Apple released the latest versions of their operating systems iOS15 and MacOS12 Monterey. These updates include new privacy settings in Apple Mail, which will preload email images, including the tracking pixels used to track 'Opens' by email providers.
This means that all emails received by Apple Mail will appear as having been opened in Spektrix and Dotdigital regardless of whether they have or have not. This only affects Apple Mail users, but they make up approximately 35% of all email recipients and, our data suggests, 50-80% of users for our client base. In short, 'Opens' will no longer be a reliable metric for measuring email Campaign engagement. You will want to bear this in mind when reporting on your Mailings and look into referring to click rate as a more reliable means of tracking your customers' engagement.
We have a guide on this update available here, and are happy to answer any questions you might have.
***
If you have any questions about how to run or interpret the ROI report, please don't hesitate to get in touch with the Spektrix Support team who will be happy to help.