Spektrix allows you to lock certain seats on any given seating plan (whether reserved or unreserved) in order to hold them back from general sale. Unlike masked seats (which are completely unavailable), locked seats can still be sold, or unlocked and returned to general sale. All the Lock Types that you have available are user defined (i.e. you can choose which to create and use), and you can have as many different types as you like. In this article we'll look at how to set up Lock Types and use them to lock off seats.
In this article, we'll cover:
Common reasons for locking seats
There are three broad reasons why you might lock a seat:
You want to restrict certain seats (such as house seats) from being available for purchase online and only want to sell them via the Sales Interface

(e.g. press seats)

You want to lock certain seats so that they are available to purchase online only by customers with the relevant customer criteria or promo code (e.g. accessible seats for wheelchair users)

You want to hold back some seats for an agency allocation
Setting up Lock Types and online eligibility
Lock Types are set up and managed in the Admin Interface under Seating > Lock Types.
NOTE: in order to set up Lock Types you'll need the General Administrator user role on your Spektrix account. See this article for more information about users and user roles.
On this page you'll see a list of all available (and active) Lock Types, with a few possible options for each one:
Wheelchair:

whether it's set to display using the wheelchair icon

Password:

whether it requires a password to sell or unlock

Supervisor: whether a user needs to be a Sales Administrator

to sell or unlock
NOTE: this is determined in the Settings Interface, under Users > User Roles > Lock Types
Conditional Eligibility:

whether it's available online and/or for agents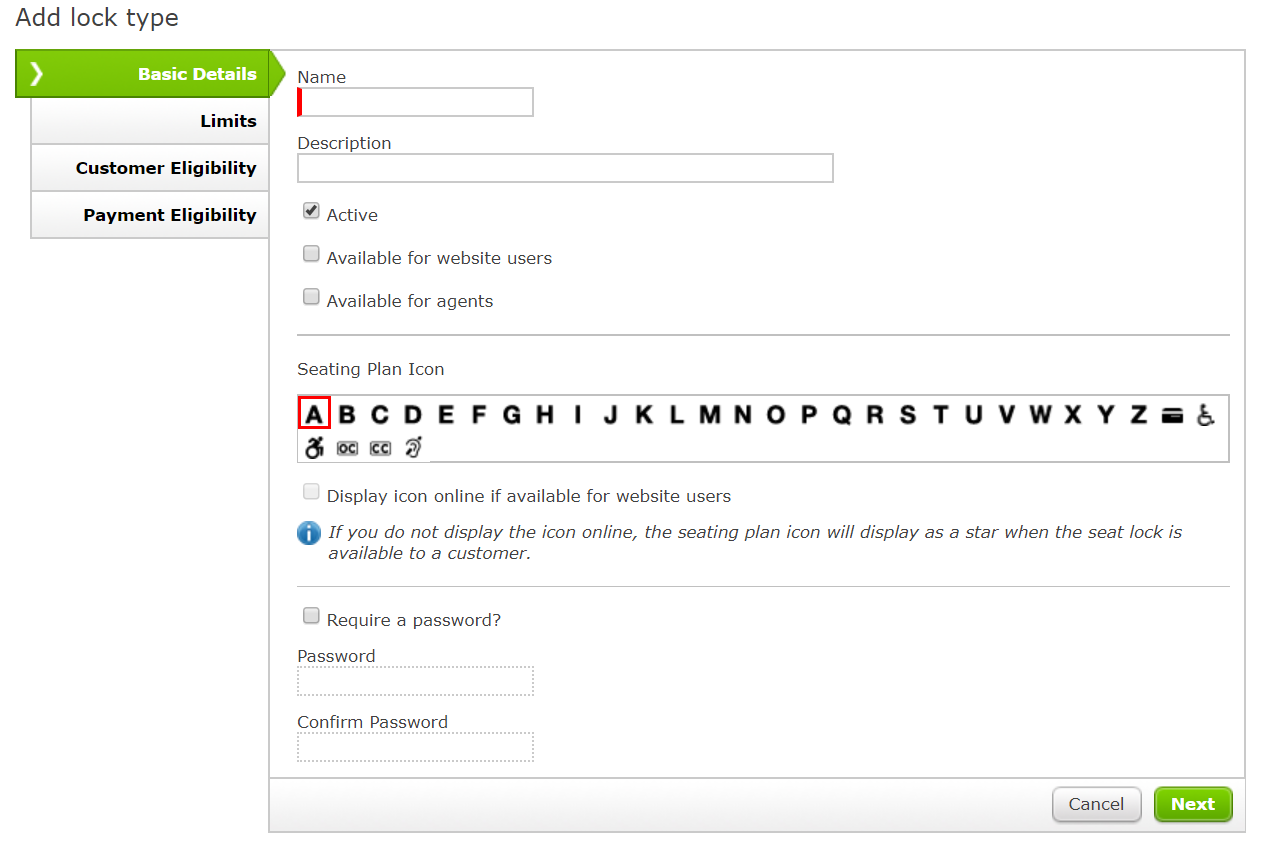 NOTE: by default this page only displays active Lock Types - select the View Inactive option to display inactive Lock Types as well.
To create a new Lock Type, scroll to the bottom of this page and click the Add button, or to edit an existing Lock Type just click on the blue pencil icon next to it.
Each Lock Type has three sections that you can edit - Basic Details, Limits and Eligibility. We'll take you through each of these sections and explain what's available in each one.
Basic Details
This section allows you to set a range of details for each Lock Type: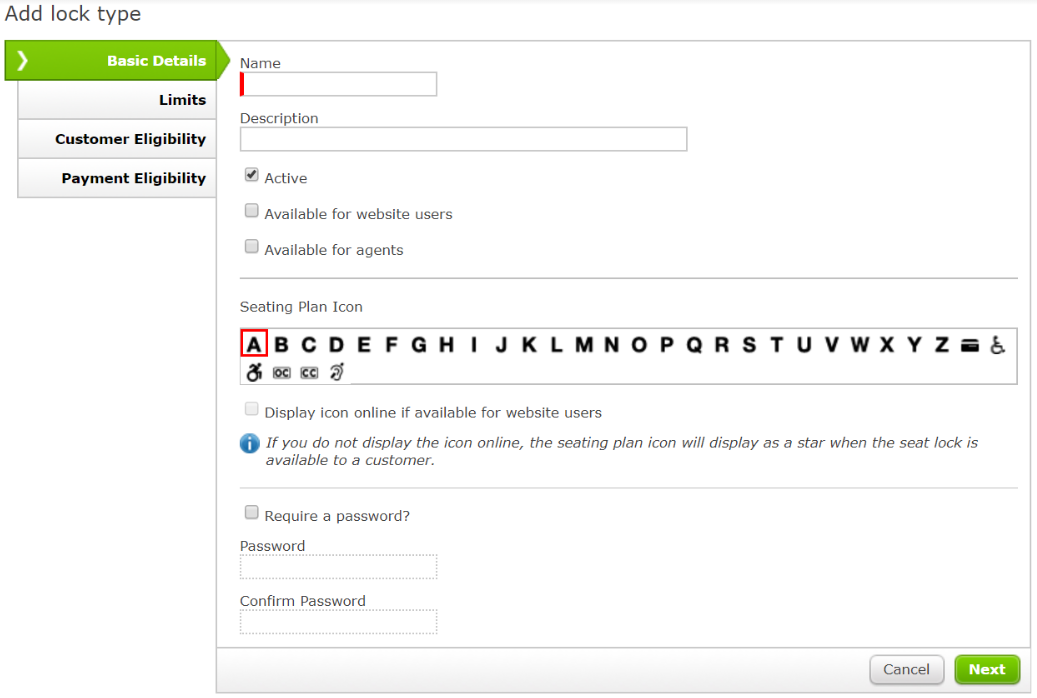 Name: the name of this specific Lock, which displays in the Sales Interface

but not online

Description:

an internal description for this Lock to help staff understand its purpose

Active:

select this to make sure the Lock is active and available to use

Available for website users:

select this to make the Lock available to be bought online

Available for agents:

select this to make the Lock available to use for ticket agents

Seatmap icon: select the icon you would like the Lock to display as
Display icon online if available for website users: if this is unticked but Available for website users is selected, the Lock will display with its icon in the Sales Interface

but as a star online. Select this option if you want the icon to display online as well

Require a password? Select this if you want to ensure a password is required to sell or clear the Lock in the Sales Interface
NOTE: as well as requiring a password to unlock certain Lock Types, you can also globally restrict the action to staff with Sales Administrator permissions only in the Settings Interface under Users > User roles > Lock Types for each Lock Type.
Limits
This section allows you to apply a limit to the number of seats with this Lock applied that can be sold in each transaction:

Select Use default limit for Instance to leave things as they are and maintain the limit set against each Instance
Set a specific limit for this Lock Type using the Maximum seats per transaction

option
NOTE: this is a per transaction limit, so it's possible for a customer to make subsequent bookings and purchase more of these locked seats in separate orders.
If the Locks will be part of an unreserved area, you can set the behaviour so that eligible customers are sold locked seats first. To activate this, select the In unreserved areas, sell eligible customers these seats before the general allocation option. If you have any questions about how this works, please get in touch with the Spektrix Support team to discuss the specifics.
Here you can set rules that define which customers can unlock this Lock Type online.
Customer eligibility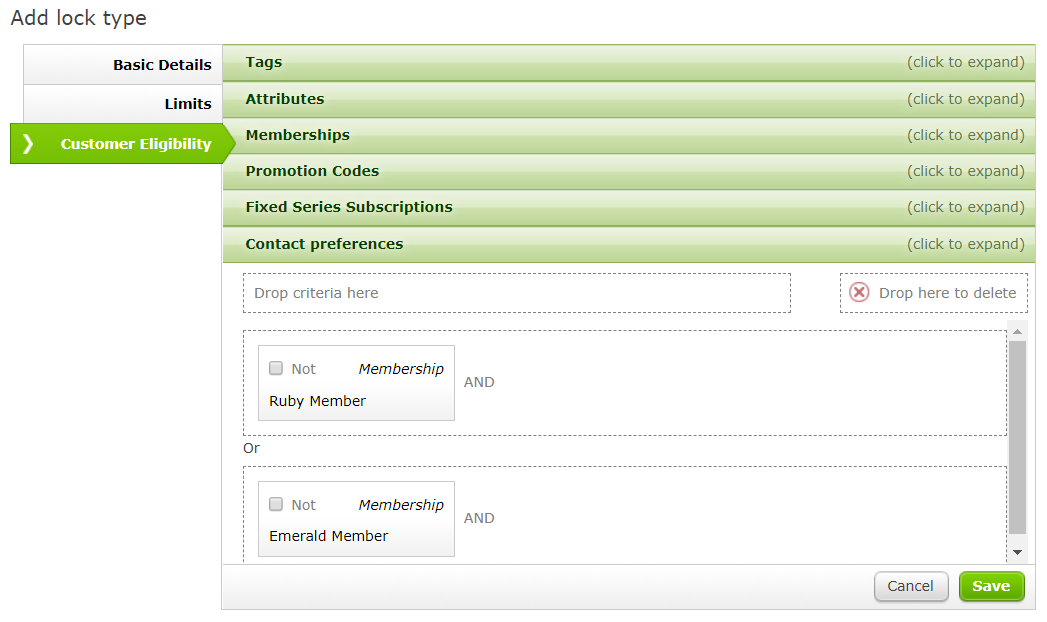 This works similarly to other eligibility selections that you see elsewhere in Spektrix – by dragging and dropping, you can set eligibility using Tags, Customer Attributes, Memberships, Promotion Codes, Fixed Subscriptions, and Contact Preferences.
We know some organisations offer exclusive experiences to customers tied to the use of a specific payment card type. As well as giving you the ability to use payment eligibility to offer Priority Booking to eligible card holders, you can also use this as eligibility criteria for Lock Types; essentially this means that seats locked with this particular Lock Type can be purchased but must be paid for using the eligible card type, otherwise the customer will not be able to complete the transaction.
NOTE: this option isn't available by default, but if it's something you're interested in setting up, get in touch with the Support team who'll be happy to discuss this with you, and enable the feature.
Once the feature is enabled, you can switch it on for Lock Types by visiting Settings > System Setup > Payment Eligibility and hitting the switch marked Enable Payment Eligibility for Lock Types:

If you're using setting up or editing a Lock Type that uses payment eligibility, you'll want to ensure that Available for website users is selected in the Basic Details tab. You can also choose the Display icon online if available for website users option and select the Card Eligibility icon to give a visual indicator online: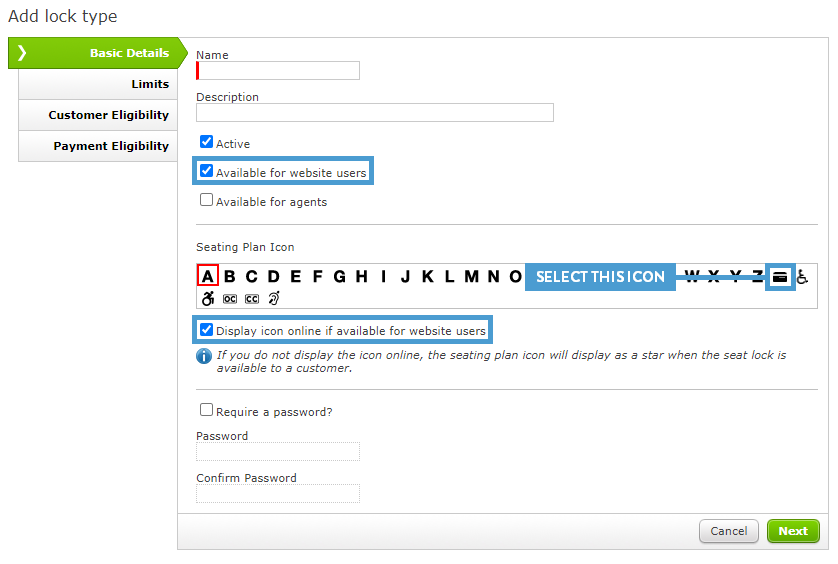 This means any seats locked with this particular Lock Type will appear in the seating plan online with this icon: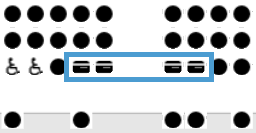 You'll also see that the option to set payment eligibility appears after the Customer Eligibility tab, and will show all card types you've approved for use:

NOTE: if you need to include a new card type to this list, speak to the Spektrix Support team who can add these for you as required.
Tick the check box next to the card type(s) you want to make eligible, then click Save.
On your website, customers will be able to freely add tickets for seats that are locked with this Lock Type to their basket (unless there is also specific customer eligibility criteria configured against the Lock Type). When they reach the checkout with these tickets in their basket, they'll be prevented from:
Redeeming Gift Vouchers
Applying Credit
Using a stored card that isn't one of the eligible card payment types
Selecting a card type that is not one of the eligible card payment types
This ensures that they use an eligible card type to make their purchase. T hese rules will still apply in a mixed basket scenario, e.g. if the customer is buying seats that are locked with this Lock Type, but also has other items in the basket (tickets for seats that aren't locked or for other Instances, Merchandise, Memberships, donations), they will only be able to complete their purchase in its entirety using an eligible card type.
Hopefully this article has given you everything you need in order to set up your Lock Types. We'd recommend you also check out these other articles:
***
If you have any questions about setting up Lock Types or would like to discuss anything in more detail, please don't hesitate to get in touch with the Spektrix Support team.