Ticket Types allow you to define different sorts of tickets for your Events.

You might want to offer multiple Ticket Types for your Events such as Students, Over 65s, Under 18s, Adult, Child, etc. 
You can use Ticket Types to power Offer Criteria, build Criteria Sets on Reports, and when building Segments in a Customer List or Auto Tags.  
In this article we'll cover what Ticket Types are and how they can be used.


Ticket Types are a fundamental part of setting up Events and pricing on your system.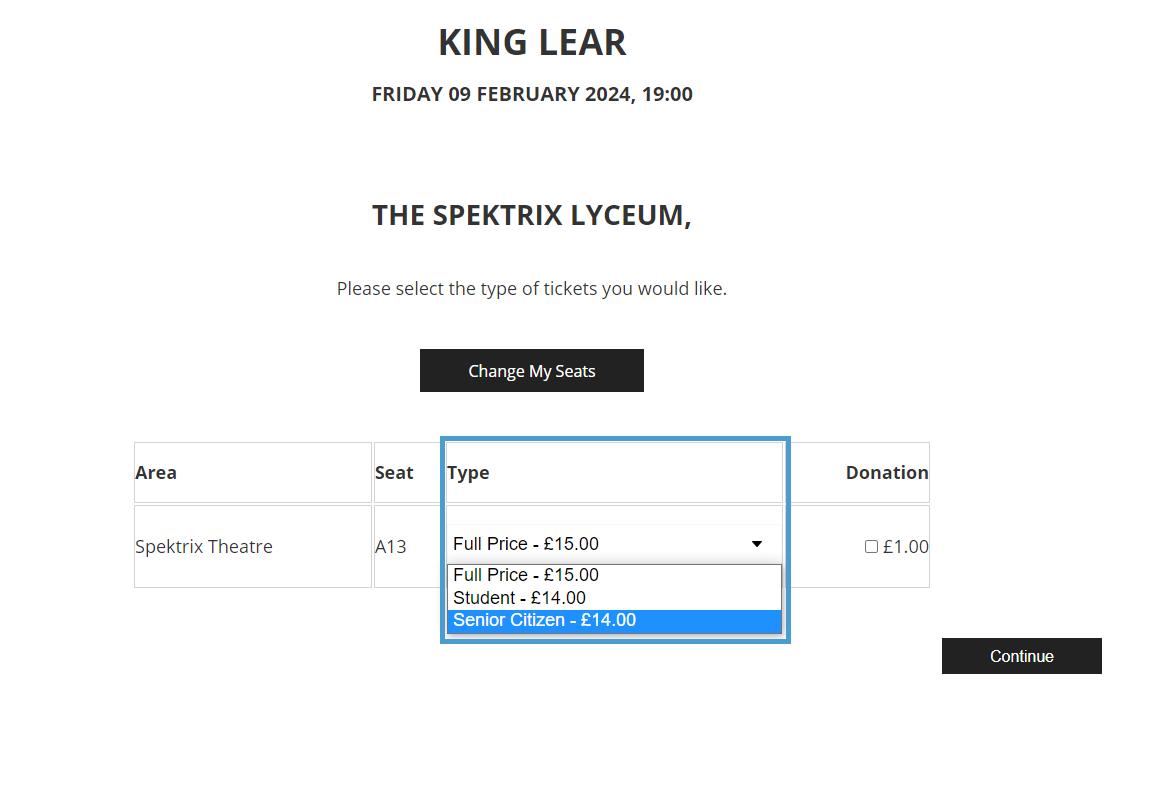 When a customer or Sales User selects a seat from a Reserved Seating Plan, they'll also be prompted to select a Ticket Type.
When choosing tickets from an Unreserved Seating Plan, a list of available Ticket Types will display and the user will be prompted to enter the number of Tickets required into each field.
The Ticket Type chosen will categorise the ticket in the system. The price of each individual Ticket Type is determined in your Price List. 
There are two different categories of Ticket Types: Web and Normal.
Web Ticket Types are available both online to customers and to your team in the Sales Interface.
Use Web tickets for any Ticket Types that you want to sell online and from the Box Office. This would include all of your commonly sold Ticket Types (for example, Adult, Child, Standard, etc.). 

When you create a Web Ticket Type, you'll also set which delivery methods are available to customers when they buy it online.
Normal Ticket Types, on the other hand, are only available to your team in the Sales Interface.
Normal Ticket Types are for tickets you don't want available online (for example, Press Comp, Industry Comp, Company Seats, etc.)

For Normal Ticket Types, you can choose whether any member of your box office team can sell them, or whether a Sales Administrator

will need to complete the sale.


Ticket Types can be limited to certain delivery methods based on the type of ticket. 
For example, Student ID tickets can be limited to COBO / Will Call only to ensure that Box Office staff are able to view Student IDs upon collection of the tickets.
Ticket Types are combined with Price Bands in Price Lists. This is what you use to determine the prices and Ticket Types available for your Events. 
In order for a Ticket Type to be available in a Price List, it needs to be assigned a monetary value. If your reserved Seating Plan has multiple Price Bands, you can set a different value per Ticket Type for each Price Band.
When you create a Price List for a reserved Seating Plan, you might see something like this. Ticket Types are listed down the left side and Price Bands are listed across the top.

If you're ready to set up Ticket Types for use on your system, then head to How to Create and Edit Ticket Types.