You can check on your currently-open transactions from the Sales Interface. This will show you all the orders in progress from your box office staff and customers on the web. You can then, if you wish, take control of the order and load it into your own basket.
Checking Open Transactions
1. In the Sales Interface, go to the Control Panel and you will see the Open Transactions bar: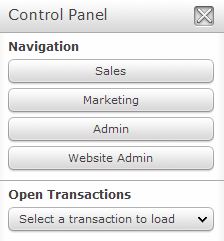 2. Click to Select a transaction to load and you will see all current orders: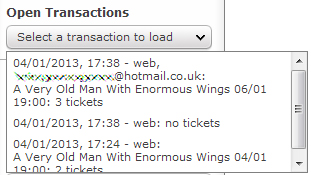 Note that these will appear with as much information as has currently been added. In the example above,. the first order has an email address attached, showing that the customer has already added their name and address details to the booking. The following two web orders do not have a name or email address, so the customers have not yet gotten to that stage. The second order does not even have any tickets, suggesting that the customer has recently released some seats and is picking some more.
Loading a Transaction
To claim an open transaction as your own, simply click on the open order.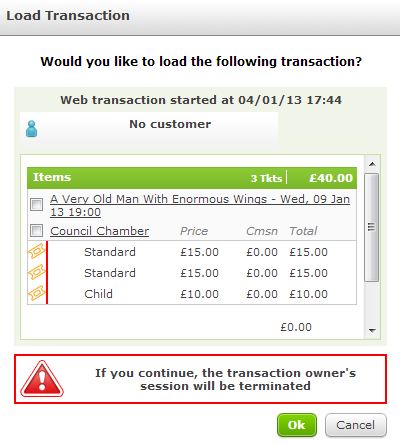 This will launch a pop-up warning, alerting you that the transaction owner's session will be ended. Click OK to load the transaction into your basket.
Whether the order was previously made by another member of your Box Office team or a customer on your website, their basket will now be empty and they will be unable to continue with the purchase. This will become apparent to them when they next refresh their screen, or click to continue with (or confirm) the order.
Your basket will now contain the contents of the pending order, and you will need to choose your sales type (Phone, Counter or Counter Quick). You can then add payments or change the items as you wish.
FAQ
How often should I check for Open Transactions
Open Transactions should be checked frequently, on a daily or weekly basis as part of the Box Office team's tasks.
What is the sales history of a loaded transaction?
There will be no record on Spektrix that the order originated with another user. The first record of an order being made is when the order is confirmed, which will only happen when you complete the booking in your basket. You will need to add an order note if you wish to record the origins of the booking.
What is a pending payment?
You can load a customer's transaction even when a payment has been made. This will then load into your basket, along with all the items and customer details, ready for you to confirm and complete the order.
Card payments will import into your basket with a warning message, asking you to check whether the payment was definitely confirmed by your payment provider. See our guide to manual payment checking to find out how.
How long will transactions hold?
Most online transactions will either complete or expire within 10 minutes. The timeout period for API transactions is 20 minutes and 40 minutes within the sales interface in Spektrix. Memberships, Donations and Merchandise don't have an in-built expiry time like tickets. If a customer has added these to their order, and then left your website, you may come across the order some time later in your open transactions log. If substantial time has passed (i.e. several hours) you are recommended to cancel these orders.
How do I cancel an order?
To clear a transaction, first load it into your basket (as described above) and then click to cancel the order, as if you were abandoning a normal sale. You will always be able to cancel an order so long as no payments have been made.