NOTE: In this article, we use the new name for the Marketing Interface - Insights & Mailings .

What is it?
The customer list explorer allows you to organise all of your customer lists into folders. Each folder can be restricted so that only users with the Insights & Mailings Administrator role can edit the lists within it.
The list explorer also features a search option which will search out lists by name.
How to use it:
You can find the customer list explorer in Control Panel > Insights & Mailings > Customer Lists
All systems will have a "Customer List Explorer" folder which all users with Insights & Mailings access can see.
Adding a folder
To add a new folder select a parent folder in the left hand pane and click on "Add new folder"

Give the folder a name and set its permissions (these can be changed at a later date)

All Users: all users with access to Insights & Mailings can see this folder and access and edit the customer lists it contains
Inherit from parent folder: The folder will inherit the permissions of the folder it is inside
Insights & Mailings Administrators: Only those with the Insights & Mailings Administrator role can edit the customer lists within this folder

You can have as many levels of folders as you wish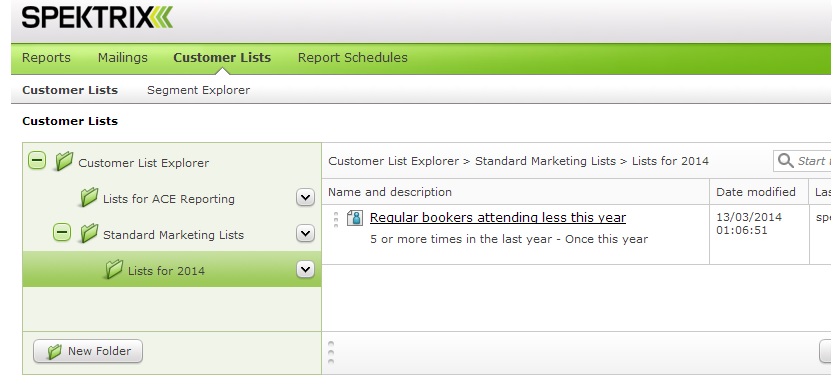 Editing Folders
To rename a folder or change the permissions, click the drop down arrow next to it.

Click Properties and enter the desired details

To delete the folder click delete -this will delete the folder as well as any lists inside it.
Moving & Deleting Lists
To move lists into a folder simply click and drag it from the right hand side of the screen into the desired folder on the left

To delete a list, click the red X at the far right of the list - remember that this will permanently delete this list and any local segments within it. Global segments will be unaffected.
Don't be afraid of deleting lists if you want to keep things tidy. Whilst a list cannot be recovered once deleted, you should be able to rebuild it from scratch very quickly.