While Spektrix is designed to be as open and flexible as possible, we recognise that there are some circumstances in which it's beneficial to be able to lock down access to certain information. One such circumstance  is dealing with orders containing large donations, in which case you might prefer that only your development team and Box Office Managers are able access those orders.
With that in mind, the Restricted Orders feature is an optional tool which enables users to mark individual orders as restricted, allowing access to authorised users only.
How does it work?
This feature works by restricting access to orders in the Sales Interface based on user role. Setting an order to Restricted means that only users with one or more of the following roles will be able to access it:
Fundraising Administrator

Fundraising User

Sales Administrator
This way, development staff can access restricted orders, as can senior members of the box office/sales team, but other users can't do so.
Restricted orders are accessible as normal to users with the valid roles, so nothing changes for those users.
Non-authorised users can see the Order ID of restricted orders in searches and customer records (to demonstrate that the orders are actually there) but can't open them to see the order details.
NOTE: If you would like this feature to be enabled, please contact the Spektrix Support team.


How do I restrict an order?
You can make an order Restricted in one of two ways: either in the basket during the booking process, or in the order itself once it's been confirmed. The option to do this will only be available if you have one of the valid user roles; it won't appear for any non-authorised users.
In the basket
When you're making an order, if you have Restricted Orders turned on then you will see a tick box for Restricted Order immediately underneath the customer's name and the order attributes section:

All you need to do is tick this box and, once the order is confirmed, it will be restricted to just authorised users.
Once an order has been confirmed
If you want to go back and restrict an order once it has been made, you just need to open the order and scroll down to the Order Attributes section. Underneath the attributes you will see a tick box for Restricted Order: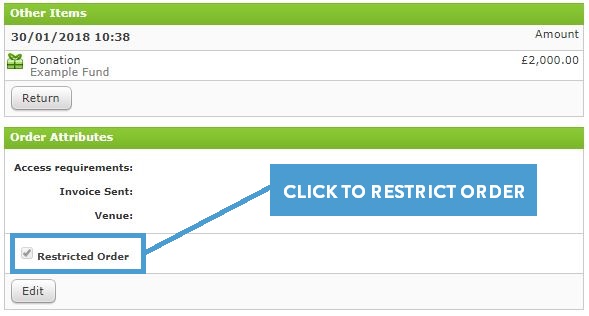 Click the Edit button to make changes and then tick this box to restrict the order. Make sure you click the Save button to finalise the changes.
How does it look to non-authorised users?
If an order is restricted it will still appear as visible to non-authorised users in order searches and the customer record, but the user will not be able to access the order details.
When a non-authorised user tries to open a restricted order they will see a popup informing them that they don't have permission to view the order. Here's what that looks like in the customer record: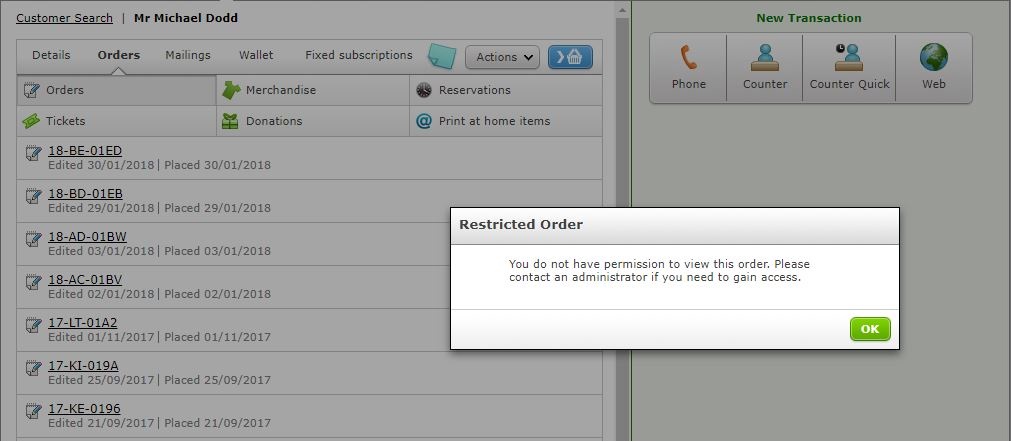 What about elsewhere in the system?
The Restricted Orders feature is intended to limit access to orders only in the Sales Interface. It doesn't affect the Fundraising Interface at all, and likewise doesn't impact on reports.
From a reporting perspective, it is possible for the details of a restricted order to be included in the output of reports. Therefore any users with access to the Marketing interface could see details of restricted orders in report outputs. This is because, while you might want to prevent certain users from accessing an order, you're unlikely to want to remove it entirely from your reporting.
***
If you have any further questions about the Restricted Orders feature, or managing restrictions, please don't hesitate to get in touch with the Spektrix Support team.