If you ever need to cancel an Instance or Event, there are a number of actions and considerations to be made.
In this article we'll provide you with a set of steps to follow and suggestions to think about for how to make the process as simple as possible.
TIP: Before reading this article, consider if you want to go through the steps of how to reschedule Instances rather than cancel Events.
There are six steps:
The first thing you'll want to do is take any cancelled performances off sale (whether an entire Event or just specific Instances) to make sure no further tickets are sold.
REMINDER: You may also want to check if you have sold any related Supplementary Events or Merchandise items that need to be taken off sale and returned.
To do this head to the Admin Interface > Events, and select the Event you want to take off sale. Here you can either update the status of one Instance or all Instances.
Select the Instance you wish to cancel.
Under the Basic Details tab, click the pencil to make changes.
Check the Cancelled check box. This is an important step that will help with reporting later.
Uncheck the boxes under the On Sale column. Make sure you take your performances off sale for Sales, Web and - if applicable - Agents and Opportunities.
Click Save to save your changes.
TIP: Consider whether you want your Event/Instances to still be visible on Web or not.

On the Instances tab of your Event, you should see the option to Change the status of all Instances.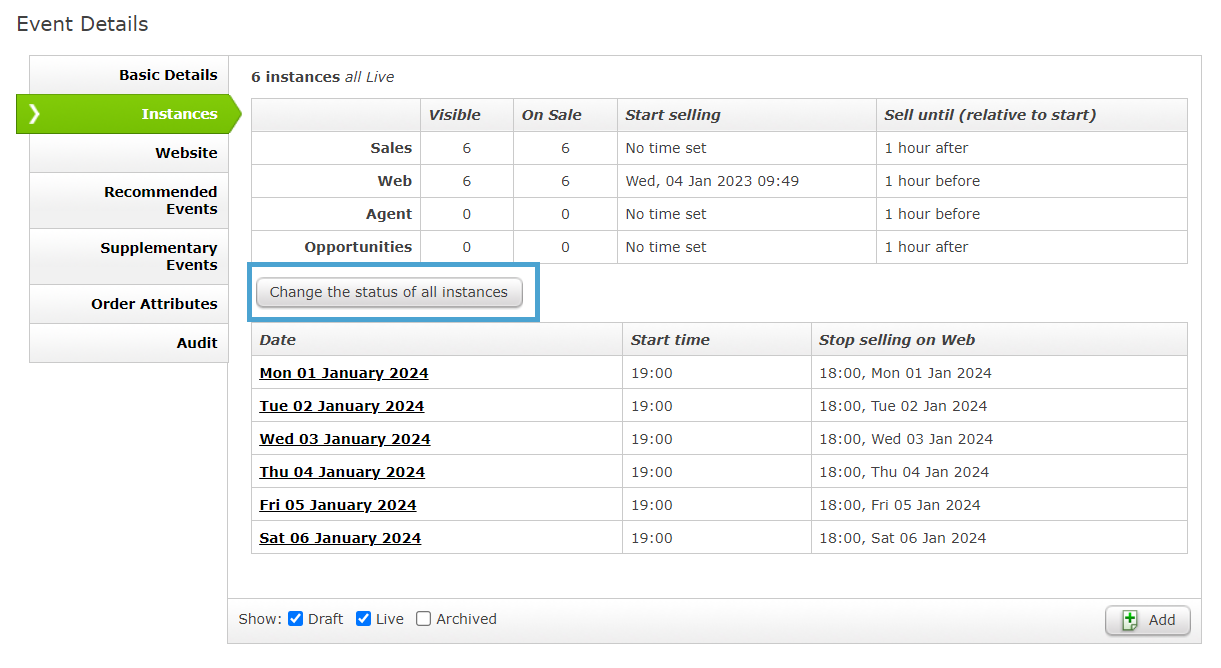 Choosing this option will open a new window.
Check the Cancelled check box and choose Yes from the dropdown menu. This is an important step that will help with reporting later.
Check the boxes under the On Sale column and choose No from the dropdown menu. Make sure you take your performances off sale for Sales, Web and - if applicable - Agents and Opportunities.
Click Save to save your changes.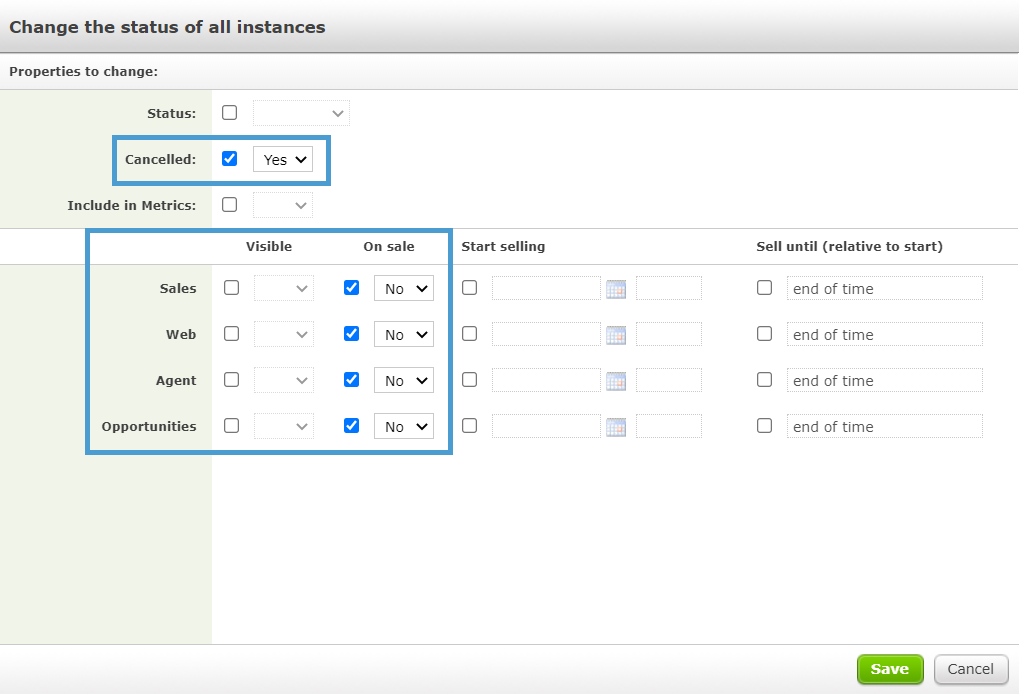 TIP: If you need to cancel Instances across a number of Events, you can also use the Bulk Instance Update Tool.
Whether you have cancelled one or multiple Instances, the next step is to run a Sales report. This will provide you with a snapshot of your sales at this point in time.
We recommend the Event Sales Report and/or Event Instance Occupancy Report - make sure you download it and save it for future reference.
Your organisation is likely to already have a policy for cancelled events in your terms and conditions. This will help you determine the message that you're going to provide to customers.
You may have a standard approach, or equally each promoter and producer you work with might have their own policies.
You might, for example, be able to straight away confirm that tickets are going to be cancelled and refunded and that customers should expect to receive their refunds shortly. Alternatively, you might want to just let customers know about the cancellation and let them know you'll be in contact with them soon to arrange an exchange.
A few considerations at this point are:
Can tickets be exchanged to alternative performances, or will they need to be refunded?

Do you want to encourage customers to choose an account credit refund in order to minimise your lost revenue?

If so, it's good to know your account credit policy, for example - how long is it valid for, what can it be redeemed against.
If you're a charitable organisation you could consider asking customers to donate some or all of their ticket value back to your organisation. Read our article about the Ticket Converter tool to find out more about how you could do this.
Will you be contacting customers by email or phone?
If you're asking customers to choose whether they want refunds or exchanges, how long are you going to wait after sending an email before you follow up with a phone call?
What is a realistic time frame for completing refunds and/or exchanges?
How long ago are customers likely to have purchased tickets?
REMINDER: For North American clients, there may be a specific window of time during which your payment provider will allow refunds back to customer cards, after which you'll need to refund using alternative methods. If you're not sure what your refund window is, please get in touch with the Support Team who will be able to help.
Do shorter or longer versions of the same information need to be provided on your website/social media, other channels, and to staff members?
TIP: You could add the information into a Blue Note against the relevant Events/Instances for staff members who aren't around on the day but might need to talk to customers about this later.
With a clear plan and message decided upon, the next step is to start getting in touch with your customers (and agents, where appropriate).
TIP: if you want to ask customers to change some or all of their refund into a donation, make sure you check out our article about the Ticket Converter tool for information on how to do that, and the process to follow.
The first step is to create a Customer List looking for all customers who have purchased tickets for the affected performance(s).
Go to Insights and Mailings > Customer Lists > Add New Customer List
Use a Booking segment targeting the Events/Instances you have cancelled.
Include everyone. In this situation, you shouldn't limit this list to only customers who have agreed to your marketing Contact Preferences as this is important information relating to the fulfilment of your contractual obligation.
Make sure you include Customer ID, First Name, Last Name, Postcode/Zip Code, Email Address and Phone number (mobile and phone number if you use both) in the output of the Customer List.
You now have a list of customers that you need to contact.
If you work with agents, contact the agents you work with, so they can arrange exchanges/refunds with their customers directly.
Consider using email personalisation to make sure your customers feel like they're receiving individual emails, even though you're sending them in bulk.
If possible, consider setting up a standard cancellation template in dotdigital in advance, with generic copy about cancellations and your refund policy - which you can edit to fit your specific message each time.
REMINDER: Check for customers who are on your dotdigital unsubscribe list and contact them via either a personal email or by phone.
If appropriate, follow up emails with phone calls to ensure customers have received the message and/or discuss refunds or exchanges.
By phone -

Contact all customers who

don't

have an email address by phone. If you can, consider ordering these customers by travel distance (using postcode/zip code) so that you can prioritise those travelling the furthest.



When you're ready to start returning tickets and making exchanges or issuing refunds, the following article may help you:
REMINDER: It's important to remember that as you start returning tickets, customers will drop out of your Booking segment/s because Customer Lists are dynamic. Don't worry though, you'll be able to find these customers later on in a Booking segment looking for customers with returned tickets to the relevant Events/Instances.
You'll want to work your way through all of the Orders on your cancelled Event/Instance.
The best way to do this is to go to the Sales Interface and select the cancelled Event. Click into your Instance. If your Instance is greyed out you can check the box called Instances not on sale and this will allow you to continue.
Under the Actions dropdown, use the View Sales screen.
Selecting View sales will show you a list of every order against that Instance:
Go through the Orders one at a time to refund or exchange as required.
REMINDER: it's not possible to do this in bulk because some Orders may contain tickets for multiple Events, additional items such as Donations or Merchandise, or Commission such as tickets/transaction fees or delivery fees which may not be refundable, and/or different methods of payment for these items.
If processing refunds, for the majority of Orders you will likely be processing integrated card refunds. However, if this option isn't available to you because a customer's card has expired, or you've exceeded the refund window for your payment provider, you will need to use an alternative refund method.
You may need to create a new Custom Refund Type in the Admin Interface, and ensure that your Finance team have the required information to issue BACS/cheques to the affected customers.



After you've processed your refunds or exchanges you might want to report on the lost income - whether for internal purposes, reporting to external stakeholders or even for questions regarding insurance.
Visit the Support Centre article on Reporting on Lost Income to find out more.



For further reading in this area, check out the following Support Centre articles.
To read more about cancelling and rescheduling Events in Spektrix, head to the Setting Up and Editing Events section of the Support Centre.