To add a new item of merchandise ready for sale you need to go to Admin>Other>Merchandise. To add a new item, click "Add"
First you need to provide the basic details of the merchandise item - fields marked in red here are required, and your item cannot be created without them.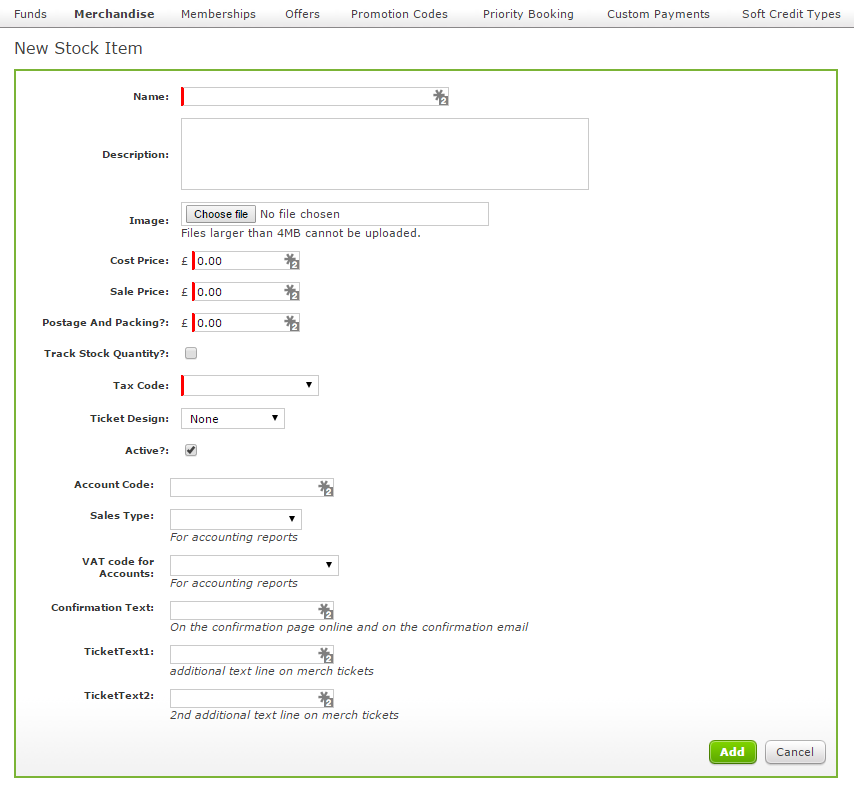 There is also space for the cost price of the item (what it is purchased at) and the sale price, which is charged to customers. If the item incurs postage and packing charges, these can also be set. 
If you are printing merchandise vouchers, then you can set the design here. You will also see any Merchandise Attributes that are unique to your system.
Once you click "Add", the merchandise item is ready for sale.
Making Merchandise Available Online
In the Website tab of the merchandise item, you can choose whether you want the item to display and be available online.
If you do choose for the item to be displayed, and have a standalone merchandise page, you will need to add copy for the item in the space provided below. This uses wikitext markup, and will appear on your website.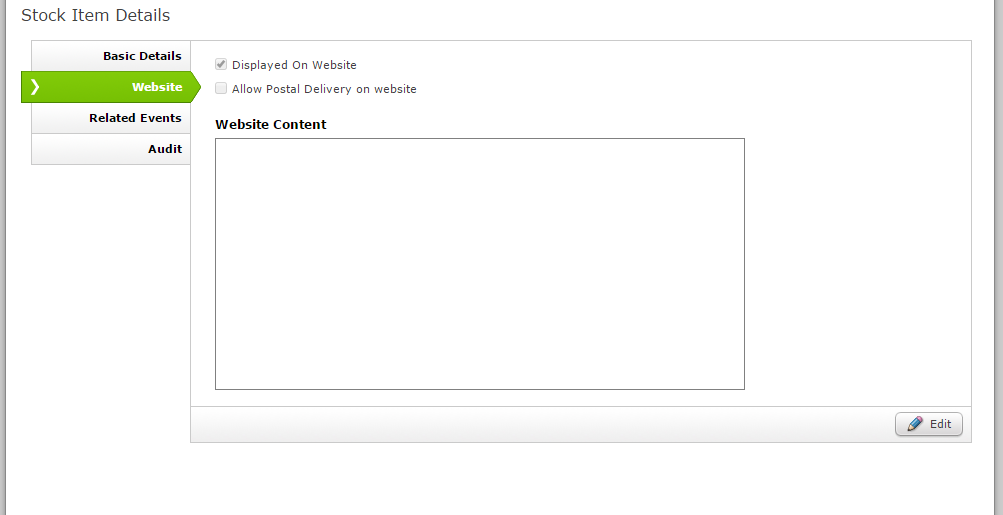 You can also choose to make the item deliverable by post, which means the customer will be charged the post and packing rate you decided on the first screen. 
Cross-Selling Tools
You can also set merchandise items to be recommended in the basket, and change the amount of items that are recommended based on the number of tickets.
It might be that you want specific merchandise items to be recommended when tickets for a certain event have been added to the basket - for example to recommend a programme. For this, you can use the Related Events tab - just select your related event from the drop down list and click "Add". You can add multiple related events and as soon as tickets are added to the basket, your merchandise item will be recommended.
As of Release 41, you can also change the amount of merchandise items that are recommended and added to the basket. You can edit this in the Cross Selling Options tab.
There are several rules you can put in place:

The same number of items as tickets
Always a set number of items
X number of items for every Y number of tickets
This means you can change the default number of merchandise items depending on the item - great for upselling in the basket!