If you accept donations, whether for one-off giving or as part of larger fundraising campaigns, you may want to recognise or thank your donors. You might, for example, want to add a donor list to your website, or to programmes for individual events. Spektrix allows you to do this easily and accurately, not only by recording the name of the person who made each donation but by offering donors the opportunity to choose exactly how they would like to be thanked.
Some donors might prefer to be thanked personally, while others may have preferences on how their name is published - they might want their full name listing, or to be listed with a specific title, or perhaps instead to be listed as a family. Others might prefer to remain anonymous. By using the Donation Recognition feature you can easily capture this information.
Some donors may be making their donations on behalf of other people, or in honour or memory of another person. You can also capture this easily in Spektrix, by adding a Tribute to a donation.
This article explains how to set both of these features up, and how to use them in the system. If you're not familiar with how to set up and use Funds and Donations, have a read of this article before reading any further.
Setup
Both Donation Recognition and Tributes can be turned on very easily - there are switches for both features available in Settings Interface > Configuration > System Setup > Donations, allowing you to enable them separately for the box office and for the website.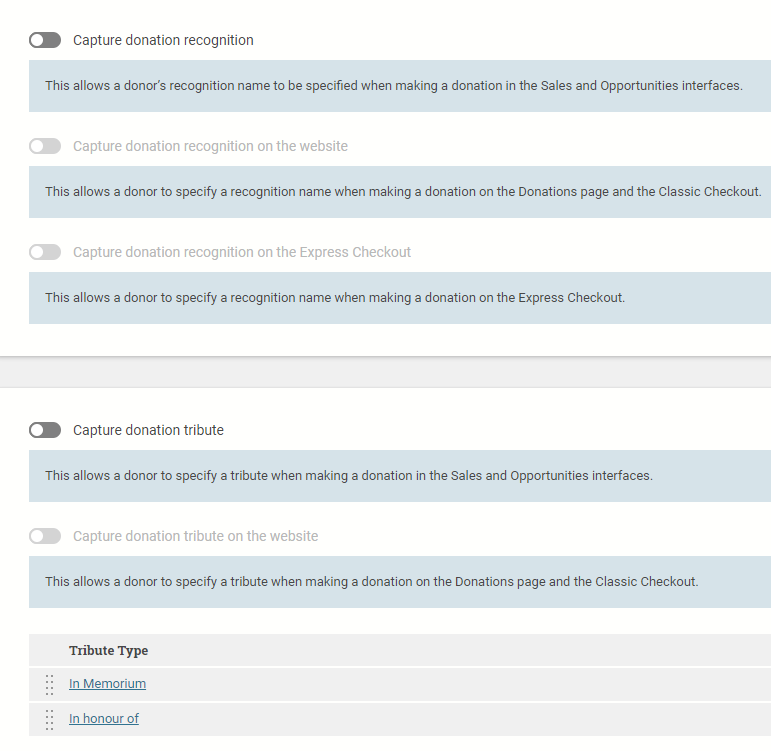 Donation Recognition is just a simple on or off, but Tributes also requires one or more Tribute Types. By default, when you switch Tributes on there will be two Tribute Types already set up:
In Honour of (or In

Honor

of for US/CAN users)

In Memory of
If you would like to set up any further Tribute Types, just click the New Tribute Type button at the bottom of that page and fill in the name you want to add.
In use
You can use both of these features in the Sales Interface and the Opportunities Interface, as well as on your website. We're going to focus on using them in Spektrix to begin with, and then look at how they appear online later.
To add Recognition or a Tribute to a donation, navigate to the Donations screen (in either Sales or Opportunities) and you'll see an option for Add Recognition against each of the funds you have set up. Here's how that looks:

If you have a donation in the basket but haven't clicked Add Recognition you'll see the relevant Fund highlighted with a box around it, like this: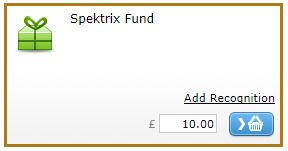 Whether you have a donation in the basket already or not, if you click the Add Recognition option you'll be prompted with a popup where you can fill in the required details: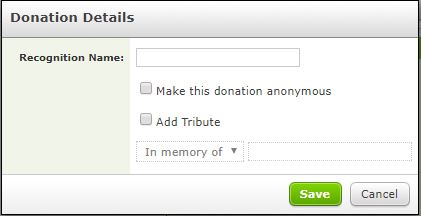 Recognition Name:

enter the name of the person to be recognised. If there's already a customer in the basket then this will automatically be filled out with their name (and title, if applicable), but you can change that if you need to

Make this donation anonymous:

Tick this if the donor wants to remain anonymous

Add Tribute:

Tick this if you want to add a Tribute, then select the Tribute Type from the drop-down list
If you've entered a Recognition Name, you will see it displayed against the Fund on the left hand side of the screen, like this: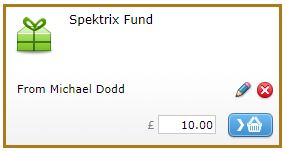 You can edit this name by clicking on the blue pencil icon, or remove it by clicking on the red X icon.
If you've ticked Make this donation anonymous then here's how it will look against the Fund: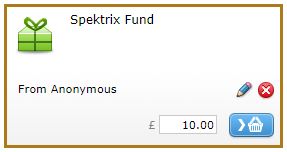 If you've selected a Tribute then this will also display against the Fund on the left hand side of the screen, and will look like this: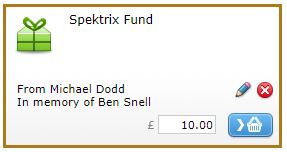 Clicking the blue pencil icon will also allow you to edit the Tribute.
Once a donation has been made with a Recognition and/or Tribute, it will appear in the order with the full details attached:

If you use the Opportunities Interface, it will also appear in the customer's timeline:

NOTE: when paying a pledge, once the donation is in the basket you can go back to the Donations screen and add Recognition and/or a Tribute.
All of the same functionality is available online as well as in the Sales Interface, as long as you've selected the switches for displaying the two features on the website.
Here's how that might look in the classic checkout flow (remember that your website styling will apply here as well):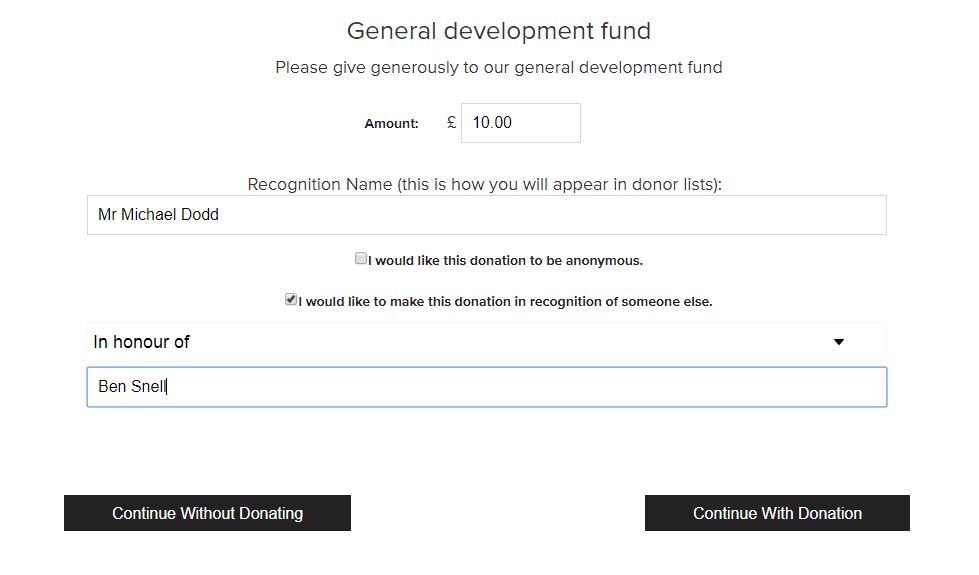 If you have one or both of these features switched on for your website, they will appear on the Donations page every time a customer sees it.
You can then see all the same information about online donations in customers' records, whether you're looking in the order history or the timeline in the Opportunities Interface.
NOTE: all of the images shown here are for the classic checkout flow. You can also enable Donation Recognition (although not Tributes) for the Express Checkout; click here for more information on the Express Checkout.
Reporting
You can report on donations which have Recognition Names and/or Tributes attached, using three output fields that you can find within the Donations metric group in Analysis or Accounting reports.

Recognition Name:

the name of the person who's being recognised for the donation

Donation Addressee: the name by which a customer wants their gift to be recognised. It will output the customer name when there is no recognition name attached or will output the recognition name when there is a recognition name attached.
Tribute Name:

the name of the person the donation is being made for

Tribute Type:

which Tribute Type was chosen for this donation
You can find all of this information in a standard report on your system, called Donations Report. Here's an example of what that might look like - this example only includes a single Fund, but if you have multiple funds then you'll see one table per Fund.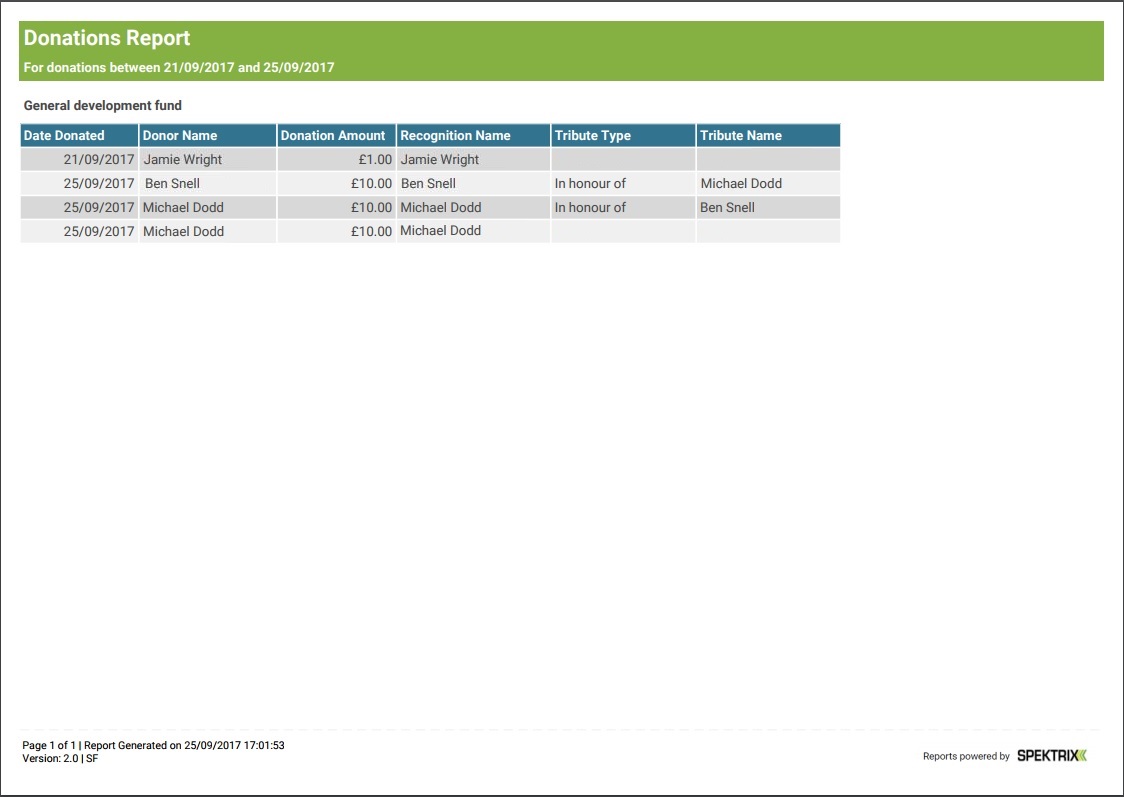 NOTE: if you have previously used another method to record donation recognition, such as customer Attributes, you won't see that data on this report. If that's the case, please get in touch with the Support team who will be able to advise on how best to proceed.
***
If you have any further questions about these features, please don't hesitate to get in touch with the Spektrix Support team.