In the Sales Interface, it's possible to run reports that refer to the details of a single order, transaction, or customer. Unlike the standard reports that you see in Insights & Mailings, these reports have to be added to your system on request from the Spektrix Support team and can be formatted to use your branding.
In this article, we'll look at the types of order report available, where you run them from, and what you might use them for.
NOTE: unless you have the appropriate report templates added to your system, you won't see their respective buttons as pictured here.
Proforma Invoice

A Proforma Invoice is a request for payment that you can issue to a customer when an order contains reserved tickets. It will break down the details of the tickets reserved, the outstanding balance due, and the reservation timeout date/time.
Invoice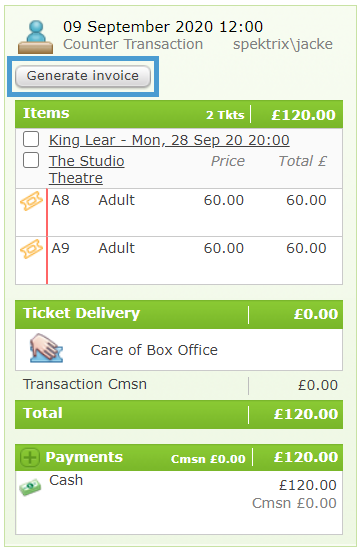 An Invoice is a document that can be run against a confirmed order and issued to the customer. It includes the details of any items purchased (tickets, merchandise, etc.), as well as any payments made to settle the order. You might use this to request settlement from a third party like a ticket agent.
Credit Note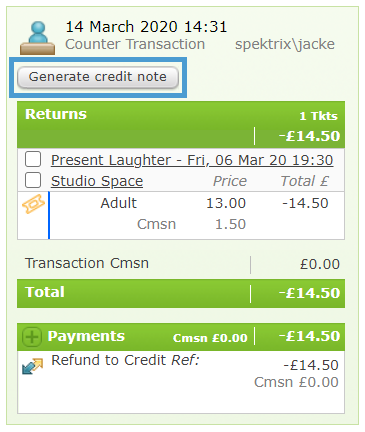 A Credit Note can be run on a confirmed order and issued to the customer. Like an invoice it contains full details of all items – however, it can only be run when payment has been credited to a customer (for example if you were to refund them).
Summary

A Summary report summarises the current state of an order for the customer. It contains all current items in the order and might be used as a receipt or group ticket for admission.
Statement

Unlike the other documents listed here, Statements are run from within the customer record, under the Actions dropdown. A Statement amalgamates everything that a customer has purchased over a given transaction date range and lists item details and amount paid. This can be used as an 'at a glance' record of customer purchase history without looking through separate orders. It can also act as a patron profile for fundraisers; however, if you're using the Opportunities Interface, you can also run a Donor Profile report.
***
If you're interested in having any of the above added to your system please get in touch by filling in a Report Request form. We have standardised templates for each report but there is scope for us to add your company details, colours and/or logo to order reports. We'll also be happy to put any VAT number details on there if you want to use them as formal invoices.