The Opportunities Interface in Spektrix provides both a framework to structure your fundraising and a workload management tool. It's designed for managing gifts that you plan to cultivate on a one-on-one basis - from individuals, corporates, and trusts and foundations - rather than low-level giving. Effective use of the tools provided will help you identify and manage your prospects, donors and funders, and track your progress against your team's fundraising targets, all in one place.
A well-managed Opportunities Interface will make it easy for you to track your prospects, as well as report and forecast income against targets. It will also act as a sophisticated to-do list for you and your team.
In this article we're going to look at all the building blocks you need to have in place to effectively set up and start using the Opportunities Interface, including how to:
We'll be linking out where appropriate to other articles on the Support Centre which go into greater detail about each of the specific topics being discussed. If you read through this article, however, and work through all of the sections, then by the end you should have everything you need to be up and running using the Opportunities Interface.
If you're just starting to learn how to use the Opportunities Interface we would recommend keeping this article by your side for reference (you could even print it out), so that you can regularly refer back to it as you're working.
A note on navigating the Opportunities Interface
The Opportunities Interface is made up of various different sections, each of which performs a specific function, and does look a little different to the rest of the Spektrix system in places. If you're not already familiar with how to navigate your way around the Opportunities Interface then you can read all about it in this article:
Navigating the Opportunities Interface
A note on customer records and the Opportunities Interface
Any individual or organisation who is a current or potential donor should have a Customer Record in Spektrix. Many of these may well already be in Spektrix - if they have ever purchased tickets or made a donation via Spektrix, whether online or in person, they will already have a record.
You can search for existing customers in the Opportunities Interface within the People tab in the main menu and add records for anyone who isn't already in your database.

Have a read of this article for more information on Customer Records in the Opportunities Interface:
Navigating the Opportunities Interface (Customer Records section)
Accessing the Opportunities Interface
The first thing you'll need to do is make sure everyone in the development team has access to the Opportunities Interface.
To give someone access, they will first need to be set up as a Spektrix user. You can add and edit users in the Settings Interface (for which you'll need the Settings Administrator User Role) under Users > User Accounts from the top menu.

There are two Opportunities-specific User Roles:
Opportunities User: allows access to navigate and use the Opportunities Interface. Users cannot edit settings.
Opportunities Administrator: allows full access to navigate, use and configure settings in the Opportunities Interface.
We would recommend that you also give Opportunities users access to other areas of the system that will be useful for their day-to-day activity. For example:
The Admin Interface to manage funds, low-level giving options for customers, memberships, offers, custom Attributes, and Tags.
Insights & Mailings Interface to use the Customer List tool to identify potential donors based on booking behaviour.
Once that's done for every member of the team who needs access, you should be all set up and ready to access the Opportunities Interface.
For more information on adding and editing users, please refer to our Support article on Adding and Editing Users.
Each donation you receive via Spektrix must go to a specific Fund - if you only want to have a single purpose for donations then you only need one Fund; if you want to allow customers to contribute to different projects or campaigns, you can create a specific Fund for each one (e.g. 'Capital Project Fund' or 'Youth Arts Development Fund').
The way you set up your Funds can help your accounting department report on transactions (using elements such as Fund Name or General Ledger code) and will likely map to a balance sheet. For this reason, it's usually important to consult with your finance team when setting up your Funds in Spektrix.
Considerations
Before you set up any new Funds, it's worth considering a few things, including whether each Fund is going to be customer-facing or internal and what sort of information you want to be gathering for each donation. Consider the following:
What information does the finance team need to know about your donations?

Do you need to store your finance department's account codes against Funds in order to help them report on income?

For public-facing Funds, are the names and messaging right for external audiences?

Do you want donations to each Fund to default to being automatically allocated to a specific Campaign in order to track income against targets?

Are the Funds restricted or unrestricted? If restricted, are the restrictions clear to donors/funders, and to your accounting team?
The answers to these questions should give you a good idea of what you need to include when setting up Funds, specifically thinking about things like the Code field, and/or Fund Attributes.
Setting up
When you're ready to set up one or more Funds, just head to the Admin Interface and go to Other > Funds. Here you'll see a list of all active Funds, and the option to add new Funds. You can find a full guide on how to set up and edit Funds in this article:
Bear in mind that this article is not specific to users of the Opportunities Interface, as Funds can be created without using that Interface. As a further guide, below are some suggestions for things to think about when setting up Funds alongside the Opportunities Interface.
NOTE: once set up, Funds can be used for as long as you like. If you ever want to stop using a Fund, just make it inactive.
Restricted vs unrestricted Funds
When setting up a Fund it can be worth considering whether you want it to be restricted or unrestricted and, if unrestricted, how you can reflect that in Spektrix. To quickly clarify:
An

unrestricted

fund is for money that can be used however your organisation sees fit, such as a 'General Operating' Fund.

A

restricted

fund is for money that can only be used for a specified purpose, such as a specific educational campaign, or a legacy gift given with particular conditions.
As an unrestricted Fund is for money which can be used wherever it's needed most, there's no need to record in Spektrix that it's unrestricted. With a restricted Fund, however, it's important to decide upon how you want to flag that it's restricted (both internally and externally), how to report upon donations made to that fund, and how to demonstrate to your donors that their money is being used as they expect.
Here are two suggestions for how to set up a restricted Fund in Spektrix:
Add a Fund Attribute with either a drop-down list or a checkbox so that you can clearly flag whether the Fund is restricted or unrestricted.

Include the appropriate account code in the

Fund Code

field, which will pull through into the Donations section of the

Payments & Activities Report

, and include an unambiguous Name and Description so that it's clear to both your staff and your donors exactly what the money will be used for.
Where possible we would recommend the second option as best practice, as it ties neatly into existing Standard Reports.
Customer-facing Funds
Some Funds are collected on the web, at the box office, and/or over the phone and are likely to be comprised of many small and uncultivated gifts. These are what you might refer to as customer-facing Funds; an example would be a 'Young Musicians Fund'.
Here are some suggestions for how to fill in the various fields available in the Basic Details section when you're setting up a customer-facing Fund:
Name: y

ou'll want to think about naming these Funds really clearly and simply, because you want customers to quickly and easily understand what they're donating to.

Code: it might not always be obvious internally (i.e. for your finance team) where the revenue for each Fund should go, so you can use this field to store the appropriate information for your finance team to use (see also Attributes)

.

Description:

this will appear online, so can provide additional information to complement the Fund Name and communicate with the donor.

Display on web:

tick this to make sure the Fund displays online.

Active: tick this to ensure the Fund is active, or untick to deactivate the Fund.
Default Campaign: link the Fund to a specific Campaign so that you can

count the donations towards that Fund in your Campaign reporting.

Attributes: you may want to set up custom Attributes to record extra information about a Fund (such as a Confirmation Text Attribute, which appears in the confirmation email). Attributes will display in this section once you've set them up in the Settings Interface.
Here are some additional suggestions for the other tabs when you're setting up a customer-facing Fund:
Event Criteria: choose whether the option to donate to this Fund should be available online and in the Sales Interface, and if so, whether it should prompt on the way to the checkout all the time, or only when customers book for certain Events.

If the Fund is for something like a big Capital Project, you will likely want the donation ask to be prompted at all times.

Customer Criteria: use this to

determine whether all customers should be asked for donations to the Fund, or only specific customers.

You might, for example, want to exclude certain people (e.g. board members) from being asked to donate.

Default Amount: choose what suggested value should appear by default for this Fund - you might want to vary this based on the basket value, in order to increase the overall value of your online donations.
Here's an example of a customer-facing Fund:

The objective is for this to appear on the way to the online checkout. Its title is descriptive, while the Code ensures the finance team knows where the money should be allocated. Its description contains a friendly, concise message about what the customer's donation will support, and its Default Campaign corresponds to the Sub-Campaign against which all income from this stream will be reported.
Internal Funds
You might have some Funds which do not need to be customer-facing (i.e. visible online and in the Sales Interface) but are for the internal allocation of donations only. For example, you might have a customer-facing Fund to 'Help us to Develop our Building', and an internal Fund relating to one specific part of the building project where some of the donations will be allocated. As it's internal, it doesn't need a friendly name - something like 'Building Project Phase 1' would be fine.
Here are some suggestions for how to fill in the various fields available in the Basic Details section when you're setting up an internal Fund:
Name:

you can focus on specifically referencing how the money will be allocated, e.g. 'General Operating Fund', 'Education Fund' or 'Commissioning Fund'.

Code:

it may be clear from the Name how income should be allocated, but there's no harm in still adding an account code here for reporting purposes.

Description:

this isn't necessary as the Fund isn't showing up online, but will still be useful for communicating to your team what each Fund is for.

Display on web:

leave this unticked, as you don't want the Fund to show up online.

Active: tick this to ensure the Fund is active, or untick to deactivate the Fund.
Default Campaign:

you don't necessarily need to select anything here, as when you make a donation against an Opportunity, that Opportunity will already be linked to a Campaign.

Attributes: for internal Funds, Attributes can be a useful way of recording extra information (such as an additional code, if needed by Accounting team).
You don't need to add any information into the Event Criteria, Customer Criteria or Default Amount tabs, as they're specifically relevant for Funds which will be displayed online.
Here's an example of an internal Fund:

As this won't appear on your website, it has a practical title to indicate where donations to this Fund should be allocated, as well as an account code. It's linked to a Campaign by default, just as a safeguard in this case.
Now that you have created some Funds, you're ready to start setting up Campaigns. For this step, we will head back to the Opportunities Interface.
Campaigns, Campaign Structure and Targets
Campaigns encompass all of your strands of fundraising activity and allow you to set (and report on) clear targets.
Campaigns are additional layers of information that can be added to donations to help you manage prospects, time and resources. They are separate from, and interact with, the Funds you set up - each Campaign can feed into multiple Funds, while a single Fund can also receive income from multiple Campaigns.
Think of it this way:
Funds track where revenue goes within an organisation.
Campaigns are used to project, track and organise how revenue is brought into an organisation in the first place.
Each Campaign can be made up of multiple components - or Sub-Campaigns and Sub-sub-Campaigns - which will be organised into what's called a Campaign Structure. Best described as 'where the revenue is coming from', this allows you to break down the different types of activity and to set, measure, and meet specific fundraising targets.
Campaign Structure often reflects information reported out to boards, development boards, and/or executive teams against revenue targets. It's also a useful tool for development team members to track progress against their own revenue targets.
Campaigns interact with other elements of the Opportunities Interface in the following ways:
Linking prospective donors to Campaigns using Opportunities

allows for sophisticated pipeline tracking, so you know when you are on track and when you may need to shift plans or re-forecast. It can even help with cash flow analysis. Each Opportunity contributes to an overall Campaign - it's not possible to have an Opportunity which isn't linked to a Campaign.

Campaigns can be linked to Funds for restriction tracking, either on a gift-by-gift basis (using an Opportunity),

or by setting a Default Fund for a Campaign. When a Default Fund has been set for a Campaign, you'll be able to use Campaign reports to see how your broader fundraising activity (e.g. web donations) contributes to your overall campaign (see the previous section on Funds for further detail).
Setting up: Questions and Considerations
We've provided a recommended Campaign Structure, which you can read in full by following the link below. We've summarised some of the key considerations from this article in the following section:
Campaign and Fund Structure Planning Guide
Spektrix provides you with a lot of flexibility, so it isn't an absolute requirement for you to follow these recommendations. It's worth being aware, however, that all of the reports specific to the Opportunities Interface have been designed with this structure in mind, so by following this you can set yourself for the most efficient reporting.
The recommended Campaign Structure allows team members to understand and be accountable for their own targets, while also showing management and boards a bird's-eye view of your revenue and/or capital Campaign progress.
Some questions to ask when setting up your Campaign structure:
Do you work to annual targets?

Are you asked to project against annual targets?

To what level of granularity does any member of the team need to be responsible?

To what level of granularity does the Development Director/CEO need to be responsible?

Do you (or will you in future) have a legacy and/or capital Campaign, with targets that aren't annual?

Will your Campaign Structure help you track and communicate all of the above?
Here's an example of how this recommended Campaign Structure might look in Spektrix: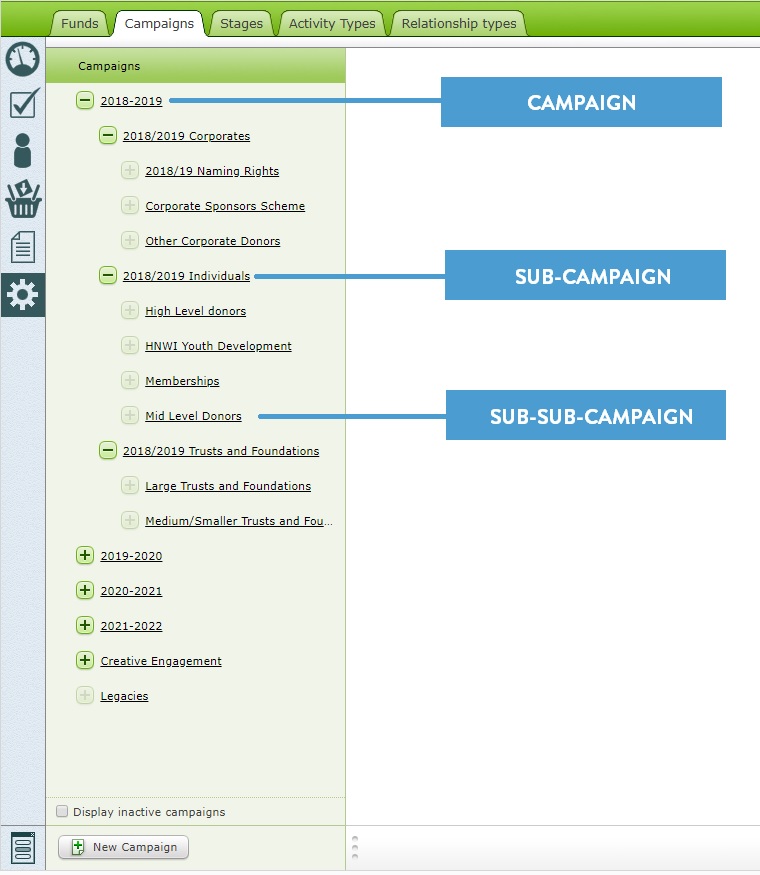 In this recommended structure you can see that it establishes a setup which works on a fiscal year basis with increasing levels of granularity. Some Campaigns, such as Capital Campaigns and Legacy Campaigns, might not work on the same basis, but this should suit a wide range of Campaigns.
When you're ready to start setting up new Campaigns, take a look at this article:
Targets
It's worth quickly looking at the use of targets, which you can set against Campaigns, Sub-Campaigns and Sub-sub Campaigns.
You would typically set Campaign targets at the creation of the Campaign, and use them to represent annual revenue goals set at the department, executive, or even board level. You can report on income against these targets, enabling you to track progress against your whole team's fundraising goals.
It's also possible to add targets later on if you haven't set them up at the point of Campaign creation, and to edit targets once they've been set up if you need to change them at a later date.
Campaign Stages
Each Campaign is broken down into several stages, providing a structured workflow for your Opportunities (linked directly to potential donors and funders) to move through as you cultivate them.
There are five standard stages in the system, based on a classic 'moves management' approach to fundraising. By default, these are Research, Involve, Cultivate, Confirm and Thank, although you can have as many or as few stages as you want, and call them what you want.

You should bear in mind that all your Campaigns will use these stages, so they should work for all members of your team and all types of Campaign you might run (i.e. they should be relevant to an Individual Giving Manager, as well as a Trusts and Foundations Manager). You can change the wording or add new stages by heading to the Dashboard, under Settings > Stages. You can also change the order of the stages by using the yellow arrow buttons.
NOTE: any changes you make will apply to your system as a whole, not just you as an individual user.

The number in the corner of each stage will indicate how many open Opportunities are currently in that stage. You should always close any unsuccessful Opportunities within the stage in which you decide to stop pursuing them - this allows you to analyse the success of the different stages of your pipeline, and to work to improve your drop-off rate.
Each Campaign Stage can also have a default Likelihood of Success, which is used to weigh the value of the open Opportunities within that stage, and can be used to forecast income. We encourage you to revisit these Likelihood of Success defaults once you've been using the system for awhile - it may be that your Likelihood of Success at each stage is higher or lower than first anticipated!
Next, let's look at assigning Opportunities to Customer Records.
Opportunities link customers to specific Campaigns, so you use them when you've identified individuals or organisations as being prospects who are likely to give. Once you've decided on a prospect, you can attach a new Opportunity to their Customer Record, linking them to a specific Campaign.
The Opportunities Interface is designed to support you in actively managing your Opportunities. By attaching Opportunities to Activities (more on these in the Activities section below) and moving them between the different Campaign Stages, you're working towards turning your prospects into donors - at which point you can close the Opportunity.
We'll take a quick look here at what a new Opportunity looks like: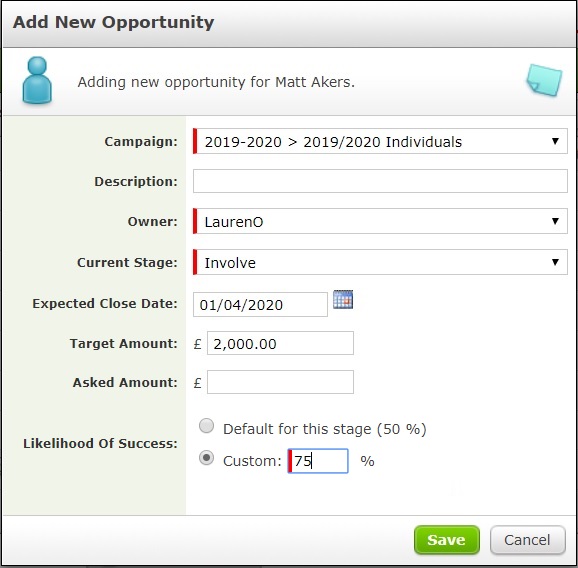 When adding an Opportunity, you'll need to fill in a few fields:
Campaign:

which Campaign (or Sub-Campaign) the Opportunity should belong to.

Owner:

the Spektrix user who's going to manage the Opportunity.

Current Stage:

the Stage at which the Opportunity starts.

Expected Close Date: the date you expect the donation to be taken by.
Target Amount: the amount you're aiming at for the donation.
Asked Amount: the amount you've asked for (to be entered once you have made the ask).
Likelihood of Success: this will either match the Default amount for that stage, or (if you feel that this particular Opportunity has a higher or lower likelihood of success) can be set to a custom percentage
NOTE: you can change these details later if you need to, for example if the Expected Close Date gets pushed back based on a conversation with a donor.
Have a read of this article for the full details of how to set up new Opportunities, either individually or in bulk:
Setting Targets
When you're setting up Opportunities, it's important you think about targets in order to help forecast income and track progress towards your team's fundraising goals. Creating target amounts for each Opportunity lets you report on the overall value of your prospects at any time, making sure you're adequately filling your prospect pool.
Much like with Campaign Stages, each Opportunity can be set with a Likelihood of Success metric, which also helps you to measure the value of your prospect. You could, for example, use this if you have a prospect who is very likely to give, but is still in the early stages of cultivation.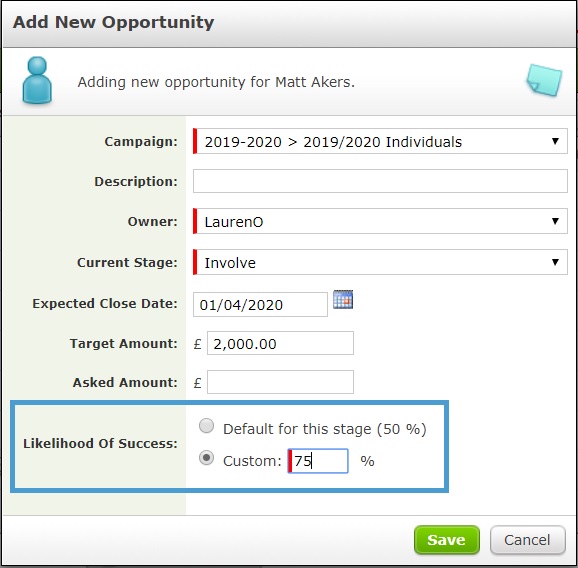 Using both of these metrics - Target and Likelihood of Success - you can conservatively forecast potential income based on how each Opportunity has progressed through the Campaign Stages. This will help you understand how many more prospects you need in order to increase the chances of meeting your overall Campaign targets.
Considerations when setting up Opportunities
Creating Opportunities for your prospects and assigning targets to those Opportunities will help you understand the number of prospects you need in order to meet your targets in each Campaign and the total you will need to solicit from them.
Here are a few questions to ask when setting up Opportunities and targets:
How many O

pportunities can your team reasonably manage one-on-one?

Who in the team will 'own' which O

pportunities?

For example, a Grants Manager would typically manage Opportunities in a Trusts and Foundations Sub-Campaign, whereas an Individual Giving Manager would likely manage prospects in an Individual Giving Sub-Campaign.

How will you set target amounts and likelihoods of success for Opportunities?

How will you identify prospects?

What factors determine how you set your Opportunities targets vs your Campaign targets?
For more detailed information regarding targets, have a read of this article:
Campaign and Fund Structure Planning Guide
Next, you'll want to set up Relationship Types, which are useful for linking together different individuals and organisations in your system.
Relationships and Relationship Types
Relationships in Spektrix allow you to represent the different ways in which two customers (individuals and/or organisations) can be connected. Have a read of this article for the full details on how relationships work in Spektrix:
Customers and Relationships in Spektrix
Relationship Types
In order to add relationships, you'll need at least one Relationship Type. These are likely to be different for fundraising purposes than they are for general sales purposes, as you're going to be interested in recording different forms of relationship that aren't necessary in the everyday running of the box office.
Here are some examples of Relationship Types that you might find useful:
Trustee to Trust.

Charitable Arm to Parent Organisation.

Primary Venue Contact to Friend of the Venue.

Key Influencer to Prospect.
You can add or edit Relationship Types from within the Opportunities Interface, so you don't need to switch to the Admin Interface. You can do this under Settings > Relationship Types - the rest of the process is exactly the same as described in the Customers and Relationships article linked above.
NOTE: Relationship Types are available to use in both the Sales and Opportunities Interfaces.
It's particularly relevant for fundraisers to think about individual to organisation relationships. Here's an example of how it might look if you set up a Relationship Type for Trustee to Trust:

As you can see, this relationship will allow you to link individual trustees to the trusts you may be applying to for grant money. This will tell you who to invite to cultivation events, help you plan your strategy for soliciting a gift from this trust, and help keep track of important contacts past and present.
Finally, let's look at setting up the right Activities and Activity Types for your organisation.
Activities in the Opportunities Interface make up the day-to-day tasks you would carry out on a regular basis, and provide a configurable means to proactively plan, manage, and monitor your workflow. When used effectively, Activities are especially useful for managing multiple prospects with varying degrees of priority. Some examples of how activities can be utilised are:
Creating 'to-do' lists.

Documenting an important moment in a funding relationship (i.e. grant awarded or donor pledging support).

Managing your moves/enacting your cultivation plan in advance.

Monitoring and managing your team's actions.
Activity Types
Your Activities are all the actions that you want to log on the system. Assigning Activity Types is useful because it shows you at a glance what kind of action is required, whether that's writing an email, submitting an application, or attending a meeting. It also allows you to report on the Return on Investment (ROI) of specific Activity Types.
For details on how to create or edit Activity Types, have a read of this article:
There will already be a few Activity Types by default, as discussed in the article above, but here are some suggestions for others that you might find useful:
Application submission.

Report to funder.

Steward.

Spot research.

Thank/close.

Recirculate back into the pipeline.

Write proposal.
You can have as many Activity Types as you like. The balance to strike is between being clear and specific, and grouping things together to get an overview in your reports.
For example, it might be valuable to you to know exactly which kinds of informal meetings you're having with prospects, but it's equally possible that you can bundle these together into a single Activity Type.
Broadly speaking, the more frequently you do an Activity the more likely it is to need its own Activity Type.
Creating Activities
You can create new Activities by clicking the New Activity Icon on the Pinboard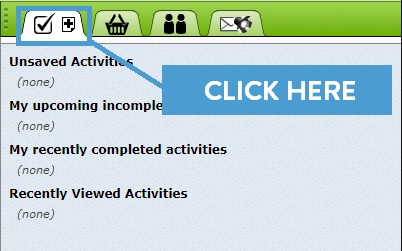 This will then open the Activity Editor which has the following fields for you to complete. Inputting as much information as possible at the time of creation will be beneficial when it comes to filtering your Activities dashboard and reporting.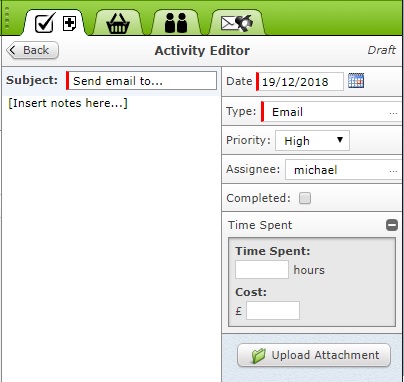 Subject:

the name of the Activity you wish to carry out.

Notes:

space to provide some more context or specifics of the Activity.

Due date: t

his helps you to filter your ongoing Activities. Once an Activity has passed its due date, it will be flagged in red.

Type: choose one of the Activity Types from the dropdown menu (whether this is a standard Type or a custom Type you've added).
Priority: the priority will be set to medium by default, but you can choose to set it to low, medium or high priority, as defined by the red, green and yellow symbols that you'll see in the Activities

dashboard.

Assignee:

you can delegate this action to another user in your system; this allows you to filter the dashboard to see only Activities belonging to certain team members.

Time spent/cost:

click on this section to expand it, and you can then fill in some optional additional information to help measure ROI for this Activity.

Upload Attachment:

you can upload any additional documents (such as funding applications) for further context if needed (the maximum file size is 20MB).
NOTE: it's possible to create new Activities through emails you send, by Bccing to your Spektrix system. Have a read of this article for more information.
Attaching customer records/Opportunities to an Activity
Once you've got an Activity set up, you need to attach one or more customers and/or Opportunities to it, so that you can record who's being contacted and what the Activity is linking to.
Adding either of these elements to an Activity is easy; it works on a drag and drop basis, so you just click on whatever it is you want to attach (from the relevant dashboard - either Opportunities or People), and drag it over to the Activity on the right-hand side.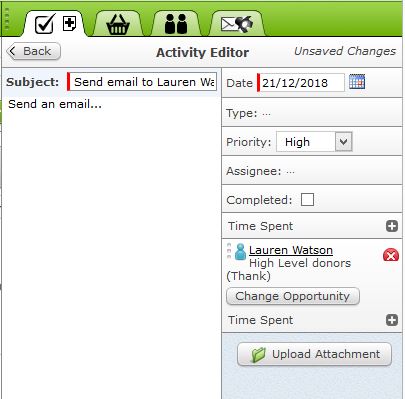 As you can see from this screenshot, once you've attached an Opportunity or customer to your Activity it will display within the Activity Editor. You can add as many as you want, and they will all show up here.
Adding Multiple Activities
There might be times when you want to create several identical Activities at once and attach an Opportunity to each, e.g. if you need to send a form letter out to multiple people. Rather than repeating a routine task for each Opportunity, you can instead do this in bulk by clicking the Add Multiple Opportunities button within the Opportunities dashboard.

The first step is to select your Opportunities from the list presented: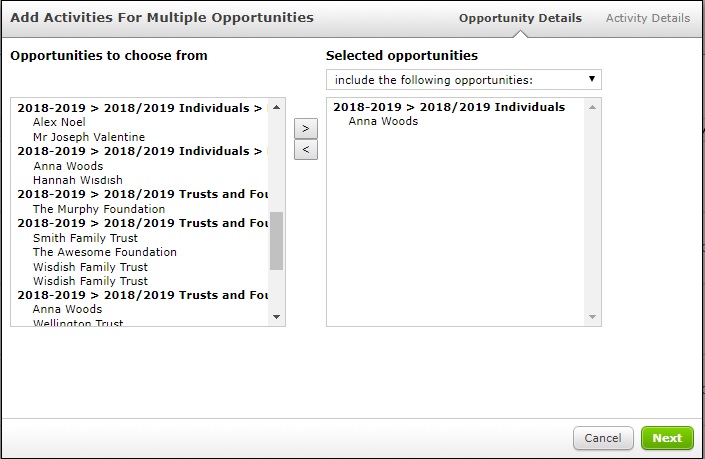 Once that's done, click the Next button and fill in the usual details for your Activities:

When you click the Finish button, the system will create an Activity for each of the Opportunities that you've selected. Once that's done, you can add more Opportunities/customer records to the Activity as needed, by just dragging and dropping as mentioned above.
***
You should now have all the building blocks in place that you will need to effectively manage your team's fundraising Campaigns, and your database of prospective donors and funders. You should have the following set up in your system:
Funds.

Campaigns (with set targets, if relevant).

Campaign Stages.

Customer and/or Organisation records.

Relationship Types.

Activity Types.
***
Now that you have the building blocks in place, your team can start adding Opportunities to prospects, and plotting to-do list Activities to help manage the daily workflow.
Please don't hesitate to get in touch with the Spektrix Support team if you've got questions about any of what's been covered here, or would like to talk in more detail about anything fundraising-related.