The worth of members can go far beyond purely monetary terms, as they also have the potential to be vocal advocates and loyal supporters, willing to give their time, insight and experience to support your organisation. Memberships are a two-way street where both parties benefit, and using the fundraising tools in Spektrix can help you to maximise the benefit for everyone. In this article we're sharing best practice guidance on using the fundraising tools in Spektrix to effectively manage your members.
NOTE: for the purposes of this article we're defining 'member' as anyone who gives regularly - either in return for goods and services or in a purely philanthropic capacity - but wouldn't be considered a major donor.
After reading this guide, you should be able to:
Set up and manage membership schemes, including administering membership benefits and communicating meaningfully with members to build long term relationships.

Track and report on the success of membership campaigns.

Ensure that your team uses time and resources in the efficiently.

Provide an outstanding level of customer care

to members, to demonstrate how much you value them.
We'll cover every step of managing a member, from setting up new Memberships (or giving schemes) in Spektrix to processing one-off or recurring payments, assigning Opportunities where appropriate and using Activities to manage time and resources. These are the specific tasks we will cover:
If you have already set up your Memberships, you can jump ahead to the section on Using Opportunities to cultivate Memberships. If you are in the stages of setting up a membership scheme, we will look at this up now.
NOTE: this article assumes a basic knowledge of Spektrix and particularly the Opportunities Interface, but we've also linked out to relevant articles where possible so that you can investigate how to use each feature if you're not familiar with it. Alternatively, you may want to check out these other articles for a more detailed explanation of Spektrix fundraising system concepts:
It's always worth doing some planning before you jump into setting up a new Membership. If you're about to launch a membership scheme, we're going to go through a few things to do first.
NOTE: there's a lot to think about at this point, but it's worth putting in the time to get your planning right before you jump in and start setting up memberships.
Make some decisions
We would always recommend you begin by answering some key questions as a team about what you want to achieve with each membership. Here are a few suggestions:
What's your overall aim for this membership scheme? Is it to reward loyalty and encourage customer retention? To encourage philanthropic investment in your organisation? To open new relationships that will cultivate major donors?

Will your membership scheme offer transactional benefits (see the Setting up Benefits section for more on this), or is it based mostly on philanthropy?

If you plan to offer benefits/goods and services (like discounted tickets), what are they, what are their cost implications and how will the returns of this scheme balance these costs out?

Where do you want people to sign up for this membership?

Do you want to invite members to be more deeply involved in your organisation?

How often will you communicate with your members, and through which channels?

Do you plan to host events for your members?
Starting with a clear idea of the purpose of your membership will help you to decide which tools you will need to use, and the specific ways you will want to use Spektrix for managing members and prospective members.
You can of course have multiple membership schemes and types for different purposes, but you should make sure that each purpose is clearly defined. For more ideas on membership objectives, read this blog post.
Decide on the details
Once you know what your overall objective is with each membership, you need to decide on some important details, such as:
The price of your membership.

Whether you want members to pay the same or less if they renew.

The membership period and payment schedule (paying yearly, monthly, etc).

How long members will have to renew, and if renewal can be automated using Continuous Authority

.

The value and relevant tax code applying to the benefits (UK/IE) or goods and services (US/CAN) you will offer

.

Whether the donation

portion of your membership is Gift-Aidable, and whether you want to claim Gift Aid via Spektrix or manually (UK only).

If you want people to be able to give this membership as a gift.

How you will track sales and report on progress against targets.
Gift Aid (UK only): how much you can treat as a donation is governed by how much benefit the customer receives from the membership - please read the HMRC rules here. If you claim Gift Aid via Spektrix, the donation amount of your memberships will be automatically included in your Gift Aid submission.
Goods and Services (US/CA only): the value of goods and services provided with the membership subscription - and the remaining value which makes up the donation - will determine how much a member can write off when filing their annual tax return. If a $100 membership fee includes $25 of benefits to the member, the value of the donation is $75 and that's what they can claim on their taxes.
A note on benefit amounts and reporting
Memberships in Spektrix don't have to have any benefit amount - they can be 100% donation. If a Membership does have a benefit amount, however, there are implications in terms of reporting.
The standard fundraising reports in the Opportunities interface of Spektrix will show you the total amount you've made in donations as part of Memberships, but they exclude the benefit amount.
If none of your Memberships contain a benefit amount (i.e. they're all 100% donation) then your reports will give you the total money you've made from Membership sales.

If at least one Memberships contains a benefit amount then the reports will give you the total donation amount, but that won't be the entire value of your Membership sales (i.e. it will be total value minus benefit amount).
You will need to report on the benefit amount income separately, using the Payments and Activities Report or Monthly Membership Report. Alternatively, you can always get in touch with the Spektrix Support team to request a custom report.
Default Funds and Campaigns
You should decide what the default Fund should be for each Membership in Spektrix (this is where the donation amount will go), and which Campaign or Sub-Campaign you want the Membership's donation amount to be associated with. You don't have to decide on the Default Campaign right now, however - you can change it at a later date or at the time you're processing a Membership sale. To learn more about Campaigns, read our guide here.
The screenshot below shows where you select the default Fund and Campaign for a Membership, with the inset image showing how that reflects your Campaign Structure. Please note, this shows the Membership Details screen for UK/IE users. US/CAN users will see the same screen, but with Includes Donation and Goods and Services Value in place of Gift Aid Enabled and Benefit Amount.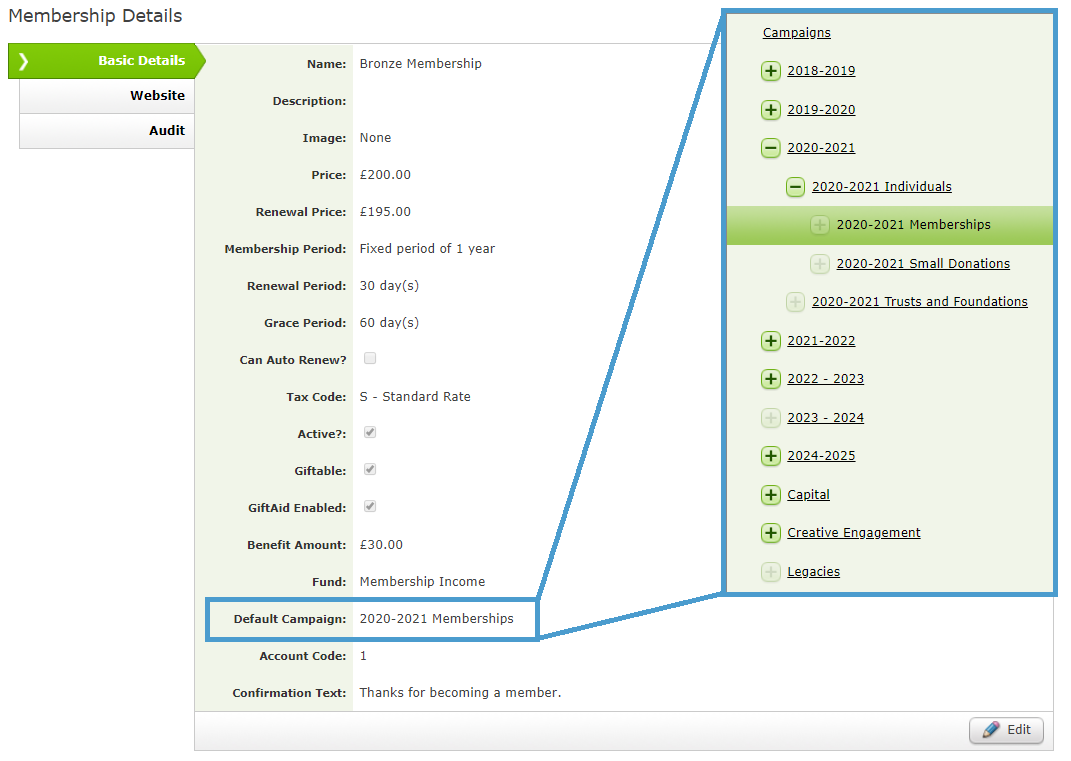 The benefit of assigning a Default Campaign is so that Memberships sold online or via your Box Office are included in your Campaign reporting, if the sale isn't linked to a specific Opportunity.
For example, if you sell your memberships online and you have a Sub-Sub Campaign that's tracking membership sales specifically, you can make sure that the Sub-Sub Campaign 'Memberships' is the Default Campaign when you set up that membership , and this will ensure those sales (the donation portion anyway) are being counted against that Campaign and its target.
Users of the Opportunities Interface are also able to override the Default Campaign when selling a Membership - we will look at that in more detail in the section on Selling Memberships.
Once you've created your Memberships, you can move on to setting up the tools in Spektrix that will facilitate the goods and services or benefits you want to offer alongside each one.
Just building a Membership doesn't automatically power any benefits - you need to set up things like members' Offers and Priority Booking separately. Again, you'll want to plan what sort of benefits your members will get (crucially, make sure you test that it's possible to administer these benefits before promising them).
Note that once a customer has purchased a Membership, this makes it easy for you to search for them by Membership, pull them into Customer Lists for sending mailings, and indicate when they should be eligible for special Offers or discounts. Many of these are powered by 'eligibility criteria,' which you can learn more about here.
Types of Benefits
There are many different benefits you could choose, but here are a few suggestions:
Tailoring booking and communications
You might want to send your members special newsletters or communications, or make their booking process a little more pleasant. You might also consider tailoring more generic communication so it has something extra for members. Here are a few ideas to think about:
Waive

Transaction Commissions:

if someone is already paying to be a member, do you want them to be charged commissions when they book tickets? You might want to offer waived booking fees (or ticket commissions, or delivery commissions!) as part of the membership package.

Use

Dynamic Content

in emails to show tailored messages: for example, your pre-show email could use Dynamic Content to remind members about their benefits, such as discount at the bar.

Set up dynamic donation asks for members when they buy tickets online. Because you know they already give, you might want to show members

a different Fund

when they're buying tickets online, or exclude them from being asked to donate altogether.
We have more ideas for how you can tailor your communications with members here.
Using Opportunities to cultivate Memberships
Opportunities aren't just for potential major donors or trusts; they're also a way of tracking prospective and current members who you plan to cultivate individually. If you're not already familiar with Opportunities in Spektrix, read this article for information on what they are, what they're for and how to use them.
You should use Opportunities for cultivating mid-to-high level memberships that include a charitable component (i.e. a donation amount), and where the membership is part of a wider cultivation strategy with an individual prospect. For low-level memberships, there probably isn't a need to assign Opportunities, as it's unlikely that you will be cultivating these members on an individual basis.
Opportunities allow you see easily see what you have done, and what you still need to do towards cultivating a particular member. For membership schemes where the donation amount is significant, members likely expect more of a bespoke offering. Setting up Opportunities (and Activities) helps you to handle more personalised and one-to-one interactions with prospects and members (we refer to this as Moves Management).
Example
A good example of using Opportunities to manage prospective and current members would be as part of a strategy to move existing members up to a higher-value tier of membership (i.e. from a Friends membership at £75 per year to a Best Friends membership at £150 per year). In this example you would need to start off with the following:
A Campaign for the purpose of tracking memberships (for example 2018/19 Financial Year > Individuals > Memberships

).

Two Memberships (in this example, Friends at £75/year and Best Friends at £150/year

) with donation amounts.
To begin with, make sure you've set your 2018/19 Financial Year > Individuals > Memberships campaign to be the Default Campaign for your Best Friends Membership.
Next, create a Customer List to find everyone who is already a Friend, has made an additional cumulative donation of £100 or more in the last year, and has attended 2 or more events in the last year. This will give you a list of existing members who are likely to be interested in moving up to become Best Friend members.
From the Actions dropdown in this Customer List, you can bulk create new Opportunities for each individual who meets the criteria mentioned above, as pictured below.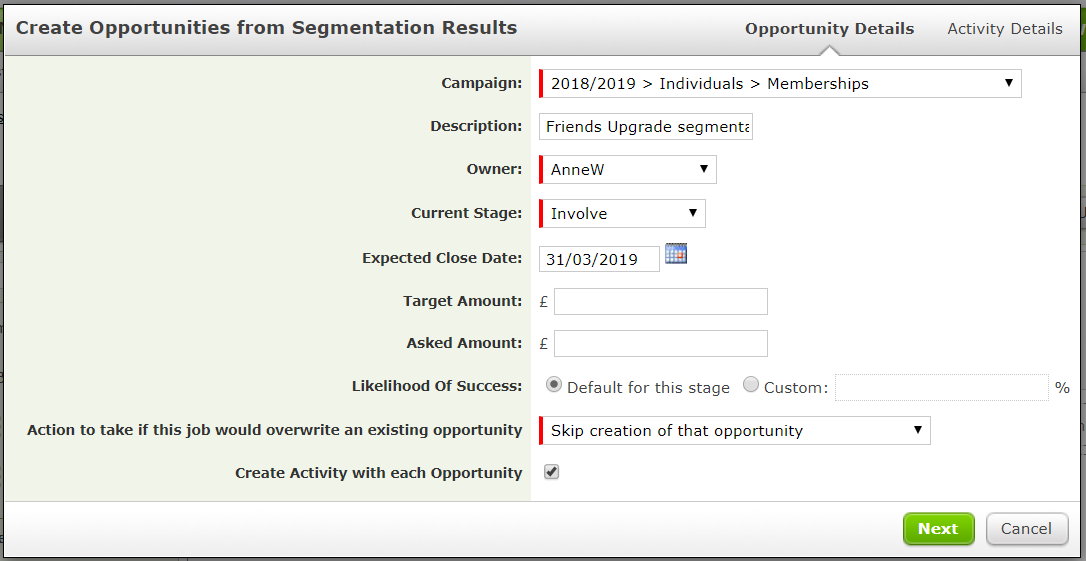 Managing prospects with Opportunities
Once you've assigned Opportunities to your prospects you can then begin to move them through the Campaign stages, hopefully resulting in them becoming a member. See more on keeping track of open Opportunities here.
To move an Opportunity along the stages, you will probably undertake a series of different Activities, such as phone calls, meetings or inviting the prospect to events. See our guide to Activities and using our BCC tool to make sure that any emails to prospects are recorded.
NOTE: The tools available in the Opportunities Interface will help you adopt a Moves Management approach to fundraising, and each Activity you undertake to cultivate a prospect can be thought of as a move. Read this blog post for more information on Moves Management.
Once someone is ready to become a Member, you can move them to the Confirm or Thank stage and close the Opportunity when you are ready to process their membership payment. At this point you might want to create some final Activities such as writing to the member to thank them for their support, and adding a reminder to solicit again next year.
You will now have a detailed record (the Customer Timeline) of all the steps it took to gain a member, and the donation made as part of their Membership purchase will be counted towards your overall Campaign.
Once you've built your Membership(s), and set up any corresponding offers and priority booking, you're ready to start selling Memberships in Spektrix. You can sell Memberships online, over the phone, or at the Box Office (via the Sales Interface). As fundraisers, however, you will likely be selling Memberships via the Opportunities Interface.
Our Selling Memberships article explains how to sell, edit and renew Memberships, however the process is slightly different in the Opportunities Interface. It's worth knowing the basic process first, so make sure you read that article if you're not already familiar with it. Below are a few key differences to be aware of when using the Opportunities Interface.
The basket
Firstly, when you want to make a sale you need to access the basket, which in the Opportunities Interface is located in the Pinboard on the right-hand side of the screen.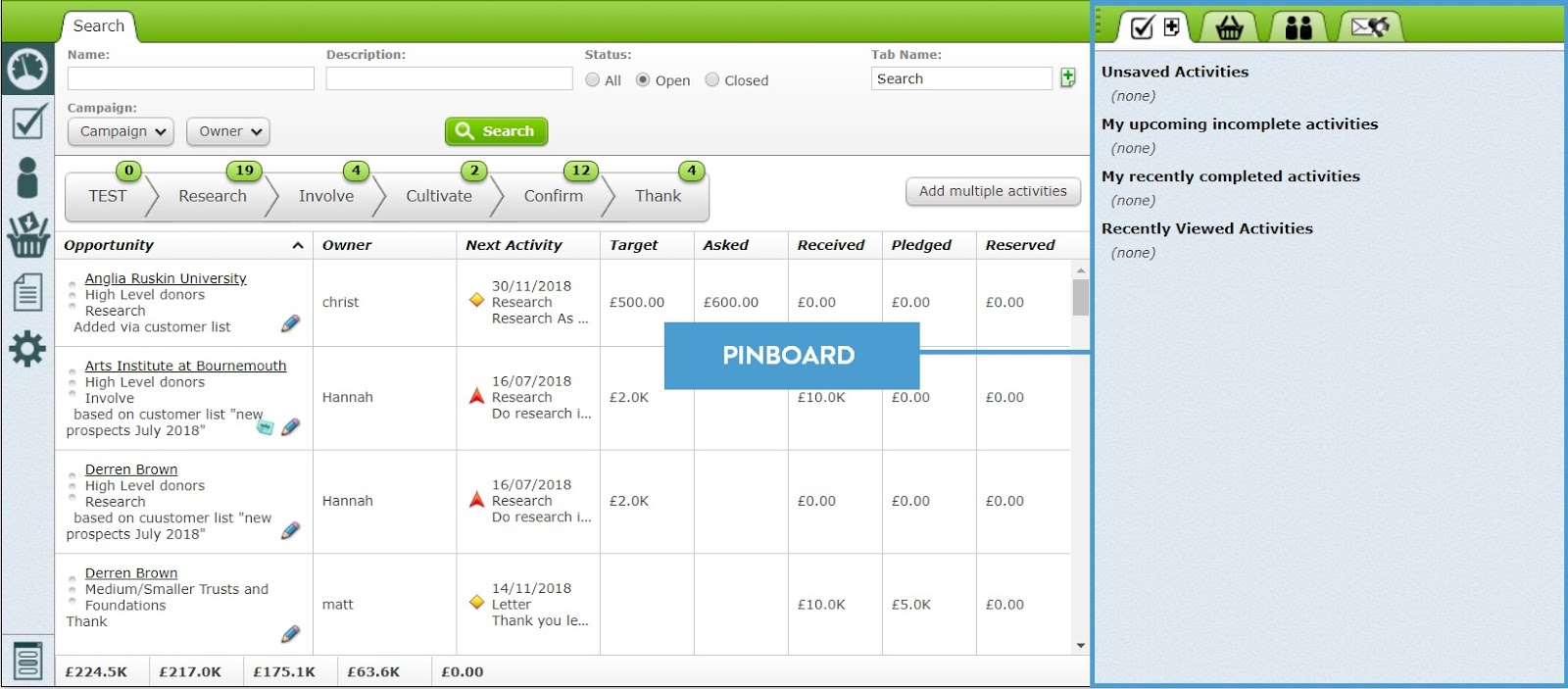 You'll see a tab within the Pinboard labelled Basket, within which you can start a new transaction in the same way as you would in the Sales Interface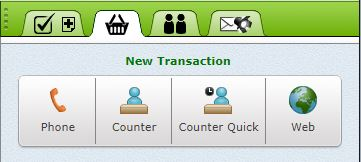 You can find out more about navigating around the various elements of the Opportunities Interface in this article.
Adding a Membership
You can open up a new transaction in the basket before selecting a Membership, or by adding a Membership and selecting a customer. Whichever way around you do this, you'll find all of the available Memberships in the Donations and Memberships Dashboard, which you can select from the left-hand menu.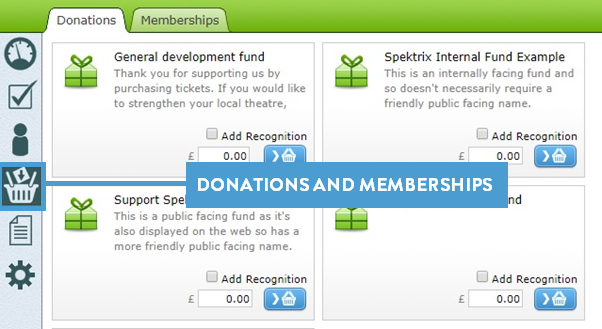 Once you're within that Dashboard you can add a Membership to the basket using the blue basket icon, in the same way as you would in the Sales Interface: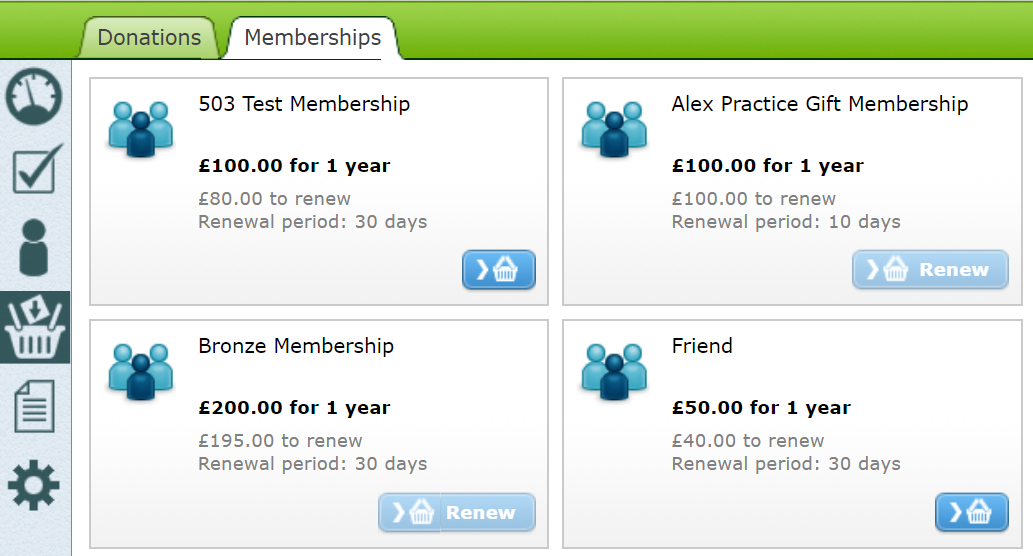 Note that if the customer already holds a particular Membership you'll see the option to renew that (rather than the normal basket icon), but only if the Membership is within its renewal period.
To process the payment, just add the Membership and customer to the basket and submit payment, making sure to select the Opportunity this gift belongs to.
After someone has become a member, don't let them fall off your radar. If you think that they could move up a tier in your membership schemes in the future, assign them another Opportunity for the next year's Campaign and set up some future Activities for stewarding and staying in touch with them.
Paying Memberships by instalments
In order to manage Memberships that are paid in regular instalments, we recommend setting up Auto Renew, which you can read about here. You'll then want to create Memberships that corresponds to the regularity of instalments - i.e. if you're letting members pay for their membership on a monthly basis, you'll need to set up a Membership with a period of one month. The Membership will then renew every month, and payment will be taken each time it renews - to the customer this appears to be a way of paying in instalments, even though in Spektrix a new Membership is created each month.
Using Auto Renewable Memberships can save your team a huge amount of time and energy, as payments are taken automatically and don't require you to remember to get in touch and ask for payment on the renewal date.
NOTE: an Auto Renew Membership will keep renewing indefinitely, until you or the member cancels the Membership - you can't set it to stop after a set number of months or years. For this reason, Auto Renew Memberships can sometimes be better suited to Memberships where there are no up-front benefits (like free tickets) but rather ongoing benefits (like priority booking) or as a way for someone to give regular donations (much like direct debit schemes).
Spektrix's reporting tools allow you to keep track of your Memberships and measure progress against targets, as well as develop a meaningful understanding of your members based on how and when they use their benefits, or engage with your organisation.
The following are examples of useful Standard Reports for managing Memberships:
Current Members:

this report lists the names of all your current members for each tier or type of Membership in your system.

Payments and Activities reports:

this suite of reports tell you, for a given date range, the overall value (split by donations and benefits/goods and services) of the Memberships you've sold.

Campaign Summary and Campaign Detail reports: these reports (found in the Opportunities Interface)

show you the donation values of any Memberships you've sold and how these impact the targets against the Campaigns they're related to (either because the Membership has a Default Campaign against it, or because you've attached an Opportunity to the Membership sale).

Donations Analysis Report: t

his report includes stats for donations that correspond with Membership sales.

Offers Analysis:

if you use Offers to power Membership benefits, this report shows you information about the usage of particular Offers against Events.
Your reporting isn't limited to the standard reports in Spektrix - you can always request a custom report from us, or get in touch with the Spektrix Support team to talk about your reporting needs.
Memberships and Customer Lists
The Customer List tool in Spektrix gives you the ability to easily identify and segment your current or past members, or even identify customers with the potential to become members in future.
Read this article for more information on how to create Customer Lists. Here are a few suggestions for how you might want to use Customer Lists for these purposes:
Build a list of members in order to send them an integrated email or physical mailing.

Set up a Customer List Schedule

to email information about your current members to your Development team on a regular basis - for example the details of all new Members from the last 7 days.

Set up a Customer List Schedule

to power an automated email that contacts new members or members who are up for renewal.

Perform some analysis on your current, potential or past members by running your Customer List through a report (such as the Customer Behaviour Analysis report).

Find potential members

by looking for customers on your database who fit certain criteria such as being frequent bookers or donors already.
If you're keen to know more about prospecting your database to identify potential members, then check out the presentation on Prospecting your Database for the Next Big Donors from the 2018 Spektrix Workshops.
When building a Customer List, you can segment your database by all sorts of criteria, but here are a few examples of commonly used membership-related criteria:
Membership type:

choose one or more Memberships and look for customers who have current subscriptions to them.

Tags: h

andy if you tag your members, or if you Auto Tag potential members based on behaviour criteria (i.e. have booked twice in the last year and donated, but aren't yet a member).

Expiry date:

if you want to see which members will soon be up for renewal.

Did lapse:

to identify members who let their Memberships lapse without renewing or repurchasing.

Lapsed then repurchased:

members who let their Memberships lapse, but then repurchased them.

Purchase date:

to see who purchased a Membership at a certain point in time.
***
You should now be feeling confident in how to use Spektrix to effectively create and administer your membership schemes in order to maintain long term relationships with current (and potential) members. Using the various fundraising tools in Spektrix will also help you to set and keep track of membership targets, and ensure that your team is making the most of time and resources to deliver a high quality membership scheme.
If you have further questions about best practice for fundraisers or more technical queries, please get in touch with the Spektrix Support Team - we're always interested to hear how you're utilising the fundraising tools in Spektrix.
If you have any comments or suggestions about this article and anything you think it could do better, please fill in this form and let us know - all feedback is useful!