Whether you want to adhere to GDPR and PECR (in the EU) or you just want to be able to segment your database properly, it's important to let customers choose how they want to be contacted and/or how they're happy for their data to be used.
In Spektrix you can do this through the use of Contact Preferences – this article looks at what Contact Preferences are, how you can set them up and how customers can use them.

What are Contact Preferences?
Contact Preferences are ways of gathering information about your customers and how they would like their personal data (email address, postal address, phone number, etc.) to be used by you, the Data Controller. Having gathered these preferences, you can then use them to determine which customers you contact for the purposes of marketing.
Contact Preferences tend to be phrased either as questions that you ask of your customers:
Are you happy for us to send you marketing information by email?
Or as statements that customers can opt into:
Please send me occasional information about supporting the theatre
You can set up as many Contact Preferences as you like in Spektrix, and customers have the choice of selecting one or more of these depending on how they would like to interact with you as an organisation.
There are four ways in which customers can select their Contact Preferences:
When creating an account with you, either online or in the box office

When transacting with you, either online or in the box office, where customers will be prompted for a response for any contact preferences they've not given a response to before

When viewing their account online, where they can modify and update their responses to your contact preferences

When purchasing tickets for an event that you've set up to be linked to a specific Partner Company (producer, promoter, etc.) – t

hese are known as

Partner Company Contact Preferences

in Spektrix
This article deals with standard Contact Preferences (i.e. preferences for communication from your organisation); please see our article on Partner Company Contact Preferences for more information on setting these up.

Setting up Contact Preferences
All Contact Preferences are set up in the Settings Interface.
NOTE: you'll need to use the new UI in the Settings Interface to be able to create these. If you're not using it already, when you first open the Settings Interface, just click on the Control Panel in the bottom left-hand corner and choose the Go to new Interface option.
You can find the Contact Preferences section under Settings > Customers > Contact Preferences: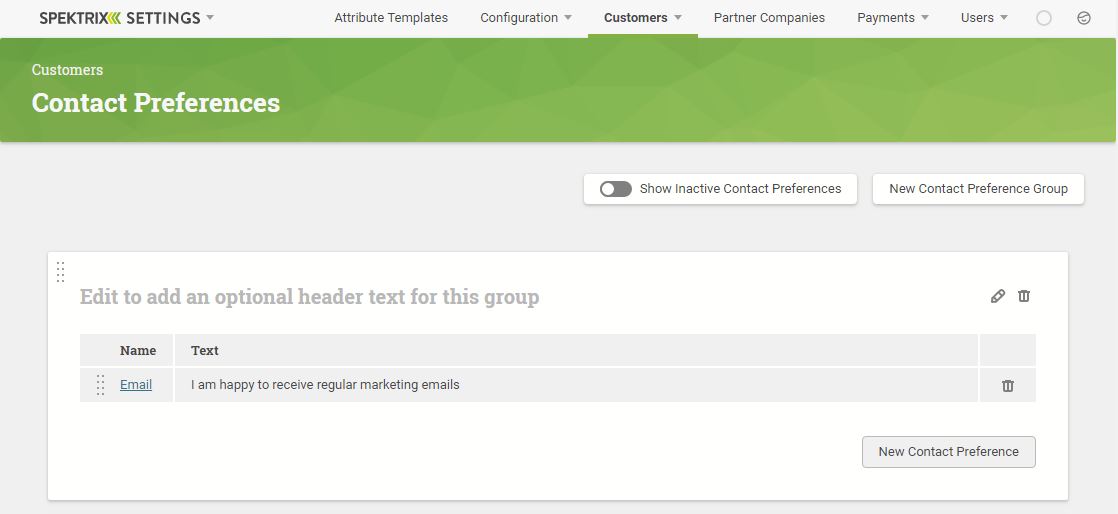 This page allows you to input and edit the majority of the information required to set up the names, descriptions and order of your Contact Preferences.

Contact Preference Groups
You can have as many different Contact Preferences as you want, and easily change the order in which they appear – the way this is all organised is through the use of Contact Preference Groups.
A Contact Preference Group is essentially just a container within which you can have one or more Contact Preferences. You can have as many Groups as you want, and within each Group you can have as many Contact Preferences as you want. You can also rearrange the order of your Groups, and the order of the Contact Preferences within each Group.
To create a new Contact Preference Group, just click on the New Contact Preference Group button and you'll see this screen:

Headline: this is the header text that shows up online and in the Sales Interface, prefacing the grouped Contact Preferences, so make sure you use a clear, concise statement or question
Contact Preferences
Within your Preference Groups you can create one or more Contact Preferences. You can have as many of these as you want however each one has to be given a unique name (unique across your whole system, not just the Preference Group), which means you can only ever have one preference called Post, and one called Email and so on. This is for reporting purposes, so that it's always clear which preference and Preference Group a customer has chosen.

To create a new Contact Preference just click the New Contact Preference button within the relevant Preference Group to open this screen: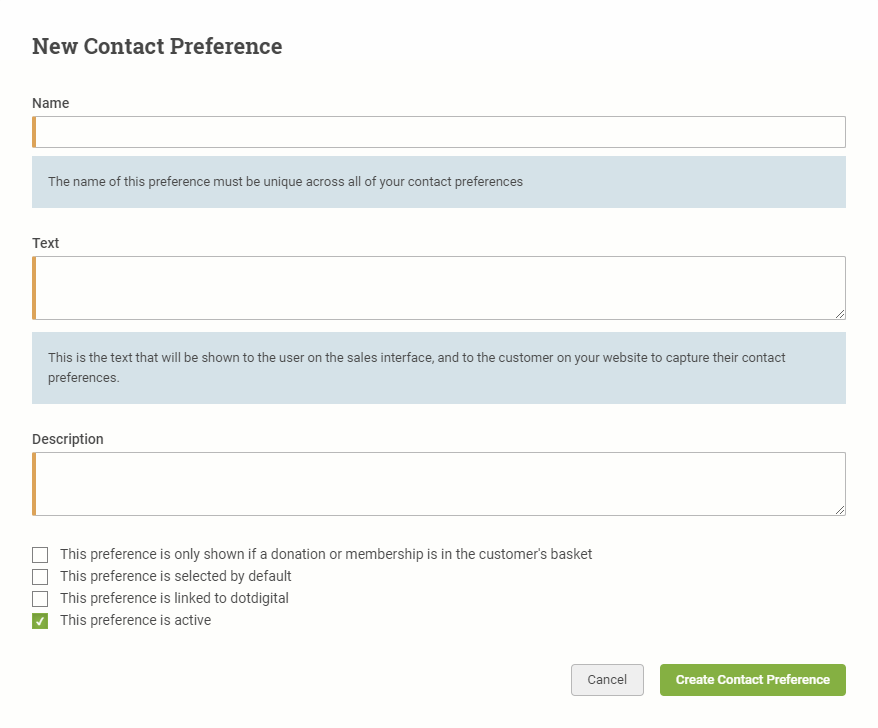 Name:

the system name of the preference, e.g. Venue Post or Venue Email

Text: the actual text displayed online or in the Sales Interface, which needs to contain the statement/question directed at your customers
Description:

an internal description for use in the box office

This preference is only shown if a donation or membership is in the customer's basket: tick this if you want to only ask for this preference if a customer has a donation/membership in the basket, and not at account creation
This preference is selected by default:

ticking this check box will set the preference to be automatically selected any time a customer creates a new account (i.e. you're setting up an opt-out preference)

This preference is linked to dotdigital: tick this on your Email preference to link it with dotdigital. This means that the preference will be unchecked if a customer clicks Unsubscribe on a dotdigital campaign
This preference is active:

this option will be ticked by default. If you untick it then this contact preference will be inactive, which means it won't show up online or in the box office for customers to respond to, but you can still report and segment on it. You might use this feature for Contact Preferences which are out-of-date or that you no longer use
NOTE: you need to link all of the email-related contact preferences to dotdigital (assuming that you use dotdigital to send those mailings). Remember that if a recipient clicks the Unsubscribe link in any dotdigital mailing, then they will have all of their linked preferences changed to No in Spektrix. For more advice on managing difference Contact Preferences and steering customers away from dotdigital's Unsubscribe link, have a read of this article.
You can move each Contact Preference between different Groups, however you can't add them to the Partner Company group as this can only contain the Partner Companies that you've created.

Editing Contact Preferences
You can edit any of your Contact Preferences or Preference Groups, with a range of options available to you once they have been created. To edit a Preference Group you can click on the pencil icon in the top right-hand corner of the group, while to edit a Contact Preference you just click on the name of the preference.

Editing a Preference Group allows you to amend the header text (which can be left blank if you'd prefer, as in the screenshot above) that displays online, while editing a Contact Preference allows you to amend any of the fields and check boxes. See the section below for more information on making Contact Preferences inactive.
You can also rearrange both Preference Groups and Contact Preferences within groups – just click the six-dot icon (either in the top left-hand of a group or next to the name of a Contact Preference) and drag to reposition:



The order in which you see both Preference Groups and Contact Preferences within the Settings Interface will be the same order they display in online. Any changes you make in the Settings Interface will be reflected on your website as well.

Making Contact Preferences inactive
By marking a Contact Preference as inactive, you hide it from customers online in any place they would normally see it, so customers can no longer use this to opt in. However, as the Contact Preference still exists in your system you can still report on who had previously opted-in to that preference and, if appropriate, you can still use it in segmentations for mailings, and in reports.

All you need to do to make a Contact Preference inactive is un-tick the Active option when editing. If you want to see your inactive preferences then you can click the Show Inactive Contact Preferences toggle - this will then display all of your Contact Preferences, with an Active toggle next to each one.



From here you can toggle individual preferences to be active or inactive; once you deselect Show Inactive Contact Preferences, you will only see those that you've set to be active.


WARNING: Deleting Contact Preferences can cause a Customer List to error and prevent it from running. This can can affect Customer List Schedules and cause integrated mailings to fail.

You should set any unused Contact Preferences to Inactive.
Contact Preferences in action

There are a number of points at which customers can select their Contact Preferences - we've split these out below into Online and Box Office - and each preference can have three possible responses:
Yes:

the customer has seen and

accepted

the Contact Preference.

No:

the customer has seen and

declined

the Contact Preference.

Not Asked:

the customer has not been prompted for the Contact Preference.
Online
When setting preferences online, customers can only respond with either a Yes or a No, indicated by either ticking or un-ticking a Contact Preference. As soon as a Contact Preference has been shown to a customer online (assuming that customer completes their transaction) then it will always be set to either Yes or No.

There are various ways in which customers might be prompted for their Contact Preferences online:

Integrated sign-up form
An integrated sign up form allows customers to sign up to your mailing list without generating a full account. The sign up form is implemented on your website by your web developers. There are two options for sign-up forms:

The simple sign-up form can capture first name, last name and email address. In order to include this form on your website you need to already have one Contact Preference with the This preference is linked to dotdigital option ticked. Any customers who sign up this way will automatically have that Contact Preference added to their account, and will also receive an email asking them to create a password if they want to access their account online.
The API sign-up form can be useful when you want to collect additional data. This could be applying a tag to the customers using the form to power a ticket ballot, to record where the sign up originated from or just adding additional contact preferences.
Account creation
As part of the process of registering online for a new account, either via the New Account page or during a transaction, customers are asked for responses to all available Contact Preferences. Customers can indicate their preference by ticking or unticking the box next to each Contact Preference, where a ticked box is saved to your database as Yes, and an un-ticked box is saved to your database as No.


NOTE: if you've set a preference to only be shown when a donation/membership is in the basket, it won't be visible or able to be selected during account creation.

During a transaction
If a customer already has an online account and is in the process of making a transaction with you then they will be presented with any Contact Preferences for which their current response is Not Asked. Their responses - whether they proceed having ticked them or left them un-ticked - will determine whether these Contact Preferences are then set to Yes or No, in the same way as during account creation.



My Account
Customers with existing accounts can log in at any time to view information about their account and booking history - including their Contact Preferences. This includes their responses to any Contact Preferences they have previously been asked, as well as any Contact Preferences they haven't been asked before (excluding Partner Companies - these only display if they've been asked).

Customers can edit their responses to the Contact Preferences from here by clicking Edit Contact Preferences, ticking and/or un-ticking the box against each preference, and then clicking the Save button. If you have set your privacy policy to display online then this will show up here as well, while the customer is editing their preferences.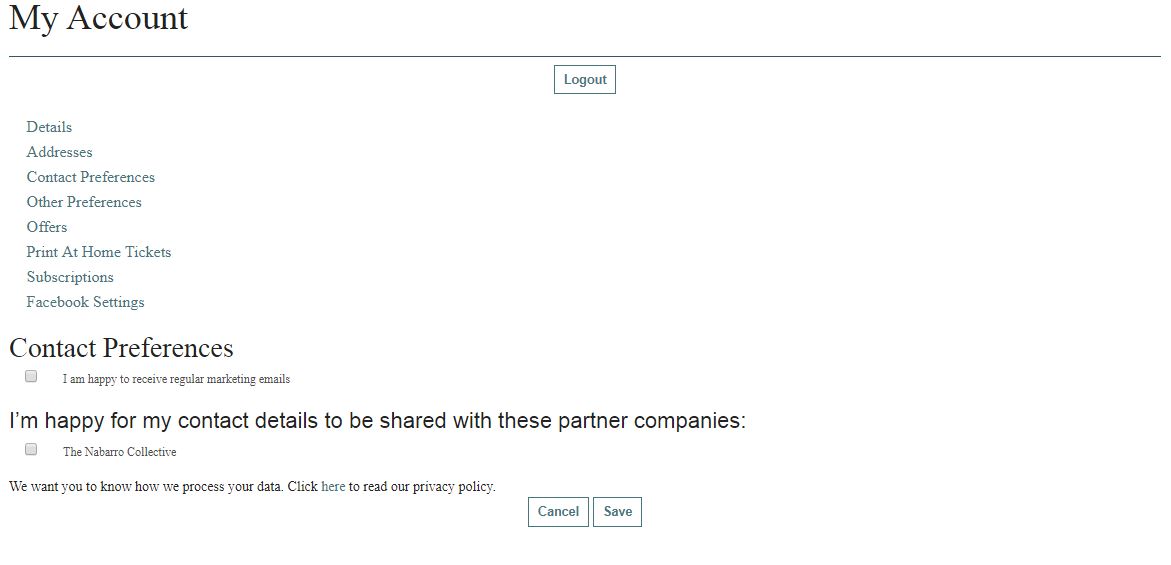 NOTE: if you've set a preference to only be shown when a donation/membership is in the basket, it will only be visible on the My Account page after a customer has set it to Yes - it won't display if the preference is set to No or Not Asked.

Box Office
In the Box Office, as well as setting preferences to Yes and No it's possible for staff to also mark a Contact Preference as Not Asked. Doing so means the customer will be prompted with this Contact Preference the next time they transact with you either online or at the Box Office.

Account creation
When a customer purchases tickets via the box office for the first time, unless they're making a Counter Quick transaction they will need to have a new account created for them. During that process, the member of box office staff will be prompted to ask the customer for their Contact Preferences.



If the member of staff doesn't have time for this - for example during a busy incoming - they can leave the standard response of Not Asked against each preference, and the customer will be prompted for their Contact Preferences the next time they make a booking.

During a transaction
When a member of Box Office staff confirms an order for a customer who already has an account with you, they will be prompted with all of the Contact Preferences for which that customer's current response is Not Asked.



They can then select a Yes or No response for each of these Contact Preferences, or alternatively select Not Asked and leave the preference(s) to be prompted again the next time that customer makes a transaction.

Editing Contact Preferences in the box office
If customers contact the box office to ask about changing their Contact Preferences, any member of box office staff can amend these by editing the customer record. You'll find the Contact Preferences listed in the Details section:


Partner Company Preferences

For a detailed look at how Partner Company Preferences work, please see this article. It's worth noting here however that the concept of Partner Companies allows you to set up some or all of the companies you work with (i.e. producers, promoters etc.), assign them to the events they're working on, and allow customers to choose preferences for these events that are distinct from your standard Contact Preferences.

The idea behind this is that you can allow customers a clear choice of what they want to sign up for, and then easily draw that information out of Spektrix when you need to share data with your Partner Companies. It's important to clearly name each Partner Company, so that customers know exactly who they are being asked to sign up with.

The other key difference with Partner Company Preferences is that customers don't set them up when they create an account. Instead, customers are prompted during the booking path to set their preferences, although they only need to set a preference for each Partner Company the one time. Once a preference is set, any time a customer purchases tickets for an event run by the same Partner Company, they won't be prompted for their preference because it's already been set.

NOTE: this is an entirely optional feature, so if you don't work with other producing companies or otherwise don't need to use this feature, you don't have to. In addition, you can use the Partner Companies feature to track events for reporting purposes, even if you don't want to collect customer preferences for them.

Reporting

Once you've captured your customers' Contact Preferences you're also going to want to be able to report on them so that you can identify which customers you can contact for marketing purposes. In Customers Lists and reports you can use the Contact Preferences metric to do this - you'll find this metric in Customer segments for Customer Lists, and under the Customers section in reporting criteria.

If a Contact Preference is inactive, you can still report and segment on it - you'll just see the Contact Preference name followed by (inactive), as you can see below:



NOTE: It's important to name your Contact Preferences well. When you use Contact Preferences in the output of a report or in a Customer List segment you only see the name of the preference, and not the group - for example rather than seeing Standard Contact Preferences > mail you'll just see mail.

To make things really clear we recommend you set up straightforward naming conventions for your preferences, for example making sure that the name always includes the group as well. Here's an example:
Set up a group for your

Standard

Contact Preferences

Set the headline, to display on your website

Give each preference a prefix, for example:

Marketing Email
Fundraising Email

Repeat for each subsequent group
Here's how that might look in a customer list:



As you can see, the Contact Preferences segment in the customer list doesn't display the Contact Preference Groups, so the names of the Contact Preference are very important. Using clear names will mean you'll always be able to easily identify the right preference when you're looking in reports or customer lists.

***

If you have any further questions about Contact Preferences, please get in touch with the Spektrix Support Team who will be able to help.