This article is part of the Release 36 release notes - click here to return to the index.
---
What is it?
Soft Credits allow you to assign a donation to one or more other records, other than the main Individual or Organisation in the basket.
This is often useful in fundraising departments, where a donation may have come from one person, but you wish to see the money against multiple records.
For example:
A married couple. Mr Smith may have made the donation, but you would also like to see the donation on Mrs Smith's record.
A family charitable trust.  The donation may have come from the trust (an organisation) but you also want it to be soft credited to the individual family members who funded the trust.
A memorial donation. A few donors made gifts in memory of a deceased person. You would want the donor to be the owner of each order (e.g. for Gift Aid purposes), but you'd also want every donation to be linked back to the deceased person.
A Soft Credit is for information only in the Opportunities Interface and allows you to easily get the full picture on someone's history with you. 
While Soft Credits are most commonly used for donations, they sit at the order level so any item (including ticket sales) could be soft-credited.
Soft-credited items will still only appear once in reports, so there's no risk of you accounting for the money twice.
How do I use it?
Setting it up
To set up Soft Credit types go to Admin > Other > Soft Credit Types.
From here you can add new Soft Credit Types, or make ones you're no longer using inactive.

 Soft crediting an order
To attach a Soft Credit to an order, you first need to set up a relationship between the main customer an

d the record to which you wish to soft credit the order.

Add the main customer to the basket as usual

Click the Edit Soft Credit button underneath the customer in the basket and confirm the order as usual.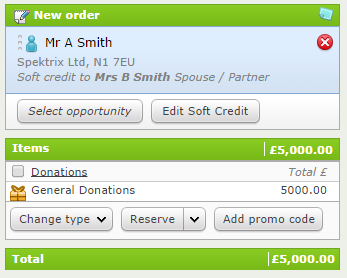 Looking at soft-credited orders
Soft-credited orders and donations will then appear on the orders and donations tab on each customer's record.
The tab will show if the order is soft-credited to or from the customer. 
In the example here, Mr Smith was the owner of the order, but it was soft-credited to his wife.