Your strategy for fundraising is constantly evolving which means how you use the tools that help you fundraise should be regularly evaluated to make sure it's continuing to support your team. The Opportunities Interface should be a flexible resource, designed to allow you to update and accurately map your processes where required. Whether you're starting a new fiscal year, have a new team structure, or just want to ensure your team is working as efficiently as possible, it's a great idea to give your Opportunities Interface a refresh.
Here is what this article will cover:
Evaluate Your Current Processes
Your Campaign Stages
While evaluating your current processes, you may discover your strategic needs have changed and your current Campaign Stage set-up needs to be updated. You can change the wording or add new stages by heading to Opportunities > Admin > Stages. You can also change the order of the stages by using the yellow arrow buttons.
NOTE: any changes you make will apply to your system as a whole, not just you as an individual user.
Meet as a team to discuss your processes and identify the stages that you'd like to define by considering:
Do your stages reflect how you describe the status of a prospect?

Do all your team members use the same terms and workflow?

Do you need more or less granularity in reports?

Can you estimate your default probabilities of success in each stage?

There are five standard stages in the system, based on a classic "moves management" approach to fundraising. By default, these are Research, Involve, Cultivate, Confirm and Thank, although you can have as many or as few stages as you want. Your stages should work for your organisation and be progressive rather than an administrative chore.
Your Activities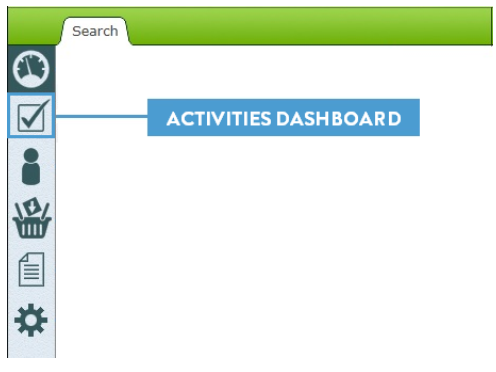 Activities are the day-to-day tasks and touchpoints with your donors. They record what you've already done, and provide a to-do list of future plans, so you can see all the work that goes into making a successful ask.
Take a look at your Activities Dashboard and ensure everything is up to date. You can filter your Activities by status (open or closed) and due date. Any dates in red will tell you of deadlines missed - these can be re-evaluated and closed, re-assigned or marked as complete.
You can also see your own personal upcoming, recent and unsaved Activities in the Activity Pinboard on the right of the dashboard. This is specific to your user login and you can clean up any unsaved or incomplete tasks here. In addition, you can use the Activity Timeline with User Breakdown report to view your past and future activities as a Gantt Chart, allowing you to review what is working and what isn't, what types of activities you commonly record, and what is missing from your tasks.
If you're looking to assess your Activity Types with your team, here are some things to consider:
Do you use all of the activity types in your system?

Which do you do most frequently?

When reporting, would you like to be more or less specific?
This is also a good time to ensure all users have generated their Bcc email address to ensure email communication is automatically being updated in Spektrix.
Your Campaign structure
Spektrix Campaigns help you project, track and organize the way revenue is brought into your organisation. Your campaign structure should be structured around your budget, streams of revenue and help you measure and meet your fundraising targets.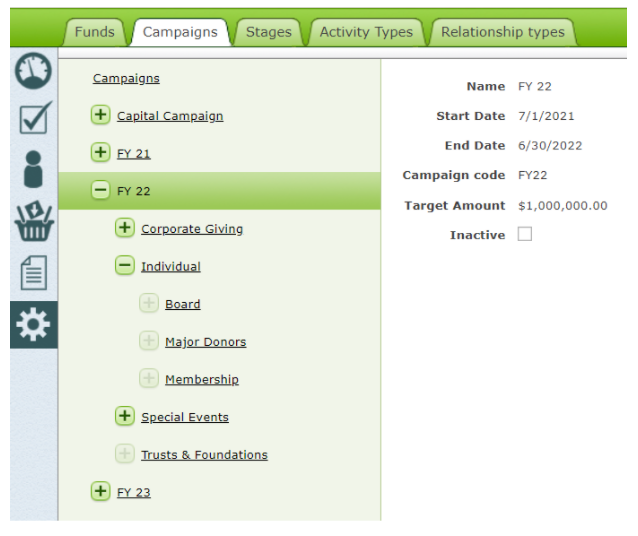 Your campaign structure should be clearly defined and understood by your entire team. We recommend including the fiscal year in your top-level campaign, breaking out the different strands of fundraising in your Sub-Campaign (individual, foundations, corporate), and adding any further needed specificity in your Sub-Sub-Campaign
As you're examining your campaign structure, consider:

Is it easy for your team to designate gifts appropriately?

Do you need more or less specificity?

Are your campaigns helping you easily report on progress?

Are you able to report on both past performance and future targets?
For more guidance on your campaign structure, please view our Campaign and Fund Planning Guide here.
If you'd like to make changes to your campaign structure, you can head to Opportunities > Admin > Campaigns to add, remove, and rename campaigns. You can also adjust your targets here.
NOTE: if you do decide to make changes to your campaigns, be sure to update the default campaign structure on your funds and memberships so incoming gifts can be appropriately designated automatically. You can do this by going to Admin > Other > Funds.
Start with a clean slate
Your Opportunities Dashboard
Opening your Opportunities Dashboard shouldn't feel overwhelming. Your Opportunities Dashboard should reflect asks that you're actively pursuing.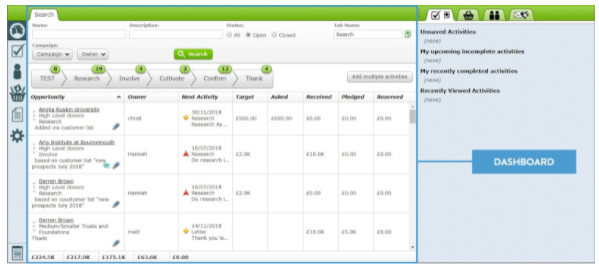 It's a good idea to routinely tidy up your Dashboard by closing Opportunities that have gone quiet or where the Campaign has ended or edit the Campaigns on the opportunities to adhere to your updated structure. This will ensure your Dashboard is clean and filled with current Opportunities.
You can edit and close Opportunities individually by ticking the Closed? box in the Opportunity.
You can also use the Update Multiple Opportunities button on the Opportunities dashboard to make bulk changes to Opportunities including:
Change Campaigns to fit into your updated structure,

Update Opportunity Owners to reassign asks to new team members or members returning from furlough

Bulk close any outdated or outstanding Opportunities
Bulk create Opportunities
When it's time to create a number of new Opportunities - like at the start of a new fiscal year, for example - Opportunities can be created in bulk from a Customer List. You can use segments based on previous Opportunities or donation behavior to identify prospects to solicit in the coming year. Then, open the Choose an action dropdown and select Bulk create Opportunities. This will create an Opportunity for each customer on your customer list - and even create a linked Activity at the same time to kickstart their solicitation. Here are some examples:
Use an Opportunity segment to find customers who had Opportunities in the previous year's campaign; you can include criteria like Received Amount to identify only donors who donated towards that ask

Find first time donors by combining a segment looking for donors from the past year with a segment looking for NOT donating previously, then create opportunities for these new donors to manage their solicitation for the coming year
Create tabs
On the Opportunities Dashboard and the Activities Dashboard, each user can create saved search tabs, so commonly used criteria are always readily available. Using the search fields at the top of the Dashboard, set your parameters - for example, all Opportunities linked to Campaigns you manage, or all Activities assigned to you. Then, in the top right, enter a name for your search criteria and click the plus button. Now, that criteria has been saved in a tab that will appear each time you log into the interface.

Note: tabs are unique to each user's login, so each member of the team can create tabs relevant to their strand of work and commonly viewed Opportunities.
Set up/check-in on Report Schedules
Scheduled Reports are a great way to ensure your team gets key information and updates about all of your fundraising activities. Here are some standard reports your fundraising team should put on a Report Schedule:
Activities Report (detailed): Keep the whole team informed on upcoming activities and cultivation tasks - this report can be delivered at the beginning of each week or month and including upcoming, incomplete activities
Donations Report: Scheduling regular Donations Reports can keep the whole team informed of the donations received in the system; this report can also be sent to senior stakeholders to help keep everyone informed on what gifts have been received. This report template was recently updated to include tables that total by fund and campaign for easy analysis
Campaign Summary: Keep track of progress towards goals and forecasted income for your campaigns; each team member can have a unique schedule to receive reports for the campaigns they are primarily focused on
Transaction tune-up
With a streamlined solicitation process thanks to all the above tweaks, donations will be rolling in! Take some time to make sure you're capturing accurate transaction information.

Consider using

Soft Credits

to ensure credit for donations is shared across all relevant accounts - including crediting spouses, matching gifts, and donor advised funds.

If you haven't already, look into implementing

Accounting Date

to record an accurate gift date for reconciliation and reporting.

Using Confirmation Text Attributes adds quick custom messaging to confirmation emails and can include more tailored acknowledgement language for donors.
CRM updates
Last, but certainly not least, make sure your CRM data tools are accurate and include your updated Campaign setup and transaction details. Review your Auto Tags to ensure they match your donation levels and have the correct criteria; here are some things to consider with Tags:
Do you have your donor levels tagged for easy benefits and segmentation?

Do your donor tags include your updated campaign structure?
You can also create Customer Groups to quickly identify VIPs, major donors, and prospects to box office staff and ushers. Customer Groups can be built using Tags, Memberships, and a number of other customer criteria.
And work with your box office team to ensure any upcoming Offers or Priority Booking periods available to your donors are set with the correct eligibility. By doing a test drive of your CRM setup and customer eligibility ensures your customers have the most streamlined purchasing experience.
***
This guide should give you a jump start to refreshing your Opportunities Interface to set your team up for streamlined and efficient success! If you'd like to learn more about the functionality available in the Opportunities Interface, join an Online System Training session. If you have further questions or would like to inquire about a fundraising consultation, please don't hesitate to reach out to our Fundraising Team at support@spektrix.com.